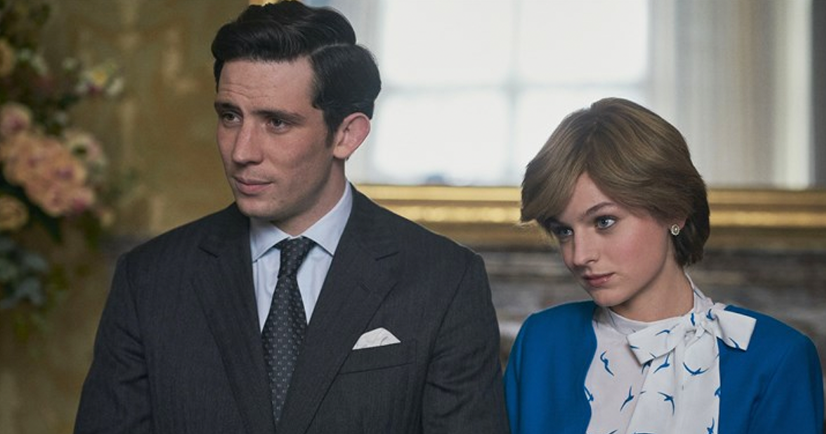 These are the juicy royal scandals that The Crown series four left out
Quite gutted we didn't get to see Anne's husband have a secret child
There's a lot of talk about how accurate The Crown is – most of it taking place while you're trying to pay attention to the show. But for all the questions about what they do include, it's worth wondering what they leave out.
Season four covers 1979 to 1990, and during that time there were a whole host of crazy royal scandals. Honestly, I'm a bit gutted they didn't include some of them.
There's secret children, leaked horny phone calls, and dramatic confrontations. Perhaps they were trying to keep it classy. Anyway, here are the royal scandals The Crown season four left out.
Prince Charles wishing he was Camilla's tampon
In what is genuinely the most disgusting bit of flirting ever to happen, Prince Charles told Camilla he wished he was her tampon. Leaked phone calls from 1989 revealed the pair – both still married – had been getting horny in a way nobody really should.
Choice quotes include: "My luck to be chucked down a lavatory and go on and on forever swirling round on the top, never going down", and "Oh, God. I'll just live inside your trousers or something. It would be much easier!"
Josh O'Connor said he wouldn't do the show if this was included. Wise.
Princess Anne's leaked love letters
During her unhappy marriage, Anne was having an affair with Timothy Laurence, a Navy officer and the Queen's equerry. Naturally, he wrote her some love letters.
In 1989, said letters were stolen from a briefcase and given to The Sun. Sadly, the letters themselves were deemed to be too steamy to publish and the newspaper instead handed them over to the police.
It prompted a sassy reply from the palace, who said: "We have nothing to say about the contents of personal letters sent to Her Royal Highness by a friend which were stolen and which are the subject of a police investigation."
In fact, the response went further than this. Scotland Yard launched an investigation which took four months, and involved taking 500 fingerprints. However, the culprit was never found.
Princess Anne's husband had a child with an art teacher
But the show misses out perhaps the biggest scandal in Anne's crumbling 80s marriage – her husband Mark Phillips had a child with an art teacher.
In 1991, art teacher Heather Tonkin revealed that Mark was the father of Felicity, who had been born five years previously – placing it well within the time frame of The Crown season four.
He had been paying her £6,000 a year, and Tonkin told the Daily Express: "My ambition is to get Mark's public acceptance of her and to be able to enter his name on her birth certificate."
A DNA test that year proved he was the father. Anne and Mark divorced in 1992, while Anne and Timothy got married later the same year.
The show missed out an explosive confrontation between Diana and Camilla
Perhaps the lunch date was enough. Perhaps we didn't need to see any more confrontation between Diana and Camilla. But then again…
At a party in 1989, Diana decided to confront Camilla. Recalling the bust-up in the Diana Tapes, Diana told Camilla: "I know what's going on between you and Charles and I just want you to know that."
Camilla replied: "You've got everything you ever wanted. All the men in the world fall in love with you and you've got two beautiful children, what more do you want?"
To which Diana said: "I want my husband. I'm sorry I'm in the way and it must be hell for both of you. But I do know what's going on. Don't treat me like an idiot."
Fair enough.
Thatcher nearly got assassinated in an IRA bomb attack
The Crown season four shows the IRA's assassination of Lord Mountbatten – but in real life the group also came close to assassinating Thatcher in 1984.
With the Conservative government in Brighton for the annual party conference, the IRA planted a bomb in the Grand Brighton Hotel in a bid to kill Thatcher.
It went off just before 3am, while Thatcher was still working in her hotel room. The bomb damaged the bathroom of her suite, but left the rest untouched, and she escaped injury.
However, five people died and 31 were injured.
After the bombing, the IRA released the infamous "we only need to be lucky once, you will have to be lucky always" statement, which has somehow since found life as a weird inspirational quote.
Apparently some bright spark in America thought it was a good idea to but an IRA quote and put it on a motivational poster. Little do they know that this was them telling her to watch her back as the first failed bomb didn't work, and they are crediting her with the quote lol. pic.twitter.com/WA9AhklmjX

— TooManyHanas 🇪🇺 🇮🇪 🇵🇸 (@TooManyHanas) February 19, 2018
The Crown season four is available on Netflix now. For all the latest Netflix news, drops and memes like The Holy Church of Netflix on Facebook. 
Related stories recommended by this writer:
• Here's the real story behind Michael Shea, the Queen's press secretary in The Crown
• Introducing the Balmoral Test: How the Royal Family find out if they like someone
• Charles told Camilla he wished he was her tampon in leaked dirty talk convo