What are the cast of Chalet Girl up to now?
Never forget Bill Bailey was Kim's dad before he appeared on Strictly
Chalet Girl is nearly 10 years old and for a pretty basic teen movie, it had an iconic cast. Bill Nighy, Brooke Shields and Bill Bailey? You don't usually get  names like that in a teen movie, but what has the cast been up to since the movie first aired?
For some of the cast, like Felicity Jones and Nicholas Braun, their careers were only just starting when they appeared in the film about a snowboarder working in a posh chalet. They've now become household names and starred in Star Wars, Succession and many others.
However for Ed Westwick, who played the dreamy Johnny, his career hasn't been going that well. He's starred in a BBC Two drama and that's about it.
This is what the cast of Chalet Girl have been up to since the film came out:
Felicity Jones – Kim Matthews
Felicity Jones starred as the main character in Chalet Girl. She played the snowboarder Kim Matthews who ends up working as a chalet girl and sleeping with Ed Westwick.
Since the film came out nearly 10 years ago, Felicity's career has excelled. She had main roles in the films The Theory of Everything, Rogue One, Inferno and On The Basis of Sex, where she played the legendary Ruth Bader Ginsberg.

Not only has she got a stellar career, but she's also married to director Charles Guard and the couple had their first child together in September this year.
Felicity will be appearing alongside George Clooney in the new Netflix film, The Midnight Sky, which comes out later this year.
Ed Westwick – Johnny
Ed Westwick played the other lead role in Chalet Girl. He was the rich and handsome Johnny and we never found out what he actually did for a job. Maybe it was just being rich and sleeping with chalet girls?
He still had one season of Gossip Girl to film after Chalet Girl and then his career kinda dipped. He had a main role in the 2013 film Romeo and Juliet, and played Vincent Swan in the BBC series White Gold.
In 2017 three women filed sexual assault claims against Ed who claimed the incidents took place in 2014. Ed denied all allegations and in July 2018 the office of the Los Angeles District Attorney said Ed would not be prosecuted.
Ed is currently dating 23-year-old model Tamara Francesconi, who revealed they started dating when Ed slid into her DMs and he took her to a butterfly sanctuary in Mayfair for their first date.
Tamsin Egerton – Georgie
Classic teen movie actress Tamsin Egerton took on the role of Georgie, Kim's eventual friend and fellow chalet girl. Since the movie, she's starred in the series Camelot and the films Love, Rosie and Grimsby amongst others.
Tamsin now has three daughters with her husband Josh Hartnett, the actor from your 00s dreams and they live in Surrey.
Ken Duken – Mikki
Ken Duken played Mikki, the guy who teaches Kim to snowboard and ends up with Georgie. They were a pretty fit couple.
The German actor has starred in a number of productions since Chalet Girl including the Netflix series Perfume and the 2020 series Professionals.
Ken has been married to Marisa Leonie Bach, a descendant of Bach, since 2000 and they have a son together, who was born in 2009.
Sophia Bush – Chloe
Sophia Bush is most known for her iconic role as Brooke Decker on One Tree Hill, and she's had a pretty decent career post Chalet Girl.
She's played a main role in Chicago Fire, The Incredibles 2 and starred in episodes of This Is Us and Jane The Virgin.
Sophia also has a successful podcast called Work in Progress, where she speaks to people she admires and to find out how they got to where they are today.
Nicholas Braun – Nigel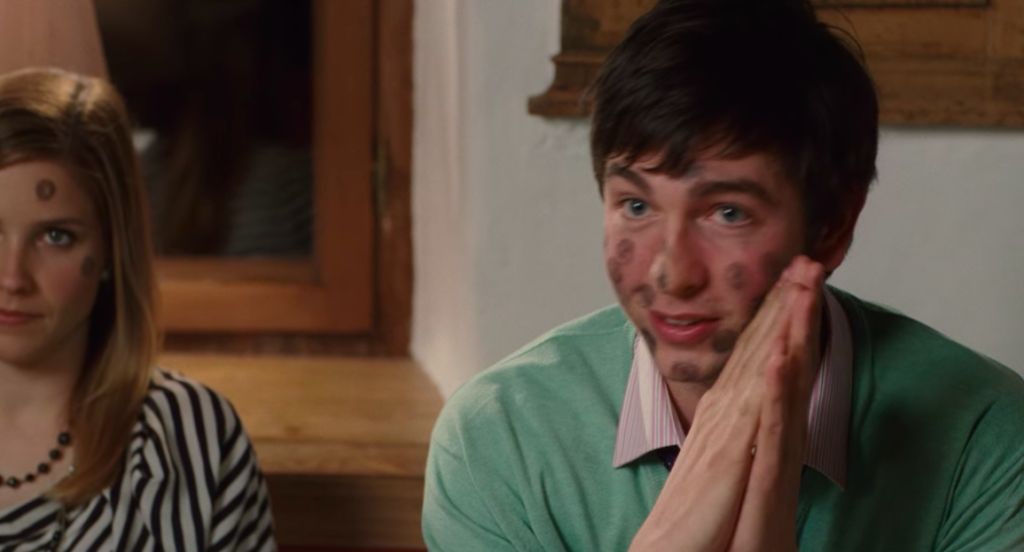 Nicholas Braun who we all know from Succession, actually started his career doing movies like Chalet Girl. In the film he played Nigel who was Johnny's brother.
Since Chalet Girl his career has just kept getting better. He was in the Perks of Being a Wallflower, How to Be Single and of course Succession.
Nicholas is currently single as he doesn't want to date during a pandemic, which you know, makes complete sense.
Georgia King –  Jules
You probably know Georgia best from her role as Harriet in Wild Child, and she takes on a similar posh look in Chalet Girl as Georgie's friend Jules.
Since the film, her biggest role has been in the TV series The New Normal, where she played a surrogate mother for a gay couple.
Georgia also appeared in the 2020 series Royalties with Darren Criss, she appears to be living in LA.
Bill Nighy – Richard
The living legend that is Bill Nighy played Johnny's dad in the film and naturally hasn't stopped working since.
He's starred in The Best Exotic Marigold Hotel, About Time, The Kindness of Strangers and Emma amongst many others.
In 2015 he received a Tony Award nomination for his performance on Broadway in the show Skylight alongside Carey Mulligan.
Brooke Shields – Caroline
Iconic actress Brooke Shields played Johnny's mother in Chalet Girl and catches Kim and Johnny after they've slept together. After the film, Brooke has done a lot of TV work.
She continued her role on The Middle, starred in an episode of Scream Queens and had a role on Jane The Virgin for two seasons.
By the looks of her Instagram she just looks like she's loving life.
Bill Bailey – Kim's dad
How could you forget that Bill Bailey starred as Kim's dad in Chalet Girl? Don't think he got a name tho.
Since the movie he's appeared in a Doctor Who Christmas special, completed world tours and most importantly Bill is appearing on the current series of Strictly Come Dancing.
Bill is partnered with Oti Mabuse and to everyone's surprise Bill is actually a great dancer.
Chalet Girl is available on Netflix now. For all the latest Netflix news, drops and memes like The Holy Church of Netflix on Facebook. 
Related stories recommended by this writer:
•Quiz: Which Wild Child character are you really?
•Here's what the cast of Wild Child have been up to since the film
•This is what the cast of St Trinian's have been up to since the iconic movie