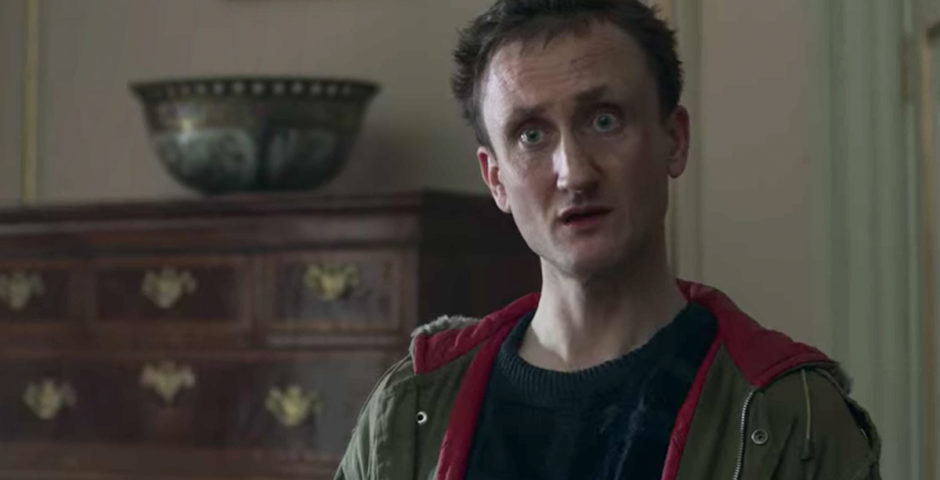 The full story of Michael Fagan: The intruder who broke into the Queen's bedroom
He's said he's angry Netflix chose an 'ugly' actor to play him in The Crown
Buckingham Palace should be one of the most protected and safest buildings in the entire country, right? Surely it's literally impossible for anyone who isn't invited to get past the countless guards and gates outside? Apparently not, because in the '80s Michael Fagan managed to casually gain access not once, but twice.
Yep, Michael Fagan is a British man who infamously entered Queen Elizabeth II's bedroom in Buckingham Palace. The incident was one of the 20th century's worst royal security breaches and episode five of The Crown is titled "Fagan" – and tells the story of the intruder.
Here's everything we know about the full true story, and where Fagan is now.
Who was Michael Fagan and what was the intruder 'incident' at Buckingham Palace?
Michael Fagan, from London, was born in 1950 and is the eldest of three children. After leaving school at 16, he began working as a painter and decorater. He married his wife Christine in 1972, and they would go on to have four children together. He notoriously managed to break into Buckingham Palace on July 9th 1982.
At around 7am, after a night of heavy drinking, he climbed a drainpipe to one of the rooms which was just a few feet away from the palace main building. He then took of his shoes and socks and managed to climb through an unlocked window. He spent a while wondering the palace, taking a look at King George V's stamp collection. He triggered some alarms, but security are said to have thought it was a glitch, so turned the warnings off.
Fagan himself has spoken about some bizarre details, which definitely didn't make it into the The Crown. In an interview with The Independent, he said: "I found rooms saying 'Diana's room', 'Charles's room'; they all had names on them. But I couldn't find a door which said 'WC'. All I found were some bins with 'corgi food' written on them. I was breaking my neck to go to the toilet. What do I do? Pee on the carpet? So I had to pee on the corgi food. I got into Charles's room and took the wine off the shelf and drunk it. It was cheap Californian."
As well as this, he's said the part of The Crown where he sat on the throne is true. He added: "I was loving it. It was like Goldilocks and the Three Bears; I tried one throne and was like 'this one's too soft'. I was having a laugh to myself because there was one right next to it, so I tried another… I liked the picture and thought I'd look at it till someone comes, but nobody came."
On his adventures, his ultimately found himself in none other than Queen Elizabeth's bedroom. He's said to have pulled back her bed curtains and found her there asleep. According to reports, he spent around 10 minutes there before the Queen was able to get help.
He told the Sun: "They say she must have been frightened. I didn't frighten her too much but I was quite shocked. She used a phone on the bedside table to call security but when nobody came she got out of bed. Her nightie was one of those Liberty prints and it was down to her knees. She said, 'Just one minute, I'll get someone,' swept past me and ran out of the room, her little bare feet running across the floor."
A footman shortly arrived who escorted him out the room. Fagan was offered a drink, to which he asked for a scotch, and was later arrested. At the time, what he had done was a civil wrongdoing, and not actually a criminal offence. Therefore, he wasn't charged with trespassing and didn't go to jail. Breaking into the palace didn't become a criminal offence until 2007.
What's more, he said this wasn't the first time he had managed to get into the palace. He claimed to have done a similar thing on a previous occasion, but was spotted by a housemaid when he was on the drainpipe. The housemaid alerted security. When security reached the scene, he had already fled. He told the court that he was "surprised" after the first attempt by how "easy" it was to get in.
If you're wondering why he did it, at the time he reportedly said: "I don't know why I did it, something just got into my head. I went back because I thought 'that's naughty, that's naughty that I can walk about there.'" Other reports say he claimed he did it because he was in love with the Queen, and others say it was fuelled by a prolonged reaction to taking hallucinogenic mushrooms several months before.
Where is Michael Fagan now?
After the intruder incident, Michael Fagen was charged with stealing a bottle of Prince Charles's wine. During the interrogation he also admitted to being part of a car theft. He was sent for a psychiatric evaluation, and spent six months in a psychiatric hospital. He was released on January 21st 1983.
Two years after the break-in, Fagan was in trouble with police, but for something else. He was given a three month suspended sentence for attacking a policeman in Wales. In 1997, he was sent to prison for four years after he and his son were charged for conspiring to supply heroin.
Fagan is 70-years-old now and lives in a tower block in Islington. He lives with his partner Rhian and has three great grandchildren. In 2020, The Sun has reported he had a heart attack and was also diagnosed with COVID-19, but survived both.
What has he said about The Crown?
The Crown shows Fagan having a conversation with the Queen after the break-in incident, which he has said was fictional and not much of a conversation actually took place. He's also slated The Crown for casting an "ugly" actor to play him. He told the Sun: "I was taken aback when I saw Brooke playing me. They could have surely found someone who looks a bit like me. I'm actually better looking and he seems totally charmless."
He also said nobody from Netflix got in touch with him, and therefore the story is pretty inaccurate and "rubbish", and the truth would have been "a much better story".
Season four of The Crown is available on Netflix now. For all the latest Netflix news, drops and memes like The Holy Church of Netflix on Facebook. 
Related stories recommended by this writer:
• Who was Karen Smith? The woman episode three of The Crown is dedicated to
• How did Prince Charles and Diana actually meet and how big was their age gap?
• The Crown on Netflix: This is what actually happened around Lord Mountbatten's death