Compulsory weird meal names and fake door shots: Behind the scenes of ITV's Dinner Date
They can film for eight hours
Dinner Date is such a ridiculous show. From the whole concept of picking a date based upon stupid names they've made for their meals ("Let's get cheeky with my tzatziki" springs to mind) to the completely pointless scoring system, it really is stupid from start to finish. And I can't stop watching it. Like many during an extended period of being sat at home, I have stumbled across an unexpected passion I never realised I had with Dinner Date.
Although it's simultaneously the most watchable and mind-numbing of all daytime TV, there's actually a lot going on behind the scenes to make it this way, and we have a lot of questions. Is any of Dinner Date scripted? Is it every awkward? Does anyone actually stay together? We have the answers to all this and more.
You have to do a lot more filming than you'd think
Starting after a successful application, producers come over to your house to interview you in front of the camera. You only find out whether you're a picker or a host once this stage is complete. You are expected to be available for one and a half days of filming, during which time each potential host is interviewed for 60 minutes, which is then cut down to 30 seconds of show time.
The stupid dish names are compulsory
You know the stupid names that they come up with for their dishes? Like leggy lasagne or sexy paella (I wouldn't be good on this show). Well, these names are completely compulsory, and if you don't attach at least a couple of stupid adjectives to your fish pie? The producers will step in and do it on your behalf.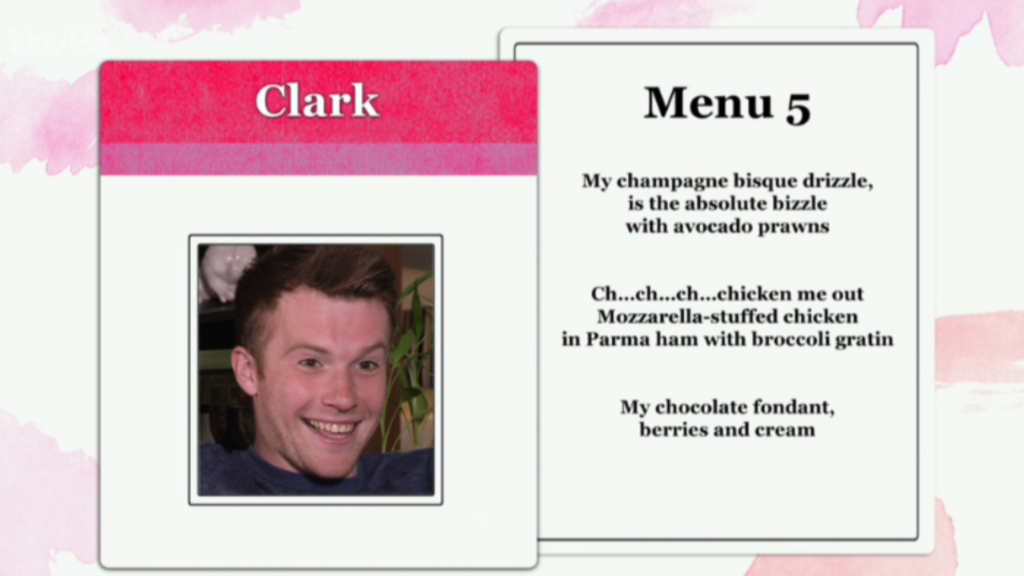 The filming on the day is completely frantic
To keep up with filming schedules and such, the whole process is a lot more streamlined than you'd think. On the Sunday before the dates begin, potential hosts get a phone call telling them if they're having a dinner date or not, with two of the five being let down. Then for the following week, dates follow each other on three consecutive nights.
On the big day, the crew arrives at two for filming food preparation, and the guest arrives at six. There's so much going on with the filming that contestants can have only 10 minutes to get themselves looking glammed up.
The doorstep scenes are often filmed multiple times
Reality TV is a lot more fictionalised than people realise, and although the date is real, there will be a lot of producers telling people what to do and say to build up a narrative. One of these things to ensure a smoother edit is called shooting "pickups".
You may have noticed that there are often two angles when a contestant opens the door to their date: one from inside the house and one from outside and if you look closely, you'll see that these two shots aren't exactly the same. In addition, you won't see a cameraman in the background of either shots.
That's because the same camera is being used for both shots, and the couple has to open the door and say hello/goodbye more than once to get the perfect shot. This happens more often than people realise in reality television.
The couples genuinely only know each other's names before the date
Before the date, all either knows of the other is their name and their menu. The rest of the information is for you to find out when you meet them, obviously.
Related stories recommended by this writer:
• Raw chicken and pink mash: The 11 most woeful Come Dine With Me meals of all time
• The 12 most crazy moments which actually happened on Come Dine With Me
• Cold food, fake cabs and booze restrictions: The filming secrets of Come Dine With Me