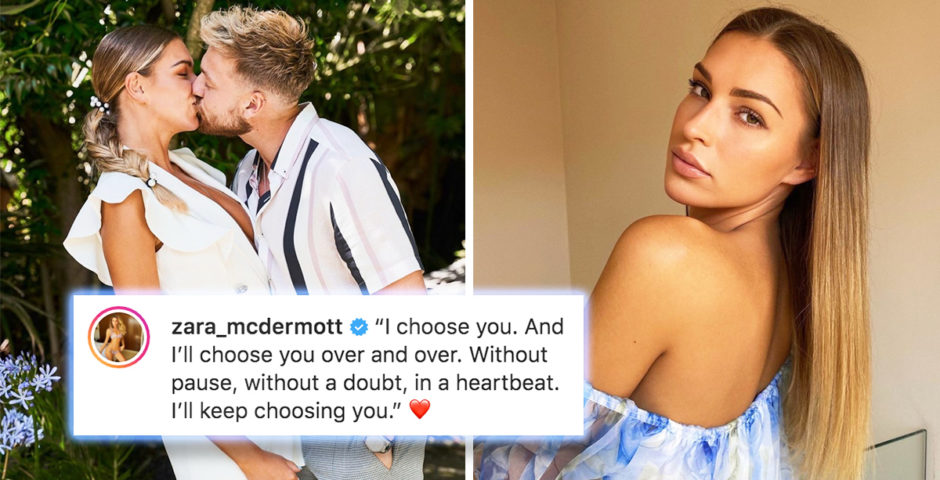 Zara has posted a picture of her and Sam together and now everyone is confused
He's unfollowed her on Instagram, yikes
It's no secret that Zara McDermott wants Sam Thompson back. After the whole cheating scandal she's posted multiple times about him, and seemingly at him, wanting to get his attention. She's posted a three-minute montage video of pictures of them together, cringy quotes on her story and now she's posted a cute picture of them together which has left everyone confused.
This weekend she posted the picture on Instagram, captioned: "I choose you. And I'll choose you over and over. Without pause, without a doubt, in a heartbeat. I'll keep choosing you."
The post has left people speculating if they've got back together, whilst most are just asking Zara to "give up" her clear mission to win Sam back, despite cheating on him last year. One comment reads: "Know ur worth sis, he doesn't post anything like this on his page" whilst another added: "Stop begging, if he wants to be with you he would be."
This is all going on whilst Sam looks completely unfazed. He's unfollowed Zara on Instagram, and whilst she was posting this his story showed him at home watching Harry Potter. After she posted her last message about him, he posted a video saying he was having "the best week of his life", and then who can forget when he posted, and swiftly deleted, that savage video using the audio of her begging him to take her back on Made In Chelsea?
A source has said: "Sam told Zara he needed some space to get his head straight. He wanted time to think everything through and, in all honesty, just found her public apology a bit embarrassing. It made him angry because he now thinks she's just brought unwanted attention to their split again."
The source added that Sam is "not interested in the slightest", saying: "His ego was badly bruised by what's happened and we doubt his pride will let him take her back. Zara is making a bit of a fool of herself. She's not giving up – she really thinks she has a chance – but everyone in Sam's circle knows it's not going to happen and she's fighting a losing battle."
The pair split in September, after it was revealed Zara had slept with someone else during her time on X Factor: Celebrity. This was later claimed to be music industry boss Brahim Fouradi.
Related stories recommended by this writer:
• Zara wrote Sam a 'heartfelt apology letter' after they split up – here it is in full
• So, who did Zara McDermott cheat on Sam Thompson with?
• Everything that has gone down in Zara McDermott and Sam Thompson's relationship
Featured image via Instagram @zara_mcdermott