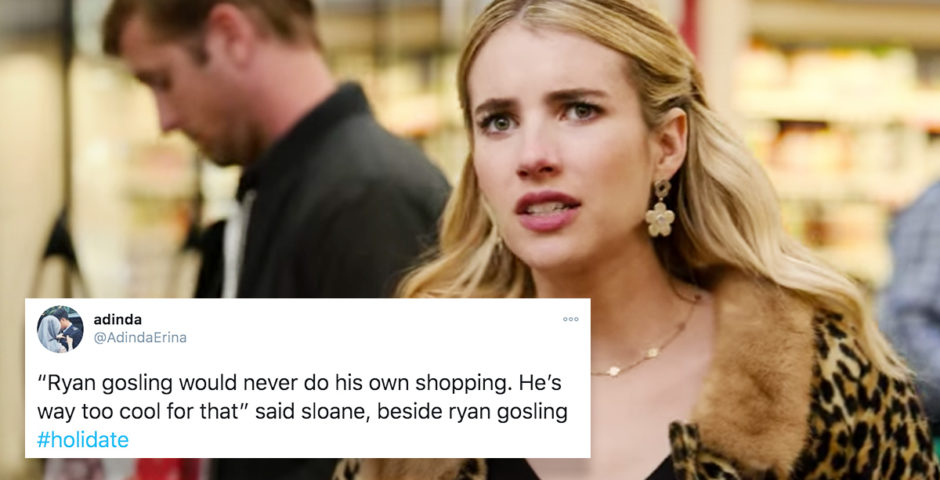 Ok, so did anyone else see Ryan Gosling in the background of Holidate?
They're talking about him and then as if by magic, he's there!!
People are convinced that Ryan Gosling shows up in the background of a scene in Netflix film Holidate, and to be honest, the resemblance is so uncanny it could well be him.
The film is all about Sloane (Emma Roberts) and Jackson (Luke Bracey) who are fed up of being alone during holiday seasons and their families constantly nagging them about finding someone. They then decide to get into a "holidate" setup – where they just date each other during these seasons, to basically shut everyone up.
In one scene, fans are convinced Ryan Gosling shows up in the background. It happens as Sloane and Jackson are fighting, and literally discussing Ryan Gosling. They're walking around the store, and Jackson says: "I bet you money that if Ryan Gosling waltzed down this frozen food aisle and offered to take you on the ride of your life, you would still say no – cause you'd be too afraid to get on that train, the Ryan Gosling train."
She replies: "You are so wrong. Ryan Gosling would never do his own shopping, he's way too cool for that." Then, right on cue, Ryan Gosling's double shows up in the background!!
Yes, everyone is sure that's him making a cameo appearance. It's started a whole storm on Twitter, with people tweeting #GoslingGate and demanding answers. It would be the best movie Easter egg to date, in fairness.
So, is it really Ryan Gosling making a Holidate cameo? 👀
Holidate is available on Netflix now. For all the latest Netflix news, drops and memes like The Holy Church of Netflix on Facebook. 
Related stories recommended by this writer:
• Who is Luke Bracey? The hot Australian actor who plays Jackson in Netflix's Holidate
• Meet the cast of Netflix film 'Holidate' and where you recognise them from
• What is a 'holidate'? The dating trend you need to get to know ASAP