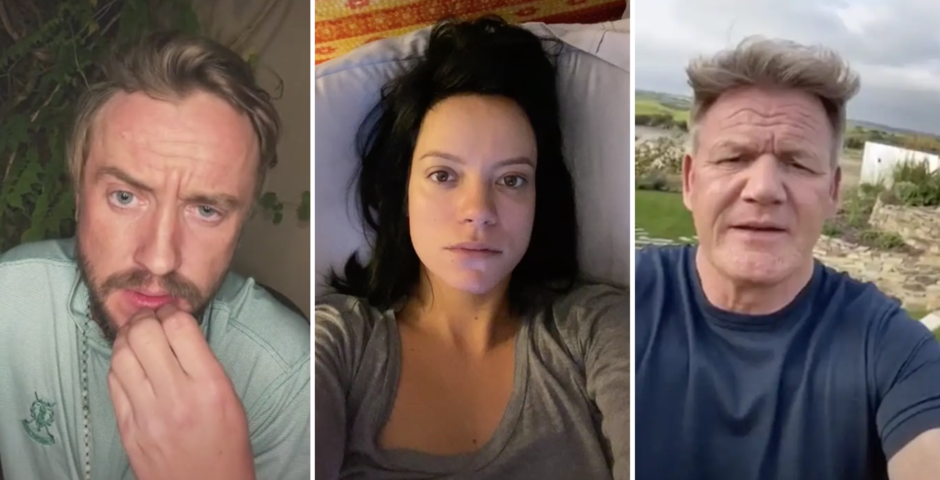 These are the strangest celebs that need to stop making TikTok videos immediately
Celebrities always find a way to ruin everything good, and their latest infiltration into our much beloved TikTok has overstepped the boundary. Why couldn't us normal people just enjoy it in peace without having massively irritating Gordon Ramsay reaction videos shoved in our faces every time we open the app?
We're not talking about the celebrities that begrudgingly get dragged into making TikTok videos because their PR people tell them it's the right thing to do for gen Z. Oh no, we're talking about the depraved beings that either genuinely use the app for shits and gigs or, as is often the case, try waaaay too hard. Or both, as you're about to learn.
Jason Derulo forced us to accept him as one of our own, but there's a whole new onslaught of Tom Feltons and Jonathan Chebans for us to groan over. It's nice that TikTok normalises them, but at the same time it's horribly lame and I hate them for that, so let's look at the cringe and unexpected celebrities that use TikTok.
Tom Felton
A particularly unwelcome guest on TikTok has to be none other than Draco Malfoy from Harry Potter, Tom Felton. Tom has asserted himself a unique brand in being particularly weird, but what makes less sense is that people seem to really love his videos. Seriously, tell me this is worthy of its three million-plus likes and that it didn't cringe you out just a little bit:
It is just so… horrible. And if this wasn't enough, he even shared an Instagram Live with the one other annoying celebrity TikTok creator, Liam Payne. Warning, this is cringe from start to finish:
For those that won't (and rightly shouldn't) watch even a second of this, I've gone through the effort to transcribe a particular passage that stuck out to me in the throes of their painfully awkward small talk:
Tom: "We met… what… I mean… when… when was it… you were actually auditioning… what year was it, do you remember?
Liam: "Two thousand -"
Tom: "X-Factor"
Liam: "- and ten"
Tom: "So yeah, 12 years ago we met three days in a row."
You know when you'll say anything to fill the silence because it's so awkward? That's what saying "2010 is 12 years ago" in the year of 2020 is. ARGHHH.
Why does everyone associated with Harry Potter take it upon themselves to ruin the magic!
Arnold Schwarzenegger
Another celebrity that is both unexpected and very unwanted is ex-bodybuilder, ex-politician and ex-likeable Arnold Schwarzenegger, seen here doing the splits on his kitchen counter:
Wait a sec, Arnold! They're not your real legs!!! 😹  This is top tier "I got told to do this by my grandchildren for internet clout" and it's just not what anyone needed.
Nelly Furtado
Another musician that decided to jump on the content wagon when their song started going viral, Nelly's decided to ride the wave and start uploading a little more regularly, but it's been pretty underwhelming to say the least.
What eludes me is the lack of creativity. This song is SO big on TikTok right now, so why not have the daughter dancing at first and then reveal Nelly? Why did she have to duet it and explain the situation without just playing it out? Anyway, this isn't the last we've seen from her, as she's taken to uploading yawnfest promotional content:
Gordon Ramsay
There's nothing unexpected about Gordon Ramsay because you've seen him multiple times on the app already, but he deserved a special mention because he's a horrible try hard that resembles everything bad about celebrity chefs and his videos are fucking dreadful.
The fact that anyone can get enjoyment from this kind of sensationalist overacting on his part is beyond me. People that enjoy this probably enjoy Kitchen Nightmares without being stoned or drunk at 2am on a Saturday morning, and that's impressive in itself.
Lily Allen
To be fair to Lily, she clearly hopped on the app after a number of her songs started to trend, including this extremely vibey dance to her hit Smile, but she has unfortunately succumbed to the stupid infantile trends that we don't want to see celebs doing, such as the Time Warp Scan:
Oh well, she won't be doing that one a second time, right?
Jojo Siwa
How could you have a list of annoying celebrities without including Jojo Siwa? Her whole USP is being annoying, but now she's going one step further by A) making very regular TikTok videos and B) bragging about her wealth and success as a way to get back at trolls.
Yiiikes. Paris is just stood there like "what have I got myself in for?". Credit to Jojo though, at least she can hold eye contact a little better than Paris.
"It's pretty cool, you should try it out sometime.✌🏼"
Jonathan Cheban (The Food God)
Just as I was writing this piece and ready to post with all of his videos embedded, I kid you not by saying that Jonathan Cheban (The Food God) deleted his TikTok account. He clearly caught wind of how mean I was about to be, so we've had to get crafty with YouTube reuploads.
Jonathan Cheban (The Food God) is strange, and his TikTok even more so. We actually baited Jonathan Cheban (The Food God) into replying to our messages a couple of years ago – maybe it's high time to do so again? Jonathan Cheban's (The Food God's) whole shtick on TikTok is to drive engagement through making videos with as minimal effort as possible, and it shows more clearly than he'd like.
There are stupid staged attempts to go viral:
There are horrible reaction videos to viral videos that just scream that he can't be bothered to make a proper effort:
Watching any of his videos is like being awake while they're doing surgery on your leg – agonising and inescapable.
Related stories recommended by this writer:
• Ranked: The most unexpected TikToker relationships of all time
• Who is Pandagirl.94 on TikTok and why is she obsessed with bargains?
• Ranked: These are the 17 most liked TikTok videos of all time