A considered ranking of Dani's many outfits in The Haunting of Bly Manor
If Netflix is good for anything, it's picking the audience up and plonking them in a very particular time period with everything from dress sense down to furniture SCREAMING the era that they've chosen. We've seen it in The Umbrella Academy, we've seen it in The End of the F***ing world, and now we've been treated again to a visual display of the '80s in Bly Manor. I'm not completely sold on The Haunting of Bly Manor as a full package (seriously), but one thing we can all agree on is that they completely nailed Dani's outfits.
From pink turtlenecks to floral dresses, the costume department has had a field day dressing Dani. So, compiling the best outfits from the show, here's a considered ranking of Dani's outfits in The Haunting of Bly Manor.
15.
At numero 15 we have this sombre number. All black is a look when you're going for fashion, but funeral vibes just don't run the catwalk. Plus points for the curls, but overall this is not Dani at her best.
14.
Shortly followed is this… confusing outfit choice. If the last outfit was trying too little, this seems like the kind of outfit that you chuck together when all of your nice stuff is in the wash. The individual components are pretty cool, but together this outfit just looks forced, and I can't imagine that waistcoat working for many people.
13.
Another divisive one at number 13, people will either really like or really hate this one. I think the most hateable part for me is that she chose to wear it in front of a big group of family and friends with her fiance.
The whole squashie themed dress is a really peculiar one. We know these colours classically work together, but on a garment – a garment constructed of different pieces of jagged fabric at that – is a lot to take in.
12.
Hrmmmmm. This looks like the kind of print your nan's curtains are made from.
11.
At number 11 of Dani's outfits in The Haunting of Bly Manor is this CASUAL outfit. Like, borrow the boyfriend's hoodie level of casual, but you know what? Things are starting to look up. It's not exactly high fashion, but this screams comfort and warmth, just at a time when everyone at Bly Manor seems to need both of those things more than ever.
On a colour front, the neutral jeans and hoodie compliment the top as well as they could, and it's another good example of the many interesting hairstyles Dani dons throughout the series.
10.
We're still on the precipice of the banger outfits, but this isn't terrible. The dress is difficult to pull off as a garment that is more associated with elderly women, but it's brought back to the modern age with a rugged denim jacket and bags as accessories that give her an explorer/traveller type vibe. Not bad at all.
9.
These are the kinds of looks that we expect from someone working in a palatial rural home. Literally stick a hat with a feather on top and a wax jacket over her and she's accompanying the shoot on a Sunday morning – but it works. Green and pink is a classic combo, and Dani looks right at home in it.
8.
From the hairstyle to the top itself, this is a really easy look and probably the first on this list that is actually accessible and realistic for the majority of people to wear when they're out and about. What more can you say than that – it's a nice top and some jeans!
7.
A peculiar colour combination and no doubt a move by Netflix to bring the action into a different time period from the trauma of Bly – by this point Dani has now moved back to America with Jamie to live out the rest of their lives happily together.
People were a lot less fearful of earthy burgundys and browns in the better half 0f the millennium if this look is anything to go by, but it looks good, although it's just a top. Shame we can't see the rest of the outfit. Again, a dramatically new hairstyle for Dani, but it serves its purpose of showing time has gone by.
6.
Cool jumper, cool jeans, cool boots. It sits right in the middle of the list because it's a pretty simple outfit, but that hairstyle SCREAMS '80s and pushes it up a couple of spots.
5.
What on earth are those shoulder pads? Is that coat made from some sort of suede? Why are those buttonholes so big?
Just as some tunes need several listens for you to appreciate how good they actually are, this whole outfit certainly takes a bit of eyeballing before you come around. That coat is certainly an acquired taste, but it's matched with the jumper that we saw at number six and, well, you know what? It's different, and different is good!
4.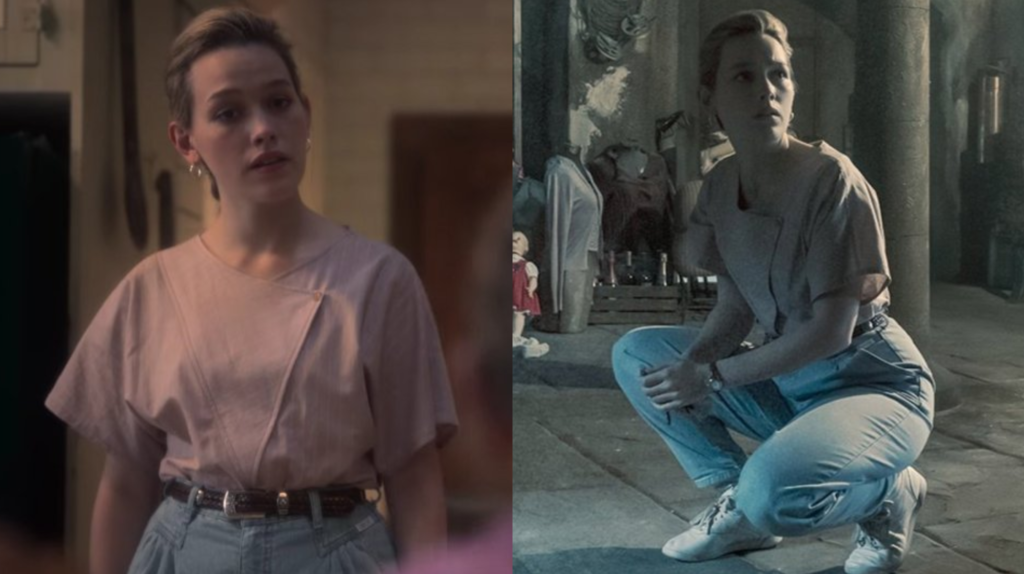 These jeans are so cool! There's a lot to be said for getting jeans that fit perfectly, but the belt really pulls these in to make them flattering for her figure whilst also looking super comfortable. The top is abnormal in a really good way, and again you can't beat a nice top and jeans combo.
Classic washed out vintage denim with pink will never not work.
3.
This is a really cool look. The diamond-stitched jacket is bulky, but it provides a good contrast to the floral dress that she wears underneath.
For those interested, if you want to see it for yourself this scene appears 25 minutes into the final episode.
2.
God, doesn't she look great? The brown appears yet again as does the purple, but by now we're well acquainted with the way the costume designer likes to dress Dani. Voluminous waves of hair sit atop the turtle neck that is tucked into the high waist, and it's just a really nice outfit.
Googling turtlenecks now, thanks a LOT, Bly Manor.
1.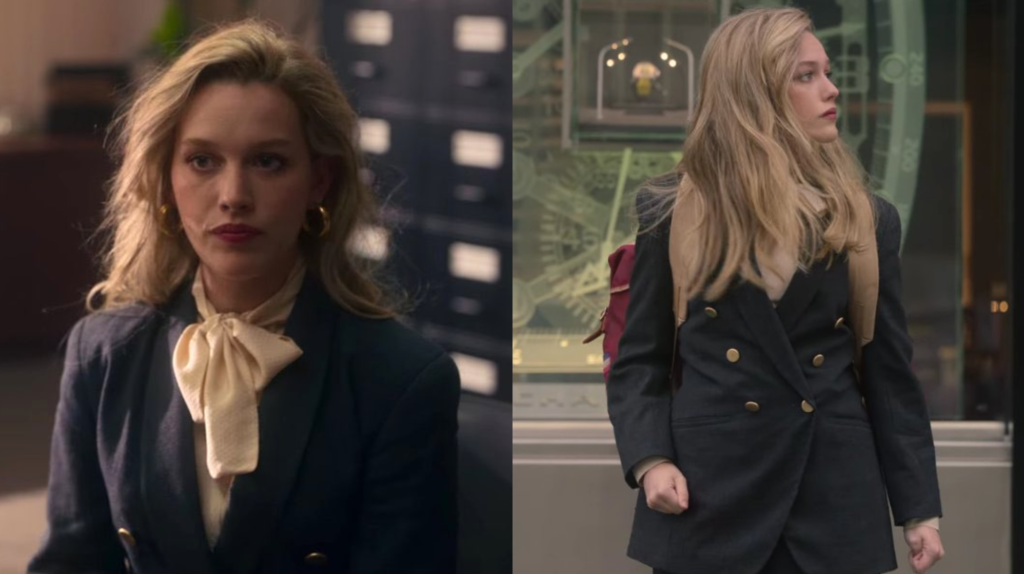 How could it be anything else, really?
The bag is out of place, but how else do we expect her to arrive at her interview? Everything is on point – the oversized blazer is 101 per cent a vibe for the period and setting, as are the chunky hoops and neck scarf. It's so effortlessly non-conformist in its approach to being neither too feminine or masculine, and it suits VicPed flawlessly.
That scarf definitely steals the show.
Related stories recommended by this writer:
• I'm sorry, but The Haunting of Bly Manor is Netflix's stupidest show to date
• 'It's you, it's me, it's us': The Haunting of Bly Manor ending explained
• From Peppa Pig to EastEnders: Here's all we know about Bly Manor's Amelie Bea Smith