Love Island's Biggs' ex claims his relationship with Rebecca is fake
Biggs has apologised to Rebecca after his ex claimed they were together when he left the show
Love Island's Biggs' ex Lori Matthews has gone viral on TikTok after claiming she was still in a relationship with Biggs when he went on Love Island, and his relationship with fellow Islander Rebecca is 'fake'.
Biggs has since issued a public apology to Rebecca on his Instagram story regarding the allegations. Rebecca accepted his apology and claimed she wasn't "bothered".
Lori created a video on TikTok in which she shared screenshots of her WhatsApp messages with Biggs, where he claimed he was going on Love Island for them and said his relationship with Rebecca is just for the public.
In the video Lori is sitting under the words: "Think you can hurt my feelings? My ex convinced me to support him going on Love Island… then left me after to get with another Islander."
She then shared pictures of her with Biggs, including some from their joint YouTube channel and then their messages to each other.
In the earliest messages Biggs appears to be messaging her on his way to Love Island and said: "Babe am gonna smash it for us". Lori then goes onto message him how secure she feels in their relationship and he tells her "you have nothing to worry about".
The next messages Lori shows in the video are dated 31st March and she asks what is going on with their situation. Biggs then replies his relationship with Rebecca is for the public and it will "never proceed".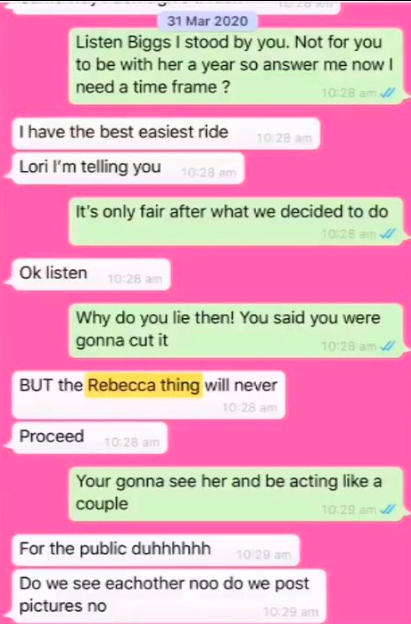 Biggs also told Lori this is "not about u right now" and said his relationship with Rebecca is fake. In the message he writes: "It's about my life and how this year I wanna grow am telling you me and Rebecca won't be a thing if you're not happy that this is fake."
Since the allegations came out Biggs issued an apology to Rebecca on his Instagram story, saying he was sorry for any mistake he made and he knew something like this was going to happen.
He said: "I just wanna address this madness. When others see others being happy they just want to tear us down.We didn't plan this. I didn't not ever think this was ever gonna happen.
"I apologise to you for any mistake I've made. Keep it moving, keep it positive."
Rebecca also addressed the claims and she said was "unbothered" and thanked Biggs for his apology during his video.
In a post on her Instagram story she wrote: "I am so grateful for everyone's messages. I love you all! Everything is good with me and Biggs. Living in the moment not in the past."
The Tab has contacted Rebecca and Biggs' representatives for comment. 
Featured image credits: Instagram @lorimatthewss, @biggschrisx
Related stories recommended by this writer:
•Congrats to Love Island's Biggs for the cringiest spon con of the year
•Love Island's Rebecca Gormley is accused of 'blackfishing' with new hair braids
•The winter Love Island web: How the Islanders knew each other before the show