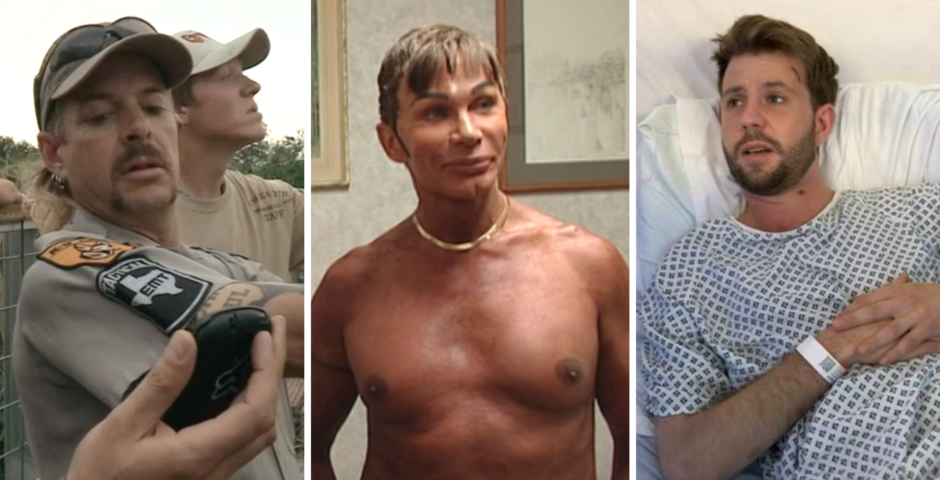 Where are the people from iconic Louis Theroux documentaries now?
Nicky from the autism episode went to college!
Louis Theroux has met some absolutely amazing people from all around the world, and who better a man to do it? From getting liposuction just to "see how it feels" to hanging out with literal groups of mega racists and convicted criminals for several weeks at a time, he's not afraid to throw himself straight into the action, and it makes some insane television.
But once the people who feature in his documentaries are covered, they're often never heard from again. I mean, why else would we need to hear from dodgy Dave the hunting obsessive from deep America? Well, as it happens, some of the more iconic people who have featured in his documentaries have been pretty busy (cough cough Joe Exotic). So, from the Westboro Baptist Church to the gambling addicts of Las Vegas, let's catch up with the stars of Louis Theroux's biggest shows to date.
Allan Erlick – Gambling in Las Vegas
Allan Erlick was the high roller who was given a huge suite in the hotel above the casino in the gambling episode. He ended up losing over $250,000 on the trip, and it seems as if this wasn't his only loss in life. In 2009, his company was sold off, and although it is unclear why, it's easy to speculate that this could be due to debt from gambling.
The most recent rumour from another Reddit post claims that someone took an Uber and he was their driver. U/dantuu said: "So I took an Uber the other night in Toronto, Canada. The cocky/cop-like uber driver seemed so familiar. Realizing just this morning that he is the rich Canadian furniture-mogul for this DOC. LOL guess he gambled too much."
Louis responded to someone posting the receipt with: "Not sure if that is really a legit Uber receipt", however then Richard Wilk, who also featured in the documentary as Allan's casino inside man, claimed in an interview that he was indeed driving an Uber but he wasn't doing it for the money. So there you have it.
Joe Exotic – Beware of The Tiger
Joe Exotic may now be more famous for being the main feature of the Netflix documentary Tiger King, but he actually featured pretty heavily in one of Louis' documentaries about private ownership of exotic animals. Since then you obviously know what has happened to Joe, but for those that don't:
In 2019, Joe was given a 22-year sentence in federal prison for a load of animal abuse charges and two counts of murder for hire after he plotted to kill Carole Baskin. He is currently seeking a pardon from President Donald Trump, and is still active through his social media channels where he presumably has one of his friends write posts for him. In 2019 a documentary named Tiger King was made all about this crazy scenario.
Fred Phelps -The Most Hated Family in America
Fred Phelps is widely known as the man that founded the Westboro Baptist Church, and his legacy lives on through the various members of his family that still run the organisation. As the longest-lasting member and founder of the church, it may come as a surprise that he was eventually excommunicated from the group due to increasingly irrational behaviour. What irrational behaviour, you ask?
Reportedly suffering from dementia, Megan Phelps Roper wrote in her book about leaving the church that other members started to believe that God had condemned him. She wrote that he "had a softening of heart at the end of his life", and that in 2013 he had stepped outside of the church and called to the Planting Peace organisation (who had deliberately bought the house on the other street and painted it in pride colours) saying: "You're good people!"
He passed away in 2014 from natural causes.
Megan Phelps Roper – America's Most Hated Family in Crisis and Surviving America's Most Hated Family
Megan Phelps-Roper firstly appeared in the 2011 documentary America's Most Hated Family in Crisis, where she is very clearly indoctrinated with the ways of the Phelps family, denouncing "fags" as evil. In a particular conversation with Louis, she explains that she had contact with four Dutch filmmakers who, after watching, her father made her block.
Now 34, she spends her time travelling the world and speaking of her experiences in the church to educate others. She has appeared on a number of high profile programs and podcasts including The Joe Rogan experience in 2017, as well as all subsequent projects Louis has made on the family.
In the latest documentary, Louis told her that two of her siblings are now engaged to be married, something that she wasn't aware of at the time and was clearly upset by. She maintains that she has limited contact with family that are still part of the church, and she is no longer a Christian herself.
Dr Martha Ogman – Gambling in Las Vegas
Dr Martha Ogman was a retired dentist who, she claims, played on the slots every day for 10 years before Louis met her. She, along with a number of other people who featured in the documentary, had lost a significant amount of money to their addiction – what is claimed to be in the millions.
There's not much to be found from an old lady that isn't likely to use the internet, but according to a Reddit post, Martha is now 92 years old and still lives in the same community that is shown in the documentary. It isn't clear if she continued playing the slot machines.
Steve Erhardt – Under the knife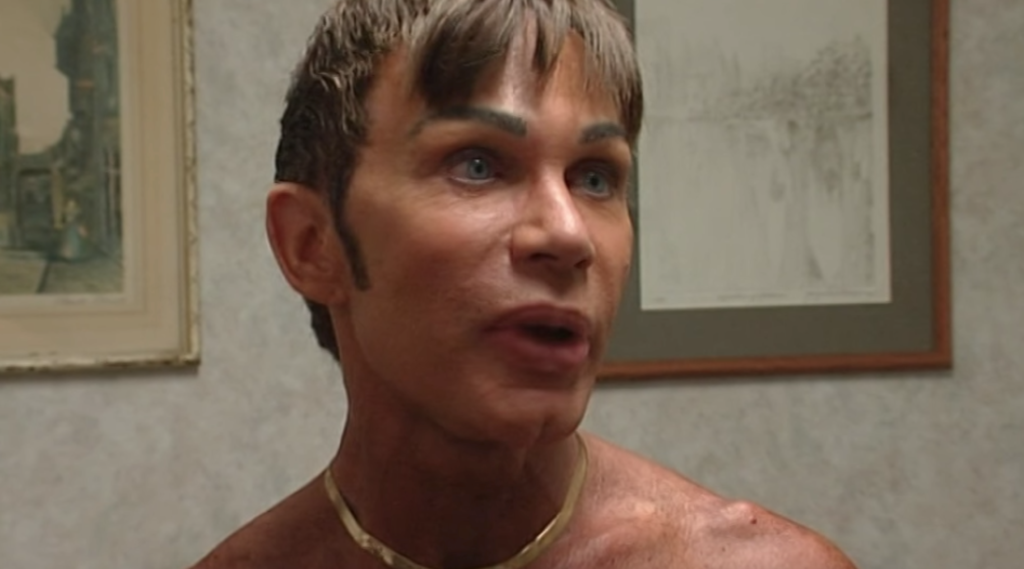 Steve Erhardt was a prominent face in Louis' documentary about plastic surgery for… obvious reasons. A hair and makeup artist, Steve had had many surgeries and inspired Louis to end up getting plastic surgery in the form of liposuction himself at the end of the program.
https://www.instagram.com/p/BrboqpZFd6Z/
Steve's Instagram is full of photos showing him with celebrities from many years ago. Supposedly he was Michael Jackson's personal stylist along with several other old big names, and this seems to be his only calling card when promoting himself on social media with next to no current photos of himself to be found.
In fact, the only modern photo we could find of him sits in his tagged section.
Laura Noblin – Under the Knife
Laura Noblin appeared in the 2007 documentary Under the Knife with Steve, where she desperately got a load of surgery to make herself look younger in the hopes of impressing her ex-boyfriend. It was kind of sad to see her cry so much when talking of him and seemingly becoming so obsessive over her image as a way to boost her self confidence.
There's not a lot that can be found about Laura nowadays, but there are a few crumbs left on different parts of the internet. For starters, arrestfacts.com shows that she was unfortunately arrested on three separate occasions between 1995 and 1999. According to texasstatemugshots.org, she was again arrested in 2014 for similar charges of driving while intoxicated.
Putting this life behind her (from what we can see), she appears to be a happy mum to two dogs named Pancho and Sammy, and has even enjoyed a career in bodybuilding at one point.
Nicky Ingrassia – Extreme Love: Autism
Nicky Ingrassia was one of the kids with autism that was featured in one of Louis' Extreme Love episodes, which showed his struggles with school and socialising with others. In one particularly memorable scene, he showed Louis the storybook that he had written titled Dragonula, as well as the dictionaries that he was writing up in different Japanese dialects.
In a 2017 interview, his sister Brittany spoke about her relationship with Nicky and how he's doing: "Once a child who could not speak, Nicky is now attending Raritan Valley Community College in Branchburg and learning how to drive."
Nicky doesn't appear to have any active social media profiles, but we'd love for Louis to catch up with him as one of the most entertaining people he has spent time with in any of his documentaries.
Joe Walker – Louis Theroux: Drinking to Oblivion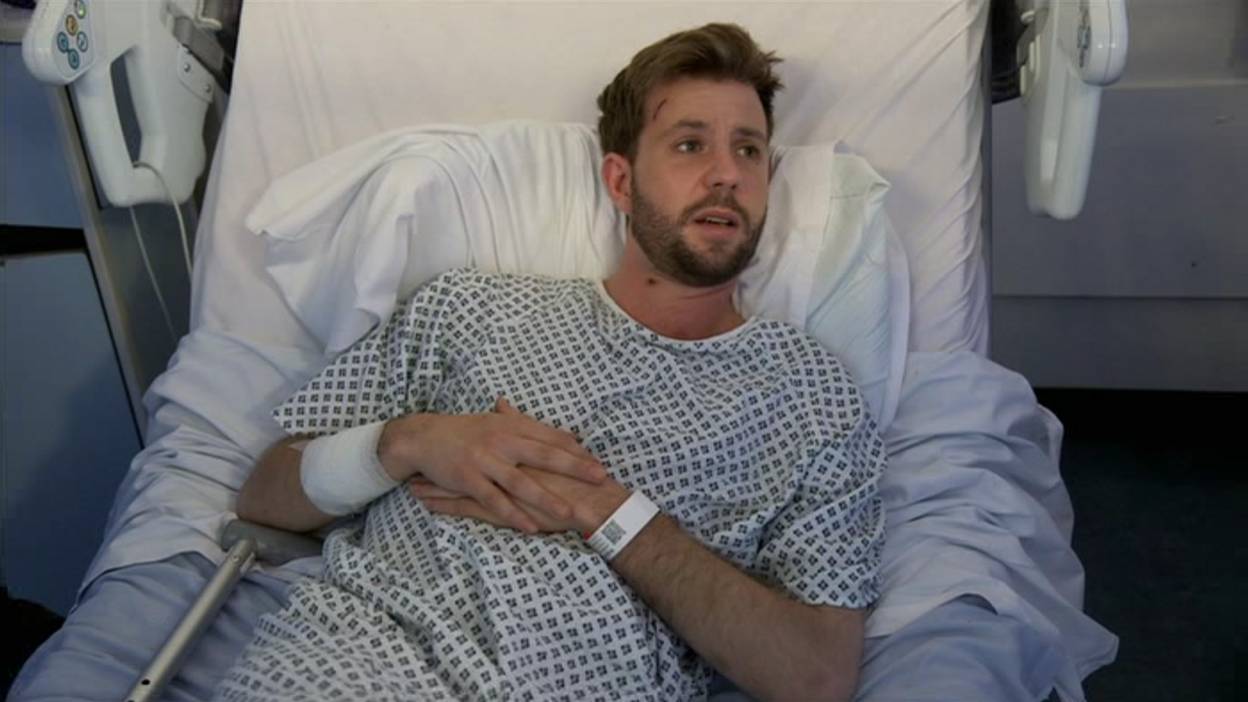 Joe Walker was definitely the most memorable part of the alcohol documentary for how much humility he showed with a disease that many people shy away from coming to terms with. He, like many other alcoholics, was triggered into drinking bottles of straight vodka after a series of traumas left him feeling unable to cope.
Since the show, Joe seems to be in a lot better a state than he once was. Although he's recently revealed on Twitter that he's struggling with relapses as well as feelings of loneliness due to the current pandemic, he is looking a lot healthier than he was when hospitalised.
After the doc aired in 2016, Louis visited Joe and they went for a coffee. He eventually went on to hit one year of sobriety.
Related stories recommended by this writer:
• Leeds student who wrote her diss on Louis Theroux got a 2:1
• Tiger King Joe Exotic was on Louis Theroux and he joked about shooting him too
• A new Jimmy Savile Netflix doc will expose 'friendships with celebs and Royal Family'