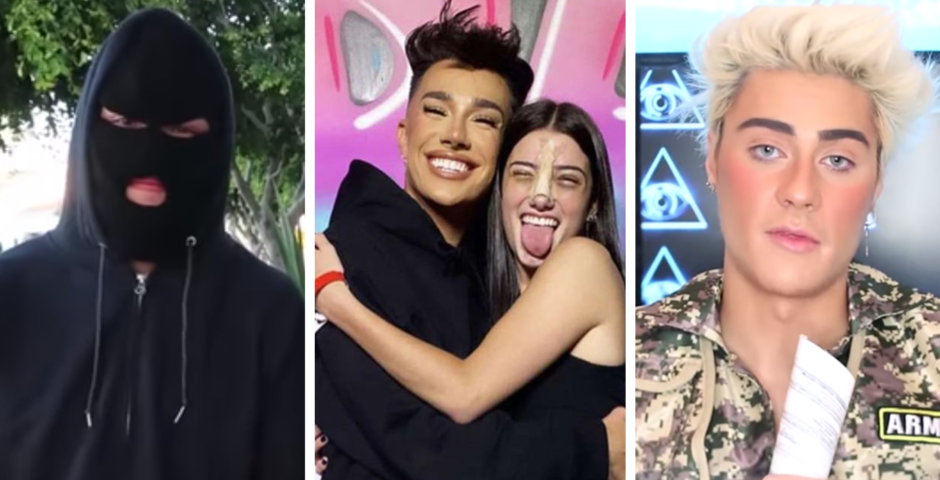 Arrests, drug busts and Covid parties: All the times big TikTokkers messed up
The D'Amelios aren't angels 😇
Whether it's makeup YouTube throwing shade at each other on a weekly basis in a thinly veiled attempt to ruin each other's careers or the Kardashians consistently messing up in every way perceivably possible, it's very well known that entertainers can't help but stick their foot in it with their endless pursuit of delighting millions of fans. Well, it really was only a matter of time before the stupid teenagers on TikTok wanted a slice of the action and, as it turns out, they've been getting pretty creative with how they f*ck up. Seriously.
So, from Dixie and Charli D'Amelio's various parties during what is supposed to be a lockdown in America to creators genuinely being arrested and charged, let's take a look into the most disastrous TikToker controversies to date.
Sebastian Bails pretending to join the army
Sebastian Bails is one of the OG TikTokers that we included in our recent article on where they are now, but it seems like he's still pulling all the stops out to ensure he remains as talked about as possible.
In July of this year, TikToker Sebastian Bails made a series of videos in which he pretended to enroll in the United States Army. The videos were immediately criticised for being insensitive and trivialising service in the military, with his first YouTube video on the topic getting 17,000 dislikes and 9,500 likes in three days. In the video, he dresses in an army costume and tells his "girlfriend" Lauren Goodman that he is going off to join the military.
Another few stupid videos including a TikTok video promoting his YouTube channel and the one linked above, and people were soon calling for him to apologise, with a petition being set up to actually make him join the military.
Cash Baker denouncing homosexuality in a series of videos
Cash Baker is a right turnip. Famed for making music with his older brother Maverick, the two have been in the TikTok game for a long time without any hitch. That was, until recently where he made a number of videos denouncing other religions and LGBT people.
On the 5th August, he said in a TikTok: "Me, being a Christian, can I support the LGBT+ community? No, I cannot. So am I behind the LGBT+ community? Do I promote it? Do I encourage it? Absolutely not.
"But guys, you gotta understand. Everybody gets that so confused with us saying that we hate LGBT+ people and all that. But guys, no, that is completely, completely wrong. So therefore, guys, yes, it is a sin in the Bible. But guys, everyone sins. I sin all the time. That does not mean I love you any less or look at you any different… So no guys, I don't support it, but I love them with all of my heart."
It's fine though – he still loves you, he just thinks you're going to burn in hell! After a number of complaints, including extensive coverage from outlets such as Pink News, he has since deleted some of the videos, but the damage remains – he has reportedly and rightfully lost a lot of followers over the ordeal.
Charli and Dixie D'Amelio have been going to huge house parties during lockdown
You'd think that the biggest TikTok stars would have at least a little more awareness given the current pandemic and their MASSIVE following but, like… no 😊❤️️.
Many people are dying in America right now, but that hasn't stopped the D'Amelio sisters from throwing parties with no regard for little known constructs such as "social distancing" and "facemasks". Dixie's party seemed like a relatively close affair which was still against rules, whereas the party they both attended at the "Hype House" saw both sisters, James Charles and various other influencers in attendance.
James Charles responded with a statement at the start of one of his videos, but it didn't seem like either of the D'Amelio sisters had much to say.
A whole load of other creators have been having huge house parties too
Tyler Oakley, who has become a bit of an authority when it comes to denouncing the flouting of social distancing by the next generation, has called out some of the big TikTokers that are seemingly partying every other day.
If you go through the thread, you'll see lots of video footage of creators like Bryce Hall and Jaden Hossler getting #lit and completely ignoring any of the current rules in LA. They've honestly had too many parties breaking social distancing rules to even make any separate points, and also it's hardly the worst thing that those two young fellas have done as of recent:
Bryce Hall and Jaden Hossler were arrested on drugs charges
Jaden Hossler and Bryce Hall, who are both part of the "Sway House", were arrested on drugs charges in Texas after travelling from California earlier this year. Supposedly both of them were charged with marijuana possession, but Hossler was also charged with possession of a controlled substance in penalty group two which is mostly hallucinogenic substances like Ecstacy and PCP.
A guilty charge could see Hossler facing up to 20 years in prison or a fine of $10,000, which shouldn't be too much for him to stump up considering they're currently living in a whole-ass mansion. They were both aged 19 and 20 at the time of the incident.
Hall responded to the arrest in an essay for People, writing: "I realized that living up to my Party Animal brand isn't dependent on being intoxicated. It's about who I am deep down. There's a time and place to go nuts…and I can get crazy without alcohol — whether it's cliff-diving with my Sway bros or pranking the Hype House guys by stealing their sign.
"It's been transformative. While I will still drink occasionally, gone are the times of drinking heavily every day. After getting sober, my body and mind feel amazing. I'm more focused than ever before and am constantly working hard on my brand and have never been more excited to post amazing content for my fans on social media."
The Stokes twins getting arrested and charged
Alan and Alex Stokes were charged with false imprisonment and swatting after an October prank that saw them pretend to be bank robbers. The twins, who share 25 million TikTok followers and four million YouTube subscribers, dressed in all black outfits with ski masks and duffel bags full of cash, before ordering an Uber.
When the Uber driver refused to drive them, a bystander called the police believing that they were trying to carjack the driver. After being let off with a police warning, the brothers then carried out exactly the same prank four hours later at a nearby campus.
Each twin has a charge of false imprisonment effected by violence, menace, fraud or deceit, and one misdemeanor count of falsely reporting an emergency. If they end up being convicted on the charges, the twins could receive up to four years in state prison each.
Related stories recommended by this writer:
• Ranked: These are the TikTok stars making millions of dollars every year
• Explained: What does the mi pan su su sum TikTok song actually mean?
• From Eric Wakeham to Maverick Baker: Where are the classic OG TikTokers now?