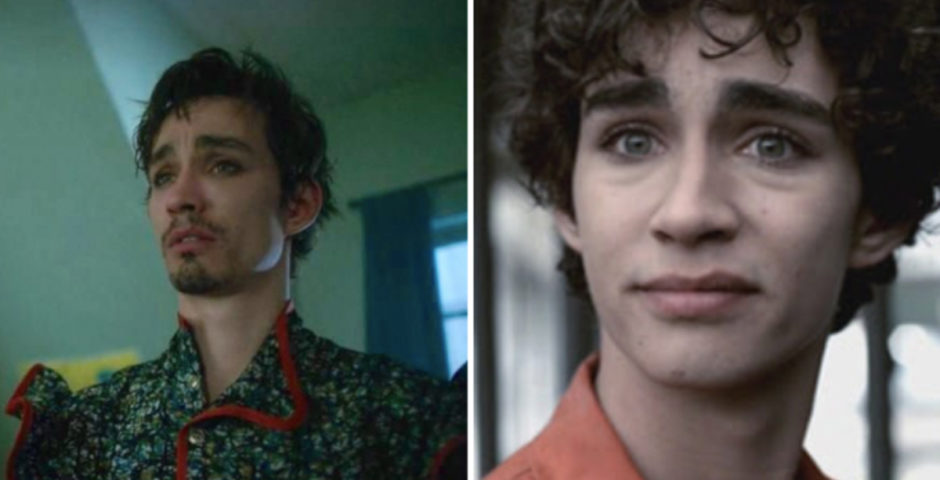 This is where you recognise the cast of The Umbrella Academy from
THE MONKEY IS IN LOVE ACTUALLY I REPEAT THE MONKEY IS IN LOVE ACTUALLY
The Umbrella Academy cast is large (Luther especially), in charge (Number Five especially) and boy have they been in a lot of stuff (Ellen Page especially). But seriously… this is one hell of a cast. It's the type of cast that makes you pause the first episode every 10 minutes because you just can't quite work out where you maybe saw that one actor before or whether you actually just dreamed it.
Well, fret no more. From E4's Misfits to the legendary Juno – here's everything The Umbrella Academy cast have been in before.
Vanya – Ellen Page
Right, if you don't recognise Ellen Page as Juno above all else I'm sorry, but that's not okay. Ellen Page is so deeply connected to the role of Juno that half the time I think about her my brain automatically calls her Juno Page. Anyway, she was in the 2007 film Juno. She was also in the film Hard Candy where she traps a paedophile and Flatliners where she deliberately stops her heart to meet death. This woman is intense.
What you're also most likely to recognise her from, though, is Inception. She was the one that bent that street in Paris in half and made it lay on top of itself. Lit. Or you might know her from X Men! This messes with my brain a lot because Umbrella Academy and X Men have such similar vibes, and the fact that she's in both makes me feel like I'm in a fever dream. But we move.
Klaus – Robert Sheehan
Robert Sheehan is an icon, but he's actually got little in the way of "big" Hollywood film credits to his name – at least compared to Ellen Page. He's just an icon because he absolutely excelled in every single one of them (can you tell I fancy him a bit?).
What you're most likely to recognise Sheehan from is Misfits, which you would have watched if you were a real one (or if your mum let you) in 2009. Misfits was god tier level television in this time and if you ask the right person (me) they'll tell you the first two seasons were good enough to rival Skins. If you're craving more Klaus, watch this, he basically plays the same character, from his attitude right down to some of his powers.
Otherwise, you may recognise him from the film Cherrybomb with Rupert Grint, The Mortal Instruments movie, City of Bones (with Lily Collins), and Killing Bono. (He didn't actually kill Bono, Bono is still very much alive).
Luther – Tom Hopper
Big ape looking mf Luther is played by Tom Hopper, and no he doesn't actually look like that in real life. But yes he is buff. Tom Hopper has been in some pretty big things, including Game of Thrones (he's one of the two Tarlys that Daenerys burned after the wagon looting. His name? Dickon. I'll leave you with that for a few minutes).
He was also in Black Sails and he played Ser Percival in Merlin (!!! Remember Merlin!!! What a time). Also, in case you didn't guess it from these TV credits, the man's actually ENGLISH. Not American! And Robert Sheehan is Irish. Honestly, it'll blow your mind when you hear the two talking, it's like a beautiful serenade.
Allison – Emily Raver-Lampman
Unlike the rest of the Umbrella Academy cast, you probably haven't seen Emily Raver-Lampman before – unless you're into theatre. She's a lot more broadway than Hollywood, and so her movie and TV credits are minimal, apart from a brief appearance in Jane The Virgin and ABC series "A Million Little Things". However she has appeared in Broadway productions of Hamilton, Hair and Jeckyll & Hyde – so she's undoubtedly a big deal on stage.
Diego – David Castañeda
David Castañeda, who plays Diego, has starred in films such as End of Watch with Jake Gyllenhaal and the sequel to Sicario (sadly without Emily Blunt this time). He also added two extra film credits to his list last year, when he appeared in Standing Up Falling Down and We Die Young alongside Jean Claude Van Damme. It's been a busy year for David Castañeda!
Number Five – Aidan Gallagher

So Aidan Gallagher is only sixteen, which means he hasn't exactly had long to gather a bunch of movie and TV credentials or long lists of places you would have seen him before. Prior to his Umbrella Academy casting, he appeared in a Nickelodeon show "Nicky, Ricky, Dicky & Dawn" as one of the quadruplets (he was Nicky). That's about all he's been in – BUT he's also a musician! Here's one of his music videos. Think of it what you will.
Ben – Justin H Min
Ben, played by Justin H Min, is dead. This means he's not always in the show as much as he could be, but you might have spotted his actor anyway and wondered where you'd seen him before. Before joining The Umbrella Academy cast, Justin appeared in short films like American Refugee and TV series such as Faking It, Dating After College and New Amsterdam.
Cha Cha – Mary J Blige
I don't have to explain this to you. She's Mary J Blige!
Hazel – Cameron Britton
Eagle-eyed Netflix fans will recognise Hazel as Ed Kemper from Mindhunter (a role for which he won an Emmy!). He was also in the film Manhunt: Unabomber and The Girl in the Spider's Web (from The Girl with the Dragon Tattoo series, but not the Rooney Mara adaptation).
Leonard – John Magaro
Sneaky weirdo Leonard who spends the first series getting close to Vanya, and getting progressively creepier, is actually Morello's husband in Orange Is The New Black! He's also had roles in The Big Short and Carol, alongside Cate Blanchett.
The Handler – Kate Walsh
Kate Walsh was resident bad bitch Dr Addison Mongomery on Grey's Anatomy, and also starred in Private Practice (she gives off a very medical, authoritative aura I guess). You could recognise her from those, or perhaps from 13 Reasons Why, where she played Hannah Baker's mum.
Pogo – This dude
Seriously I've seen this man's face so many times but never known his name. ADAM GODLEY is his name, and he is Pogo (RIP). He was in Charlie and the Chocolate Factory where he played Mike TV's dad and, most importantly (to me), he's the headteacher in Love Actually who says "some of the teachers have decided to take part, and for this, we are sorry" before the school performance. Icon.
Related stories recommended by this writer:
• Misfits: Where are the cast now?
• QUIZ: Which Umbrella Academy family member are you?
• This is how many millions of people watched your fav Netflix shows