These insane YouTuber houses will make yours look like a literal doll house
15 million dollars? Right
Whether it's a garage full of supercars or a closet stacked to the brim with the latest designer pieces, YouTubers are known for their absolutely ridiculous spending habits – and the worst part is that they're not even ashamed to shove it right up our noses. After all, you want the people that technically paid for your luxurious lifestyle to constantly be reminded that they're responsible for it AND that they're so much poorer than you, right?
Well, it doesn't just end at Lambos and Gucci handbags. Some of the most popular YouTubers have bought properties well in excess of 10 million smackeroonis, so let's take the opportunity to peer through the windows of some of the more outrageous mansions. Warning – if you have a jealous disposition, this one is not for you.
Logan Paul
This was always going to be pretty obvious, but the better of the Paul brothers, Logan, has a huge house that seems like more of a woodland retreat than the modernistic LA houses that most American YouTubers seem to live in.
Logan bought the 9,000 square foot house in 2017 for just under seven million dollars which, considering it's his first home, is just… urgh. This guy was literally 22 at the time.
The property includes a wine cellar, swimming pool, bar, cinema room and guest house, and has five bedrooms with seven baths. The house parties must be insane!
Jake Paul
Logan's annoying little brother Jake always had a reputation of trashing his properties, causing his neighbours to complain to various media outlets, so he decided to move into a MASSIVE mansion with plenty of space to… trash more stuff.
The property is 15,000 square foot and cost him just shy of seven million dollars. Jake bought the property in 2017, making him just 20 at the time.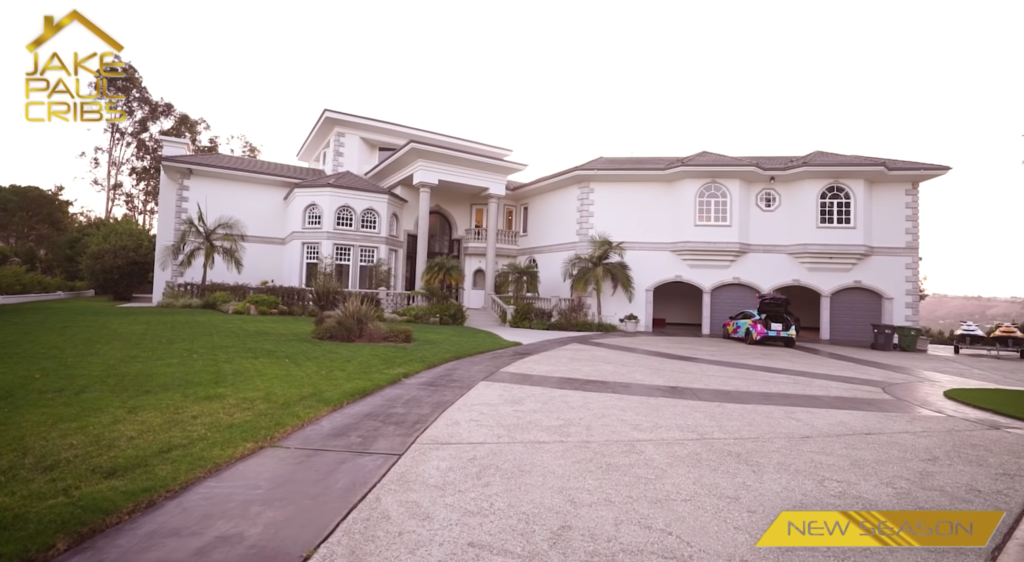 The Team 1o house consists of multiple garages, a whole load of land and a massive driveway to fit his various luxury cars, which includes a Lamborghini Huracan Performante.
The Sidemen House
For those that aren't familiar, The Sidemen are a group of YouTube gamers consisting of KSI, Behzinga, W2S, Miniminter, Vikkstar123 and Zerkaa. Although most of the members have now departed, the Sidemen have always lived in suuuper nice houses and this one is no different.
The house is situated in Keston Park, Bromley, which is a prestigious neighbourhood (as you can see from the surrounding tennis courts and gardens).
Complete with an indoor pool, massive garden and loads of space, this place set them back a reported £6,750,000.
The boys moved out of the house in 2019 to move into separate properties, but that hasn't stopped the members from building their collection of properties. According to The Mirror, KSI has a property portfolio worth in excess of 10 million quid!
Jeffree Star
Holy shit, okay so this is where it starts getting absolutely ridiculous. Jeffree only recently purchased the property for the monumental price of $14.6 million, and quickly set about making it his own.
This included extensive refurbishment of many rooms in the property, removing wooden panels and repainting. He even recarpeted a whole bunch of it – as if he hadn't spent enough money already!
His garage includes a Jeep, a Lamborghini Huracan, a Lamborghini Urus and an Aston Martin Vantage amongst others (brb, starting a makeup business).
The above staircase leads down to the lower level, where the cinema room and garage can be found amongst a full wellness suite and wine cellar.
The main foyer of the property includes a large meeting room as well as a sofa and chair setup, complete with high ceilings and extravagant chandeliers.
Oh, and there's a gym.
David Dobrik
Everyone's favourite oversized child David Dobrik has one of those classic LA hills houses. He purchased the property for two and a half million dollars in April 2017, and has since done some pretty crazy stuff there, including filling the entire garden with a huge version of that elephant's toothpaste experiment your teacher used to do.
As you can see from the aerial shot, he has a decent-sized garden (especially for someone born in 1996) that sits overlooking Los Angeles.
David owns a Ferrari 458, which can cost anywhere from £200,000 to £300,000.
Dobrik's house has four bedrooms and three and a half bathrooms, and has 2,887 square feet of space.
H3H3 Productions
Ethan and Hila Klein recently purchased a nine million dollar mansion in Bel Air. Similarly to Jeffree Star, the couple have other business ventures which likely meant they could purchase such a huge property and just look at it!

Six beds, seven and a half baths and 7,583 feet of grounds make up this ridiculously swaggy paddy, and it comes with a huge pool and separate pool house.
Zoella and Alfie
The YouTube couple that everybody loves to rinse, Zoe and Alfie moved into their property in Brighton together in 2017 and they seem to have been going strong ever since.
They've got the works: big patio, big garden, big kitchen. Zoella is even nice enough to share various photos of the latter on her Instagram for our viewing pleasure (thanks, Zoe!).
Deji
Although you'd think living with your parents is a little lame, that's not the case when it comes to Deji's place. It's a proper mansion, complete with a Porsche, Lambo and Range Rover.
They've had various issues with kids coming up to and even climbing the fences to the property – probably because he's consistently doxing himself by filming outside of it, but it's really anyone's guess.
Zoopla shows that the property has six bedrooms, five bathrooms and was sold for £862,500 in 2016.
Related stories recommended by this writer:
• These are the most catastrophic YouTuber controversies ever
• Blackface and anti-Semitism: All the times YouTube's Shane Dawson messed up
• QUIZ: Plan your YouTube career and we'll tell you which uni you should've gone to