Gossip Girl featured some hideous outfits, but which was definitively the worst?
Why do they always wear ugly hats?
Gossip Girl first aired in 2007 and there are a few things that have become clear: it made no sense Dan was Gossip Girl, Nate is fit but actually really really boring and Blair and Chuck were actually kind of toxic for each other. However, one thing that really takes you back is some of the outfits they wore. I mean I get it – it was 2007, fashion was different back then but we weren't blind. What are they wearing and why did no one fire the stylist?
From random ties to ugly dresses, we ranked the outfits by how offensive they were:
Blair's clashing patterns
Blair Waldorf, the Queen of Constance, is most well known for her headband obsession and honestly, she does really pull them off. You would think having a mother who literally owns a designer clothes company would mean you always had the best outfits, but some of Blair's outfits are downright terrible.
The dress is actually quite nice and her hair and the headband look pretty too, however, those black patterned tights with that dress look like Blair got dressed in the dark. The show's stylists were probably trying to do a clashing patterns look, which sometimes can look really cool, however this outfit just does not work.
Outfit rating: 8/10 – love the dress, the tights need to be burned.
Blair's curtain inspired top
Later on in the series, when Blair is choosing which girls at Constance to add to her group of minions, she wore this mess of an outfit that is apparently supposed to be her school's uniform? This just looks like she woke up late and wrapped a lace tablecloth over her shoulders.
Outfit rating: 7/10 – whilst it's not great, it does give off super Queen of Constance vibes and I like the headpiece.
Jenny's biker chick school uniform
You've got to feel bad for Little J, she lived in Brooklyn and was always told she would never be as good as everyone from the Upper East Side. In season one and two she was cute and wore quite normal outfits, then came around season three and she had the most drastic personality and style of anyone in the whole show.
Apparently this outfit is supposed to resemble a school uniform of some sort? The sleeveless leather jacket gives me nightmares and why is she wearing a random tie? The new heavy makeup really does not suit someone that is supposed to be 15/16, but you do you boo.
Outing rating: 7/10, not that bad compared to other characters but preferred her cute outfits in season one.
Vanessa's try-hard moment
Here Vanessa tries to impress Dan by dressing like someone from the Upper East Side, it's not the worst outfit but the purse with the dress doesn't go and that necklace is hideous.
Outfit rating: 7/10, not bad for someone from Brooklyn.
Jenny's beanie and loose tie combo
You can really tell Americans have no idea what a school uniform is as apparently this outfit is supposed to be one. The beanie coupled with the side fringe makes this a very 2010s outfit and the studded leather jacket adds a cool vibe. Luckily for Jenny, the two other girls in the scene are wearing horrible beanies so it makes her one look a lot nicer.
Outfit rating: 6/10.
Chuck's cardigan diaster
Chuck Bass, one half of the iconic relationship that is Chair, every Gossip Girl fan either loves him or wants to be him but season one Chuck Bass was just not a vibe at all, he was mean, he wasn't with Blair and didn't really have much of a storyline apart from the fact that he was rich. His outfits didn't help either.
Another season one Chuck Bass outfit that was tragic was this cardigan, polo shirt, shorts combo. If the outfit wasn't bad enough Chuck tries to fight Dan because he and Serena wouldn't let Chuck kiss Dan's younger sister Jenny at a party in the episode before.
Outfit rating: 6/10, it's not really that bad but everyone has super high expectations of Chuck Bass and this outfit misses the mark.
Chuck's basketball kit
Throughout the show, you'll mostly see Chuck wearing suits looking 10/10, however, in season one Chuck wears this very interesting outfit to play basketball.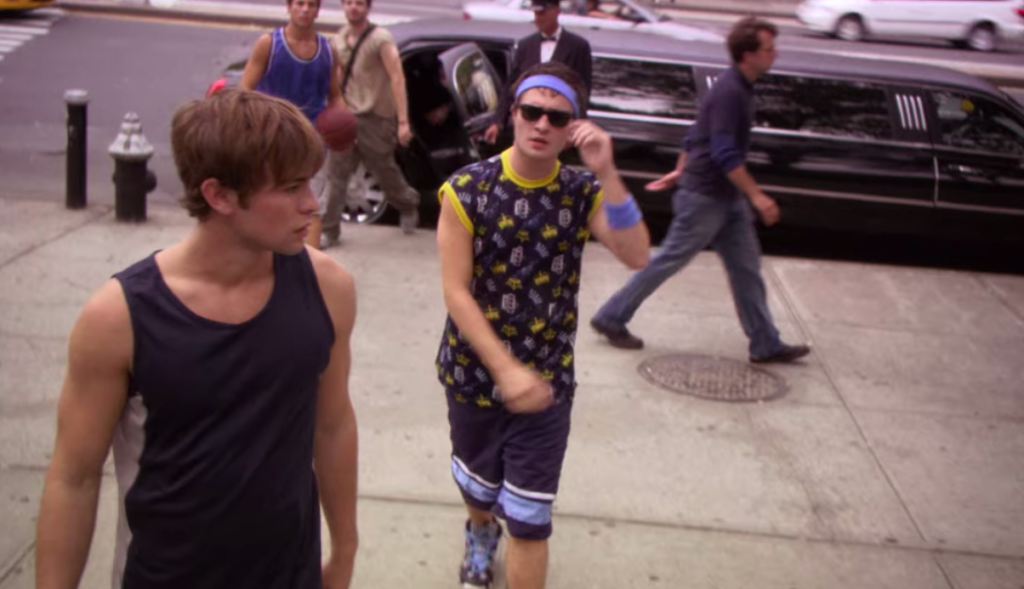 Firstly, can we talk about that awful top/basketball vest/pattern sports top Chuck is wearing. Which stylist thought this was a good look?? The shorts are actually not too bad and the matching headband and wristband make this outfit a bit better. However, the fact that Nate looks so fit in his basketball outfit just makes Chuck look so much worse.
Outfit rating: 4/10 – it might be the worst Chuck Bass outfit but it's not the worst outfit a character has worn on the show.
Serena's flower power moment
Serena van der Woodsen is the It Girl of the Upper East Side – everyone wanted to be her or be with her. Serena had some of the best outfits in the show (her wedding dress!!) so when she wore a bad outfit it really was heartbreaking.
This outfit makes no sense, it makes Serena look frumpy she doesn't look like someone who lives on the Upper East Side. The really long gold necklace which matches the chain of her bag just looks weird. Also, the fact that she is running after Dan because he can't accept she's rich ugh get over it Dan.
Outfit rating: 5/10, a weird outfit and her hair doesn't even look good to save the outfit.
Blair's 'what even is this outfit' outfit
Season four opens with Blair reading a book in Paris with the most hideous outfit on, there are just so many things wrong about it. The dress could have been cute if it wasn't lime green and the pink accessories seemed to be trying to achieve some sort of cool contrasting look but the three different shades just make this outfit confusing. Lastly, onto the hat, I have no words.
Outfit rating: 3/10, I hate this outfit but her hair looks nice so it saves it a bit.
Serena's mum vibes outfit
This outfit makes Serena look like a 45-year-old mum taking her son shopping. The weird silky shirt with a built-in belt makes me want to throw up and the bag is horrendous.
Outfit rating: 2/10, would be a great outfit if she was a mum though.
Blair's wedding guest fail
Is an explanation even needed for why this outfit is in here? It makes it even worse that she wore this to a wedding, but hey, at least she's not taking any attention away from the bride.
Outing rating: 1/10, I repeat – she wore this to a wedding!!
Vanessa's open-toed heels
Vanessa was arguably one of the worst characters on the show, she didn't really add much to any storyline she was in and just looked down on the whole Upper East Side. If her outfits had been better maybe I could have ignored her boring personality but they were just tragic.
The purple top, the contrasting straight-leg trousers, and the open-toed shoes just scream early 2010s. The heavy gold necklaces don't help elevate the outfit.
Outfit rating: 0/10 this outfit has zero redeeming qualities and I don't like Vanessa.
Blair's ugly hat
And ding ding ding! We have a winner, this is the ugliest hat I have ever seen – who even wants to see the rest of the outfit after seeing the hat.
Outfit rating: -2/10.
Featured image from Instagram:@gossipgirlfeed
Related articles recommended by this article:
• What was the straight-up dumbest thing that ever happened on Gossip Girl?
• Quiz: Which girl from Gossip Girl are you actually?
• These 25 Gossip Girl memes are more iconic than Blair's headbands