These 35 memes truly summarise the moments Love Island really peaked
They just don't make it like this anymore
Love Island is currently nothing but compilation and highlight shows being aired on ITV2. Whilst the best bits programmes have been on, the Love Island memes are back. It's just like old times.
We got to rewatch classic moments like Malin confronting Terry, Anna going IN on Jordan and never forget Tom dropping the iconic "it'll be good to see if she's all mouth" line. Unbelievable.
Here are the Love Island memes which sum up some of the best bits of the show ever. This really is a trip down memory lane.
1. I am Molly-Mae
2. Wow
3. She is still an icon
4. Unforgettable
5. Crystal clear
6. They just don't make them like Maura Higgins anymore
7. My heart
8. Chris pls
9. I was on EDGE
10. Still love u x
11. Never related to anyone more
12. Still baffles me that this happened
13. I can HEAR this
14. Oh god just bring it back already
15. I miss him
16. Chris' face is still a gem
17. I could listen to him doing Eyal all day
18. I still feel this
19. The best bit no doubt
20. We had it so good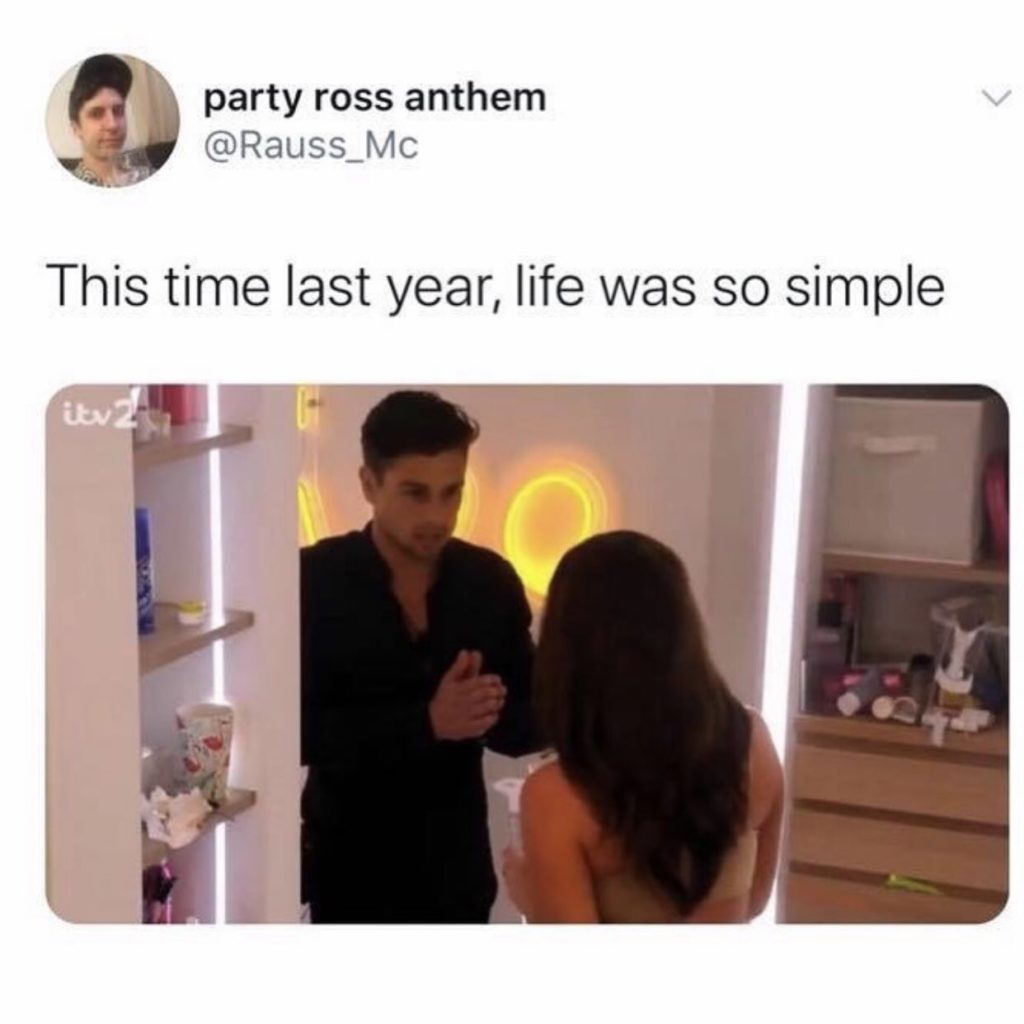 21. A special thank u to Jonny and Theo
22. And that's the truth
23. THEY JUST DON'T DO LOVE ISLAND CONSPIRACY LIKE THIS ANYMORE
24. Malia's whirlwind 20 minutes was a moment
25. He really loved that damn coffee
26. I WILL ALWAYS BE LOYAL BABE
27. Nobody will ever come close
28. Georgia was so dramatic I love it
29. Ellie. Brown. That is all.
30. I've watched this a million times and it still shocks me
31. …Even though he'd cheated on her lmao
32. This was when the queen was born
33. 'BASIC MADE IN CHELSEA REJECT'
34. HE DUSSINT !!!
35. In season one they actually went to Magaluf with Callum Best. Incredible.
For all the latest Love Island news, gossip and memes – like The Holy Church of Love Island on Facebook. 
Related stories recommended by this writer:
• These are the 46 wildest Love Island moments EVER
• These are the Islanders who went back to their day jobs after being on the show
• Vote: Who are undeniably the best Love Island couple ever?