These 39 reactions to Netflix's Unsolved Mysteries prove it really is a rollercoaster
I won't sleep until these cases are solved
It's been less than a week since Netflix released its brand new reboot of the classic true crime series Unsolved Mysteries. So far six episodes have been released – and they are all mind-boggling. The reactions to Unsolved Mysteries really do prove that we've been taken on an emotional rollercoaster and we are all racking our brains over these cases.
None of us can quite get over how twisted some of the stories are, we all NEED to know where Xavier Dupont de Ligonnès is and I'm just going to come out and say it – I believe in UFOs now as well. It's been a whirlwind.
These are the best memes and reactions to Unsolved Mysteries on Netflix, so far.
1. Give me MORE
2. Nothing is unsolved with these two on the case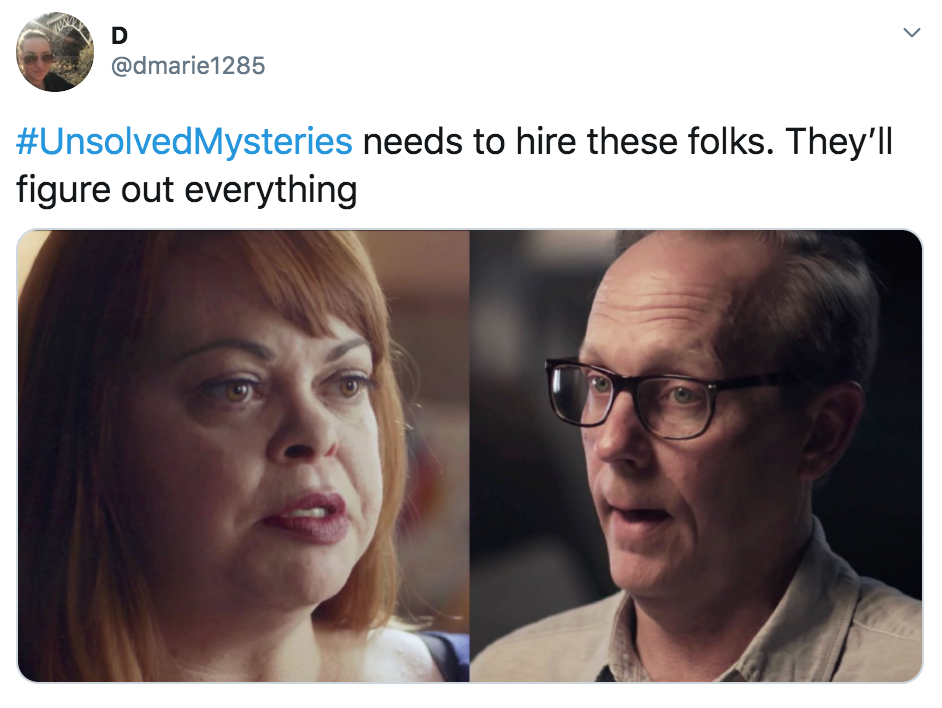 3. HOW CAN YOU DO THIS
4. Hey I have a tip x
5. It was INTENSE
6. Wow ! What !?
7. Yeah I got some ideas !!
8. Help me!!!!
9. Shaking
10. Solved x
11. This is all I was thinking
12. I, and I cannot stress this enough, have to know
13. Tbf, they know everything
14. I believe !!!
15. Ideal
16. IT IS WHAT IT IS
17. All these THEORIES I cannot REST
18. This got me
19. I've been taken for a fool
20. Goosebumps every time
21. Perfect night in to be honest
22. Damn straight
23. Keem 'em coming x
24. I won't ever stop thinking about this
25. This is stopping me sleep at night
26. I will find out
27. Honestly, that was a lot
28. I want to believe it so badly
29. Mind = blown
30. WHAT SORRY?
31. I DON'T GET IT
32. Reddit works out everything
33. IT YOU
34. I can't believe it
35. Right?!
36. I will solve them all!!!
37. What did you just say?
38. I'm out x
39. PLEASE
If you have any information about any of the cases in the Unsolved Mysteries series, you can submit it via the Unsolved website. 
The first six episodes of Unsolved Mysteries are available on Netflix now. For all the latest Netflix news, drops and memes like The Holy Church of Netflix on Facebook. 
Related stories recommended by this writer:
• All the theories of what happened to Patrice Endres from Netflix's Unsolved Mysteries
• What happened to Rey Rivera from Netflix's Unsolved Mysteries? These are the theories
• All the theories of where Count Xavier from Netflix's Unsolved Mysteries is now