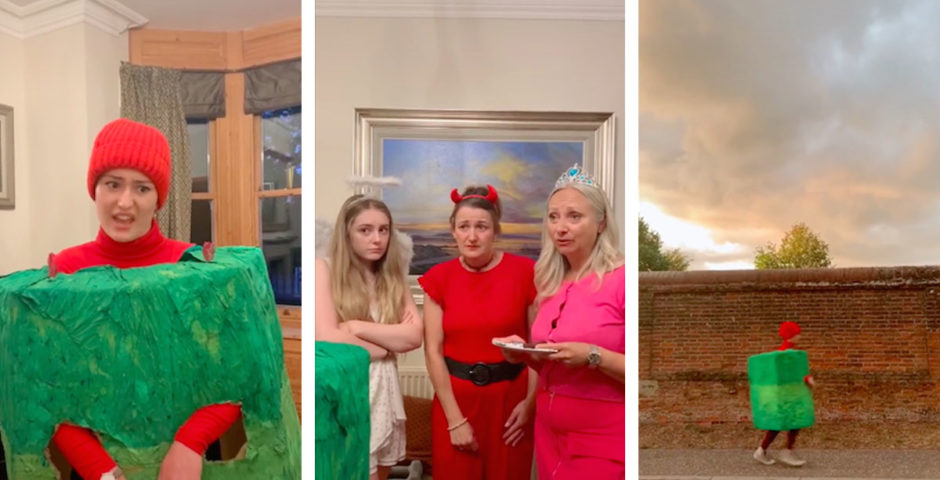 A girl recreated the olive scene from Angus Thongs with her family and it is iconic
The video has over 2 million views on TikTok
Cinema is full of truly mesmerising opening scenes – Citizen Kane, The God Father, The Lion King – they're all good. But none are truly as iconic as Georgia Nicholson entering Slaggy Lindsay's fancy dress party in a stuffed olive costume in the opening scene of Angus, Thongs and Perfect Snogging.
And now some genius on TikTok has recreated the entire scene with her family whilst in lockdown, and no exaggeration it is a work of art.
The video has now been viewed over two million times and got nearly 600k likes. We spoke to the brains behind the video, 19-year-old Ellen Smith, a drama student who stars as the stuffed olive aka Georgia.
Ellen, who's username on TikTok is @ellenrosesmithx, decided to remake the scene because of how popular it is, so basically she wanted to become TikTok famous, which fair play to her she basically has. She said: "We decided to recreate the scene because it's a film we all love and have watched hundreds of times and it's so well known in the UK we hoped it would be popular."
One of the best parts of the video is undoubtedly that Ellen didn't create the video with her mates, no, no, no she decided to get her family involved and have her mum and aunt play 14-year-old teenagers.
Her mum plays Jas, the devil costume for those of you who don't remember, her aunt was Ellen and her cousin was Rosie. The part of Slaggy Lindsay went to Ellen's sister.
Surprisingly her whole fam were very into making the video, Ellen said: "My family were very up for it! We had loads of fun recreating the scene."
The olive costume took Ellen three days to make, that is dedication to Angus, Thongs and Perfect Snogging. She made it out of "cardboard boxes, crepe paper and paint (and a lot of tape!)". The rest of the costumes came from ordinary items in her wardrobe and fancy dress pieces.
Not only did they create the party scene with the interrogation of the Ace Gang and why they didn't come as hors d'oeuvres, Ellen and her family also remade the bit where Georgia runs home.
In Ellen's video she runs past a horse, park, church and through a field. Not quite the beach scenes from Angus, Thongs but I appreciate the dedication. Ellen said she got quite a few reactions from passers by, she said: "I live in a small village but a couple of cars drove past and laughed and we passed a few walkers in the street too!"
Nothing is better than watching Ellen's mum saying: "But boys don't like girls for funniness." So I'm off to rewatch it a few more times.
Related stories recommended by this writer:
•How well do you remember Angus, Thongs and Perfect Snogging, 10 years on?
•Quiz: Which Angus, Thongs and Perfect Snogging character are you?
•I'm sorry to tell you this but Angus, Thongs and Perfect Snogging is completely messed up