The biggest age gaps between actors and their characters in classic teen films
Rachel McAdam was 26 in Mean Girls
How great would it be to pass for a character that is over 10 years younger than you? Very great, and also pretty easy in the realm of classic teen movies, it turns out.
We've already had an extensive look at some of the wildest age differences between actors and characters in Netflix series, but what about all of the stars from your favourite teen flicks? Pretty much every teenager in an American high school movie has unsurprisingly been a fair bit older, and here's the proof.
Rachel McAdams – Mean Girls
Age gap: Nine years
Mean girls will forever be an iconic film, agree? Thought so, take our trivia quiz here.
Regina George was the notorious 17-year-old popular villain in North Shore High, but Rachel McAdams could clearly act a lot younger (and bitchier) than she was, as the character was played by Rachel when she was 26 years old.
Amy Poehler – Mean Girls
Age gap: >10 years
This is even weirder. Amy Poehler plays the over-comfortable but undeniably cool mom in the film, but she was only 33 years old at the time. Yup, that left only a 7 year age gap between her and her daughter.
It's not specified what age Regina's mum is in the film, but we can presume that she's a little older than 33 with a little bit of maths.
Drew Seeley – Another Cinderella Story
Age gap: Nine years
Drew Seeley and Selena Gomez both played high schoolers in Another Cinderella Story, yet they are aged 10 years apart. When Drew portrayed Joey, he was 26, whilst Selena was just 16.
Kiera Knightley – Love Actually
Age gap: >Seven years
Kiera Knightley was just 18 when we were supposed to believe that her character, Juliet, was getting married in an elaborate ceremony and moving into a lovely home with her husband in London – but maybe that's just how things were back then (it definitely wasn't). Bore off – we're sitting her firmly at 25, and even that's probably a little too young.
What's weirder is that her costar, Thomas Brodie-Sangster, was just 13 at the time, which was only a five year age gap between the two?!
Lindsay Lohan – Just My Luck
Age gap: >Five years
Although seemingly playing her normal age in Mean Girls, in "Just My Luck" she engaged in a romance with Chris Pine, who was 26 at the time.
It's never specified that she was supposed to be the same age, but it just doesn't seem realistic that a 20-year-old would find themselves in such a prosperous position in life as she does at the age of 20, so we're going with an age of at least 25 for Linday's character here.
Parminder Nagra – Bend it like Beckham
Age gap: 10 years
The main character in Bend it like Beckham, Jess, was supposed to be 17 along with the rest of her teammates, but Parminder Nagra was actually 27 at the time of filming.
She is 10 years older than Kiera Knightley, who actually was 17 at the time.
Chad Michael Murray – A Cinderella Story
Age gap: Six years
Chad Michael Murray and Hillary Duff are both supposed to be highschool age at the time, and thus the Hollywood curse of getting older people to impersonate younger students continues.
Although Hillary was indeed 17, he's six years older at a cool 23. Nice.
Channing Tatum – She's the Man
Age gap: 6 years
You can see where we're going here.
Channing was 26 at the time of release, meaning that his character has got to be around 6 years younger than him. Laura Ramsey, the half villain/half perfect child was 25 at the time of filming.
Jonah Hill – Superbad
Age gap: Seven years
Jonah Hill was 24 when he starred in Superbad, making him several years older than both Michael Cera AND McLovin.
If we go with the typical 17-year-old student who is just starting to go out and drink, that makes Jonah seven years older than the character that he is supposed to be portraying.
Taylor Lautner – Twilight
Age gap: One year
This one is, quite frankly, fucking mental. I know they needed to cast Edward as older because, you know, he is supposed to be hundreds of years old in a teenage body, and I know it's only one year, but woah – Taylor Lautner was 16 when the first Twilight film was released?!
When it's considered that the others were in their 20s, he was considerably younger than anyone else on set, even if he was actually closest to the right age.
Justin Chon – Twilight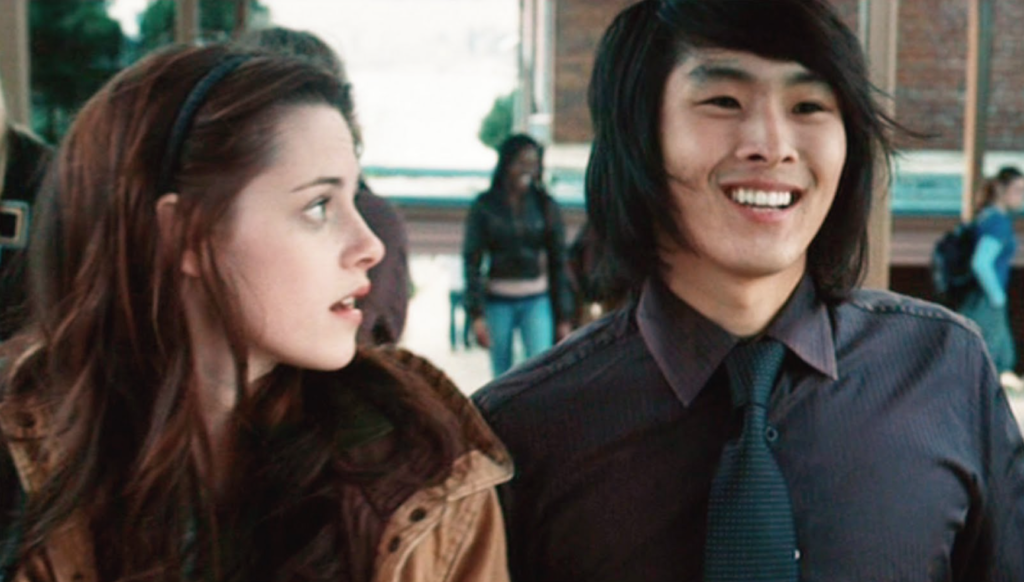 Age gap: 10 years
Mr "AmericanversionofBriefcaseWanker" Eric is a bloke that literally wears a tie in a school where you're allowed to wear what you like.
Assuming he's the same age as Bella, a 17-year-old high school student, the actor that plays her mate Eric is 10 years older than the character he portrays. A 27 year old getting away with being in high school is seriously impressive, but then again so is an entire group of vampires going undetected, so it can slide.
Kimberley Nixon – Angus, Thongs and Perfect Snogging
Age gap: Eight years
It's mental that Georgia Groome, who played Georgia Nicholson, was aged 16 when her character was supposed to be 14. It's even more mental that Kimberley Nixon, who plays Slaggy Lindsay, was aged 23 at the time of filming – it's never clear exactly what age she was supposed to be, but if she was the year above Georgia this would mean an 8 year age gap between the actress and the character she was meant to play.
Rebel Wilson – Pitch Perfect
Age gap: 12 years
Again, a bit of guesswork with Rebel Wilson here.
College ages tend to run between 18 and 22, so we'll put her in the middle at 20. That means that there is a 12 year age gap between Rebel and her character, as she was 32 when filming took place.
Anna Camp – Pitch Perfect
Age gap: Eight years
Aubrey is specifically mentioned as a senior, so she would've been 22. That makes Anna 8 years older than her character, filming at the age of 30.
Olivia Newton-John – Grease
Age gap: 12 years
17-year-old Sandy from Grease was played by Olivia Newton-John, who was 29 at the time. That's a pretty big age gap of 12 years, but this is merely "somewhat lubricated" lightning compared to the next cast member (sorry).
Stockard Channing – Grease
Age gap: 15 years
18-year-old Rizzo is portrayed by Stockard Channing, who was the oldest of the "young" cast at 33 years old, leaving a pretty huge 15 year age gap. Some of the cast acting alongside her hadn't even turned 20 yet!
Related stories recommended by this writer:
• These are the biggest age gaps between Netflix characters and actors who play them
• This is how old all the realtors from Selling Sunset on Netflix are
• This is how old all of the Fab Five from Netflix's Queer Eye are