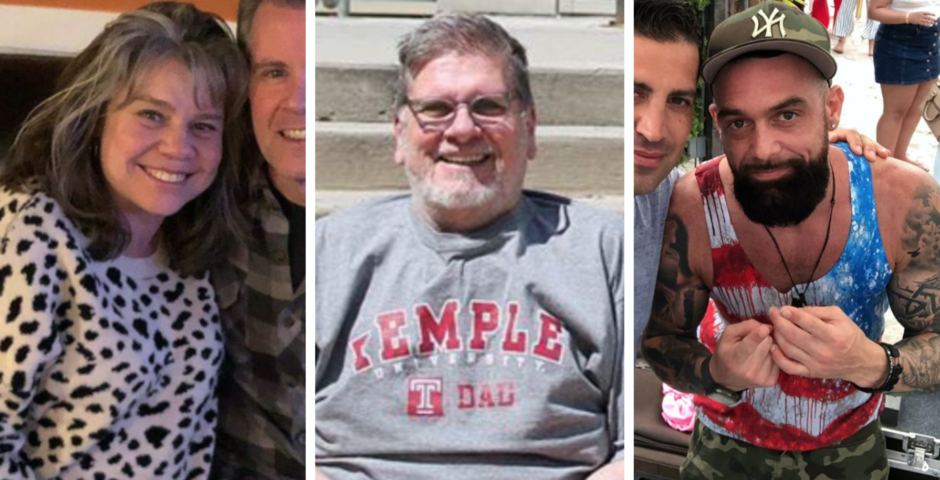 What have the people from season five of Queer Eye been up to since filming?
Queer Eye, what did we to do deserve you? Not only do you make for great dinner table discussion, but doesn't everyone love an underdog story? Some of these people have truly come out of the experience as completely changed people. The Fab Five are practically a one-way ticket to ensuring that your life is indefinitely improved… at least, that is the case for most of them.
The bunch of people who have appeared on Queer Eye have had a number of amazing as well as tragic things happen to them since appearing on the show, so we've compiled some of the most extraordinary stories.
Rahanna Gray
Rahanna featured in one of the episodes of seasons 5, struggling to keep her pet grooming business afloat. Her business, Stylish pooch, was much invigorated by a brand new van courtesy of Bobby, so that she could go around doing doggy dos all day long. You could really tell by this point that the budget had increased massively.
So… as you can see, things have gone pretty well for her. Booked until AUGUST?! She got the blue tick, she got the 120k+ followers, and she's set to get a LOT of money. A basic bath starts at $60 for a small dog, and goes through to $200 for a bath and cut for a big dog.
I'll stick to giving my whippets a torturous at-home bath experience, thanks.
Kevin Abernethy
Kevin was the super sweet divorcee who was preparing for his daughter's wedding. He got dance lessons and, having lost significant weight, needed to dress for his better body shape. Yeah, his relationship with his ex-wife was kinda weird (as well as the fact that her new boyfriend is on the scene), but it's sort of nice that they can get along.
Since appearing on the show, Kevin battled health issues associated with his diabetes and had his foot, followed by his leg, removed. His daughter set up a GoFundMe to pay for the medical costs, which has amounted to just over $6,000 dollars.
Noah Hepler
Noah Hepler was the pastor from the church in Philadelphia that came out about his sexuality even though he was religious. He was introduced to pastors with similar stories, and taught to be more self-assured when it came to leading the congregation.
Noah has reportedly continued to build his confidence and assertion over the group of people who attend his church. According to Refinery29, he has had to continue services online via YouTube due to the current pandemic. He told them: "It has been a lot of attentiveness to self care, realizing that doing that is not selfish, but part of what it takes to be fully present for others in your life.
"The pandemic slowed us down a bit, but we've started some repairs, especially to the house and other parts of our building used as community space." There is no information online to suggest that he's found a partner.
Tyreek Wanamaker
Tyreek tirelessly helps others, working as a community organiser, so it's only right that he learns how to give himself a bit of self-love.
Although he isn't active on social media, apparently he is still helping out with the community in any way he can during the current crisis.
Abby Leedy
Abby was the activist that gave everything up to make the world a better place, nominating her shared accommodation as the place to get done up. She is clearly very anxious, overworked and nervy, but the boys soon work through things with her.
Since the show aired, she's moved out of the house that Bobby painstakingly renovated to live in an apartment with other activists, and continues to do work in activism.
Ryan Dyer
I think it's fair to say that, judging from the comments of the Fab Five as well as from Twitter, it was unanimously agreed that Ryan was pretty attractive, which makes the following news quite upsetting.
He did NOTHING DIFFERENT! That's right, according to his Instagram, he's still a 37-year-old cap-wearing frat boy who DJs on the shore. It looks like he is doing everything that the Fab Five advised him against – tanning and wearing vests for starters.
Jennifer Sweeney
Jennifer hardly needed any improvement to her outlook, but rather a break from everything. Not only was she a full-time mother but also a full-time carer to her husband that was slowly becoming debilitated by ALS.
According to her Instagram, the whole family seem to be healthy and happy. She shares lots of photos of her husband and kids which is a v wholesome scroll.
Marco Tlacopilco
This was a confusing episode – it seemed to be centred around his lack of relationship with his daughter, but there was an unavoidable feeling that there was something else going on under the surface… either way, the Fab Five did his restaurant up so that he could have a soft opening.
And soft opening he did have, but that's pretty much the furthest that it went. Alma del Mar hasn't been launched yet, and it's understandable due to the current situation. In addition to this, the restaurant will likely be named something completely different and also have a new menu. His original eatery remains open.
Lilly Yi
Lilly was a doctor who felt she was neglecting her child and husband in favour of her busy work life.
Looking through her Instagram feed, it looks like she's spending a lot more time with her family, and is getting a better balance between her professional time and personal time.
Nate McIntyre
And finally we have Nate, a gym owner who was nominated by his ex-girlfriend who he still has feelings for – where do they find these people?!
Coronavirus has obviously shut down his business completely for the time being, but apparently he engages with customers through his Instagram while he can't see them in person. Unfortunately, his ex is now engaged to someone else, even though it seemed like they'd get back together in the episode.
Now here's what some of the people from the previous series are up to now:
Tom Jackson
We all remember Tom's episode as probably the most iconic in the show's history. The man seemed broken in many ways, even famously telling the Fab Five that "you can't fix ugly", but it was his reignited romance with ex-wife Abby Parr that left viewers weepy-eyed. He was particularly receptive to the boys, and you really got a sense that he got along with them so well.
In 2018, it was announced that they had remarried, much to the delight of viewers across the globe. Well, true love was finally confirmed as real, until it was rudely snatched away again in 2019 when it was announced that Tom and Abby had divorced again.
He spends his days doing cameos for fans and generally spreading positivity on his social media channels, starting every video with his signature: "Hi everybody, it's Tom from Queer Eye". True love may not be real, but this man deserves another chance in finding it.
Jess Guilbeaux
Jess was kicked out of her house at the age of 16 because she came out as a lesbian to her adoptive parents. She goes on a journey with the Fab Five to gain more self-confidence, and assert more of a sense of permanence to her home that was lacking.
It is undeniable that Jess is one of the people who appeared on Queer Eye that got the most from appearing on the show. For starters, her eagerness to get a proper education led fans to donating over $100,000 to her college fund, which is absolutely nuts.
Since then, she's gone on to flourish as a speaker, model and activist, with 140,000+ followers on Instagram. She appears to be in a happy relationship, and shares snaps of her and her partner regularly.
Neal Reddy
Neal was the ironically shy and retiring standup comic that needed help at every turn, from clearing his tired out bachelor pad to ensuring that he kept up a self-care regimen.
And oh how far has he come. He now inundates his feed with loads of selfies showing himself looking SO much more positive and confident, the Fab Five still engage with his posts and he even has a blue tick! He refers to himself as a "mediocre comedian", but it's clear to see that this is a passion that he is still very much following.
And look at this amazing reunion photo of some of the people featured on the show! Wonder how long it took to get into position – it's too perfect…
William Mahnken
You'll probably remember William for his amazingly romantic/vomit inducing proposal to his future wife (however you wish to look at it). If you've somehow managed to erase it from your mind (lucky bastard), here it is in all of its glory:
URGHHHHH.
Since appearing on the show, he went on a very wholesome double date with Tom and Abby, but that's not the most newsworthy thing he is known for!
Oh no indeed – in probably the weirdest development for people appearing on Queer Eye, William realised his dreams of becoming a Hollywood actor and was seen playing a small extra role in Stranger Things season three! Don't believe us?
Bizarre.
Bobby Camp
Remember Bobby? We placed him at number two in our ranking of the best Queer Eye transformations for just how dramatically different he looked, so I bet you're wondering if the devoutly religious family man has kept up the beautification encouraged by Jonathan Van Ness?
Yes. Doesn't he look great?!
Apparently, after Bobby Berk completely redid their entire property, probably spending tens of thousands on it, Bobby Camp decided to uproot and move to a totally different area which is, quite frankly, humongous phallus energy. Get the paper, Bobby.
Related stories recommended by this writer:
• Ranked: These are the most dramatic Queer Eye transformations of all time
• Queer Eye: What did the Fab Five do for work before becoming experts on the show?
• Meet the husbands, fiancés and boyfriends of the Queer Eye Fab Five