Lea Michele has been dropped by HelloFresh following bullying allegations
Samantha Ware said Lea made her life a 'living hell'
HelloFresh has ended their partnership with Glee's Lea Michele after a former cast member alleged Lea bullied her on the set of Glee.
On Twitter last night a number of people questioned how HelloFresh would continue to work with Lea. They said they will not be working anymore with Lea and do not condone racist behaviour.
They said: "HelloFresh does not condone racism nor discrimination of any kind. We are disheartened and disappointed to learn of the recent claims concerning Lea Michele. We take this very seriously, and have ended our partnership with Lea Michele, effective immediately."
Lea was accused by fellow Glee cast member Samantha Marie Ware of making her life "a living hell". Samantha wrote on Twitter that Lea said on the set of Glee she wanted to "'s*** in my wig!"
Samantha wrote: "Remember when you made my first television gig a living hell?!?! Cause I'll never forget. I believe you told everyone that if you had the opportunity you would 's*** in my wig!"
Samantha's tweet was in response to Lea sharing her support for the Black Lives Matter movement. Lea tweeted: "George Floyd did not deserve this. This was not an isolated incident and it must end. #BlackLivesMatter."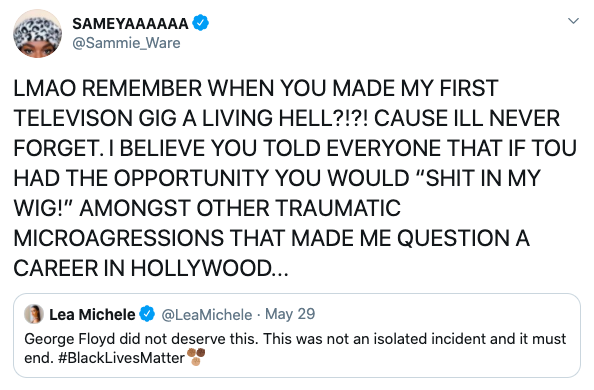 Lea has since posted an apology statement on Instagram following the allegations. She said she does not remember making the specific comments but apologised for her behaviour and any pain she may have caused.
She said: "One of the most important lessons of the last few weeks is that we need to take the time to listen and learn about other people's perspectives and any role we have played or anything we can do to help address the injustices that they face.
"When I tweeted the other day, it was meant to be a show of support for our friends and neighbours and communities of colour during this really difficult time but the responses I received to what I posted have made me also focus specifically on how my own behaviour towards fellow cast members was perceived by them.
"While I don't remember ever making this specific statement and I have never judged others by their background or colour of their skin, that's not really the point. What matters is that I clearly acted in ways which hurt other people."
"Whether it was my privileged position and perspective that caused me to be perceived as insensitive or inappropriate at times or whether it was just my immaturity and me just being unnecessarily difficult, I apologize for my behaviour and for any pain which I have caused. We all can grow and change and I have definitely used these past several months to reflect on my own shortcomings."
In the post Lea also commented as she is soon becoming a new mum she will take these lessons and learn from them and will try to be a role model for her child.
Lea Michele's last ad for HelloFresh was on her Instagram on May 20th where she promoted the HelloFresh box and offered her followers a $60 discount code.
Representatives for Lea Michele have been approached for comment.
Featured image credit Instagram @leamichele
Related stories recommended by this writer:
•Glee's Lea Michele accused of wanting to 's*** in the wig' of co-star on the show
•Take this vitally necessary quiz to find out which Glee character you are
•All the evidence Mr Schue from Glee should have been locked up