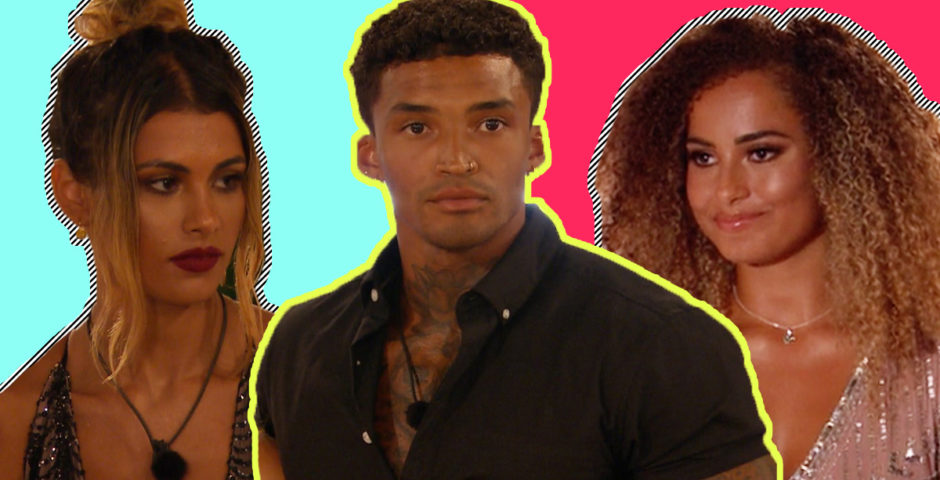 The Love Island scene where Michael recoupled with Joanna is up for a BAFTA award
Michael is up against Fleabag and Gavin and Stacey, yes really
Michael Griffiths may have had possibly the biggest fall from grace ever seen on Love Island, but he's come out on top now as he's actually been nominated for a BAFTA award. Yes, really. The Casa Amor scene where he chose Joanna over Amber is nominated in the BAFTA must see moment of the year category.
We will never forget when Michael dumped our girl Amber. Some might say it was the biggest mistake of his life. That moment is up against some other iconic scenes such as Nessa proposing to Smithy, the confessional scene in Fleabag and Sinead's death in Corrie. Michael has some tough rivals.
Here are all the nominations for the 2020 BAFTA award of must see moment of the last year.
Love Island – Michael recoupling with Joanna at Casa Amor
Casa Amor in 2019 gave us one of the most shocking Love Island moments ever. You will remember for the rest of your life exactly where you were when Michael ushered those crucial words: "I would like to recouple." He'd been coupled up with Amber and, at the time, everyone thought they were real deal and would probably go on to win it. But Michael went on to say in his speech that Casa Amor had "opened his eyes" and he'd "bit his tongue" before saying he wanted to couple up with Joanna.
Amber walked into the villa alone and simultaneously the heart of every viewer was broken. Nobody could believe their eyes, and the facials from all the girls around the fire pit were incredible.
Coronation Street – Death of Sinead Osborne
The past year saw the heartbreaking storyline of Corrie's Sinead Osborne dying of cancer, leaving her young son Bertie and newly wed husband Daniel on their own. In some of her final scenes Sinead was seen making videos for Bertie to remember her by and forgiving Daniel for cheating on her with Bethany.
Fleabag – The confessional scene
BBC Three's Fleabag was one of the hit shows of the year – all about her dealing with loss and just generally being in her late 20s. One of the strongest and most emotional scenes saw her confess everything to the hot priest in a confessions booth.
Game of Thrones – Arya kills The Night King
Of course Game of Thrones would get some sort of nomination – it's one of the most watched TV shows in the entire world. The scene which is up for a BAFTA for the must see moment of the year is when Arya finally killed The Night King. Never forget that incredible knife swing.
Gavin and Stacey – Nessa proposes to Smithy
Nothing says Christmas like a special of Gavin and Stacey. And this year's hotly anticipated one definitely didn't disappoint. It was the moment we'd waited so long for. Don't lie, you gasped when she got down on one knee, didn't you?
Line of Duty – John Corbett's death
This season of Line of Duty had one of the best plot twists to date. We spent a lot of the series thinking John Corbett was the leader of a huge gang, when it turned out he was one of the good guys working for AC-12. His death, be it one of the most gruesome scenes ever, was another gasp out loud moment.
You can vote for the BAFTA must see moment of the year here. Voting closes at 5pm on the 15th July and the awards will be shown on 31st July.
Related stories recommended by this writer:
• Reliving the most dramatic Casa Amor moments on Love Island ever
• These are the 46 wildest Love Island moments EVER
• Love Island's Francesca has been filmed getting into a huge bust-up in a park