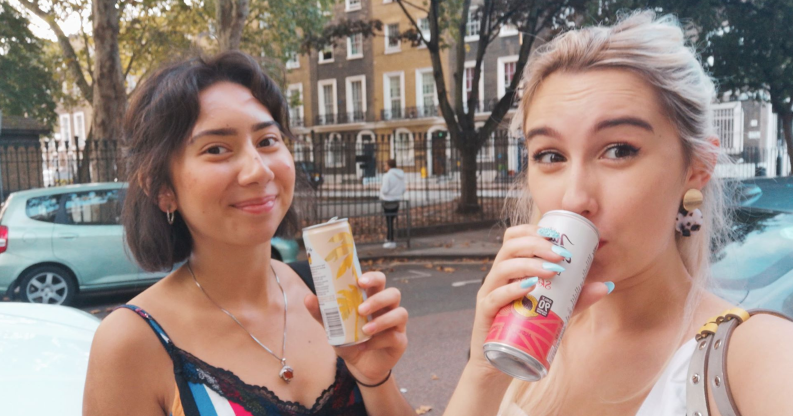 This is exactly what your lockdown park tinny of choice says about you
If you drink Carling, nobody is going to choose you as one of the six people they can meet up with
Lovely cold – but getting steadily warmer – tinnies. It's the cornerstone of the British identity, and as the sun rises overhead there's little any man or God could do to stop the country filling up a big bag with cans and heading to the park.
For all the habit says about us as a nation, it also speaks volumes about us as individuals. The tin you pick from the supermarket fridge is a true reflection of your vibe. Someone need only glance at the can in your hand to know everything about you as a person.
Let us enlighten you.
San Miguel
There's something very wrong about San Miguel cans that's hard to put your finger on. It should be in a bottle, and there's simply no way it's staying nice for the duration of the tinny. But that's your whole vibe – you've got it in your head that something's prestige and you need to stick to that. You're the same kind of person who hasn't eaten a Domino's since the advent of Franco Manca.
Stella pint cans
If we're being specific: You really back your bladder.
Carling
If you drink Carling, nobody is going to choose you as one of the six people they can meet up with.
Carlsberg
Jarring. There's simply nothing more jarring than the difference between the incredibly cool, Mads Mikkelsen-fronted Carlsberg adverts and the reality of actually drinking one of the cans. And that's you – jarring. Everybody's there to have a nice drink, maybe a sunbathe, but you're there. With your phone. Showing everyone a "funny" YouTube video or Kerry Katona's nudes.
Tyskie
Much has been written about the Tyskie boy. It's a whole vibe – a bit grungy, but you still know how to shower. Pleasingly off the mainstream, but not obnoxiously so. You know what good beer tastes like without resorting to hoppy bullshit. Just good, clean lager.
Together, this means one thing: Tins in the park is your natural habitat.
Kronenbourg
Ooooh, a French beer! Of course, it's basically the same as every other tinny, but perhaps with a picture of Eric Cantona on it. That's you all over – the pretentious everyman. Why do you think it's appropriate to bore friends you haven't seen for two months with faux-deep takes? Yes, we can all agree that "the shambolic political response to the coronavirus crisis highlights the poverty of talent at the highest echelons of British politics". And you know why? Because it's basically a convoluted way of saying you don't like politicians. Just like a can of Kronenbourg is a slightly more convoluted way to drink beer.
Heineken (specifically the ridged metal tins)
You get by on pure vibe. Any time you've walked into a shop to buy your park tinnies and come away with the silver Heineken tinnies, it's not because of taste. Rather, you realise how sick they'll look in an Insta, and how inviting the condensation on the metal looks.
Amstel
Nothing phases you. You've played fast and loose with lockdown rules – meeting more than one mate, non-essential trips to the shops – but you've never broken it. Amstel is the beer of that exact vibe. Continental, but safe.
Foster's
You've ridden your bike (mountain, obviously) to the park. Foster's is a black mark on your personality, but you're not actually here to drink beer – you're here for a kickabout. A very big kickabout. Where you consistently ask "shall we ask that group over there if they fancy an 11-a-side." Of course, only weirdos would want to play 11-a-side with strangers. That includes you.
Holsten
Very into retro football shirts. Uses "boss" as both an adjective and a noun ("Alright, boss?" "That's boss") And yet, as much as that might grate, he's the only one in the group who knows how to use a lighter as a bottle opener for the one person who didn't get the tinnies memo.
Budweiser
I'd never want to psychoanalyse someone I haven't met but: are you suffering from an acute lack of ambition? Because that's what drinking Budweiser in the park says to me. This is a beer for people who post Call of Duty: Warzone screenshots on their Insta story.
Anything BrewDog
In 2016, this would have been a statement. Now, it's depressingly middle of the road. You've got a tattoo on your ankle, small-ish sunglasses (but not too small) and that's fine. Put some Four Tet on the mini speaker. Have some hummus! Drink your Punk IPA! Four years ago, people would have tried to rinse you as a hipster for these innocuous character traits. Now they can't. They simply can't. It's in the fridge next to all the other beers!
Camden Hells
"Guys, I've just discovered this new thing! It's called jazz, and it was invented by loads of white guys from London who play at all the festivals I happen to go to. Do you think Floating Points counts as jazz?"
A pale ale in a 3 for £5 or similar deal, where they're all different
Something deeply objectionable about someone who tries to turn park tinnies into an opportunity to experience variety and different tasting notes. They will probably refuse to dip certain crisps in certain dips. They'll buy cold meats and olives for the picnic. A better quality of life, but at what cost?
Guinness
Dudes who drink Guinness in the park don't own shorts or sunglasses. They're well into vinyl and going to gigs. Nobody has ever told them they can just have nice things.
M&S own brand lager
You earn a lot of money. But money can't buy taste.
Aldi Galahad lagers
The official beer of "if you know, you know". You shop at Aldi out of necessity, but drink the impossibly cheap Galahads out of choice. You're the kind of beer drinker who's endlessly reassured by always having more cans in the bag than you can drink.
Strongbow Dark Fruits
Look, there really is no better park tinny that the mighty Strongbow Dark Fruit. Why? Because they taste delicious when they're ice cold, and when they're boiling hot from sitting out in the sun all day. It's just like blackcurrant squash really. And the person drinking these beauties is so essential to the group dynamic: they know what tunes to put on the speaker and can access the vibe right every time. They suggest the best places to go onto when it starts to get colder. They know not to only bring cocktail sausages, but Quorn sausages too. They've got a bottle of water in their bag for when you get a bit thirsty. They're just ready for a good day, they're solid, they're the most important person you know.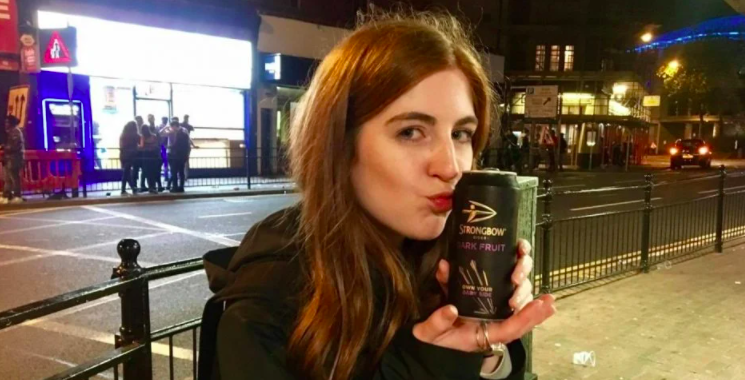 Normal Strongbow
Always the first person to have a little sickie. They'll say it's sun stroke, when actually it's because no one can handle more than three Strongbow original before being reminded of some year 10 camp out where you projectile vomited a 2L bottle of the stuff everywhere.
K Cider
Weirdly, the person who loves a bit of the K cider is the one person in your group who really has their shit together: well paid job, good degree, generally pleasant demeanor. So it doesn't fail to surprise you time after time when they proudly pull out the four-pack of K's (this is two too many btw) that they managed to hunt down from one of several off-licenses visited and guzzle them up. They're smart enough to know K smells and tastes like three month old piss left out in the sun in a bacteria ridden bottle, yet this doesn't phase them. They actually like the taste. They tell you each time they finish a can. By the fourth they're completely steamed, like several hours ahead of everyone else. 9/10 they'll retire early to begin their incoming hangover.
Rekorderlig cans
This is irredeemable Tory energy. Rekorderligs are a bottled drink, and yet for some reason you've bought a six pack of their cans. It reminds you of home, where your drinks fridge is stocked perfectly with fridge packs of you and your sister's favourite drink.
Pink G&T
The people who drink pink G&Ts are the ones who probably bullied people at school. They now work in recruitment and leave the park after two tinnies. Soulless.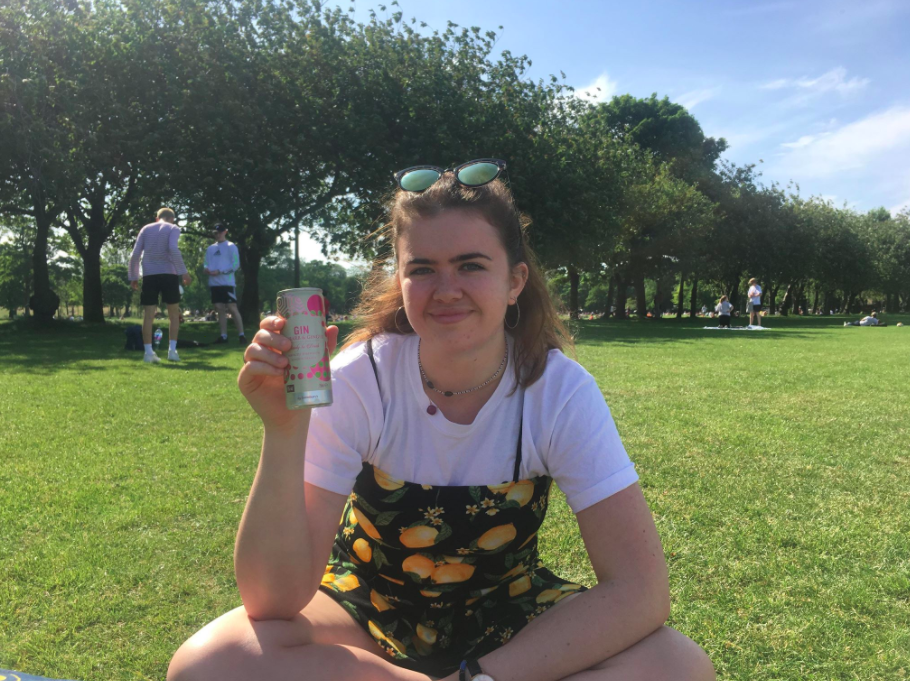 Normal G&T
Just your run of the mill posho – they'll turn up with at least four tinnies, alongside some Kettle crisps (sea salt and balsamic vinegar is their absolute favourite) and houmous. Catch them on a good day and they'll also supply a picnic blanket, olives and their cockapoo called Harold.
Slimline G&T
The best thing about drinking slimline G&Ts in the park is that you can drink as many as you want, because there's no limit to how many you can fit in your Fiat 500.
Jack Daniels and coke mixed can
Going to the park is a great opportunity for you to show off all the clothes you bought which show off your tattoos.
Mojito, and any other pre-mixed cocktail tinny that you'd find in M&S
This person doesn't really have any taste. It's a fact mojitos don't taste nice unless they are freshly made – the tin just takes a bit gross and…tinny? Like a minty tin. The same goes for any pre-made drink – they're just not very nice. When this person is not in the park their alcohol decisions don't get any better. They haven't got out of the peach schnapps phase and insist on drinking anything with a straw. Still watches Britain's Got Talent (and votes each week), is big in the hometown buy and sell groups, probably voted Leave.
Related stories recommended by this writer:
• We can tell exactly what your water bottle says about your general vibe
• If you can't get half of these Spoons trivia questions right, you're barred
• These are your wildest and grimmest uni night out stories from across the country