If you love Dead To Me, you should indulge in these 10 shows on Netflix next
Because we can't wait another year for more drama
When it was released just under two weeks ago, Dead To Me shot up to the top spot in the Netflix top 10 list worldwide. We'd all waited a year to find out what happened to Steve, and we soaked up the drama quicker than a fresh glass of orange wine. But now, we're back wondering what the hell to do with our lives because it's all over. Are there any series on Netflix which are just like Dead To Me? How will I fill this hole in my life?
Here are all of the best series on Netflix which are just like Dead To Me, for you to watch next. You're welcome.
Good Girls
The plot lines in Good Girls might not be entirely believable, but that's what makes it a great watch. The synopsis says: "Three suburban moms orchestrate a local grocery store heist to escape financial ruin and establish independence – together."
It's a bit like Breaking Bad, but mumsie.
Gilmore Girls
Just like Dead To Me, Gilmore Girls focuses around a powerful female partnership. In short, Gilmore Girls is all about the relationship between a single mother and her daughter. Her daughter is a teenager and the show follows them through their mutual life struggles, such as the different things teenage girls go through – like first boyfriends, bullying at school and getting into uni.
Workin' Moms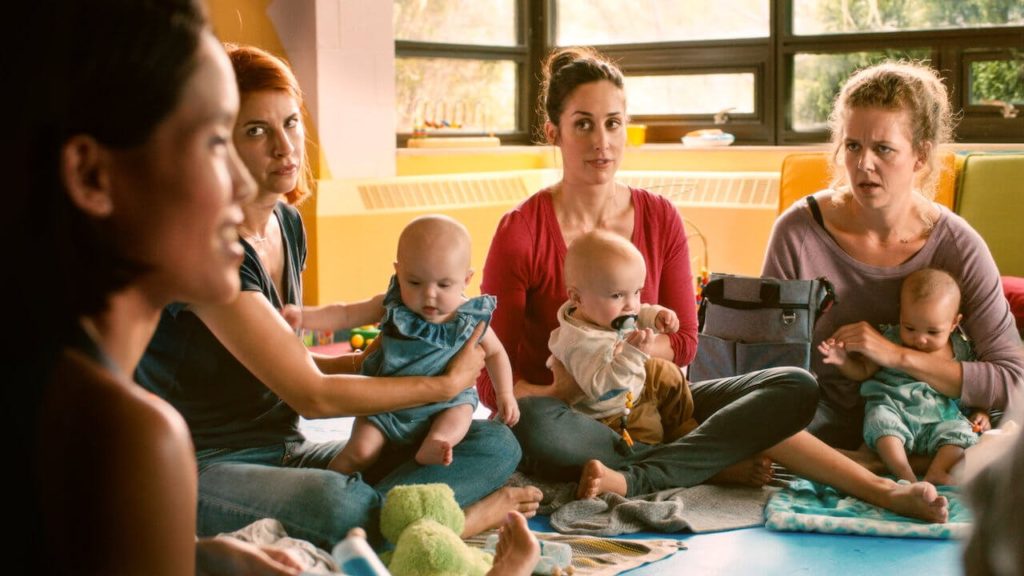 Season four of Netflix sitcom Workin' Moms dropped at the same time as Dead To Me and in places it's got a similar feel.
The official synopsis for the show reads: "Warm, loyal PR executive Kate and her longtime friend, no-nonsense psychiatrist Anne, attend a judgmental mommies' group, where they meet timid IT tech Jenny and blindly optimistic real estate agent Frankie. The four quickly form an unlikely friendship, sharing struggles of urban motherhood filled with the chaos of toddlers, tantrums, careers, and identity crises, all while trying to achieve the holy grail: a sense of self. The ensemble comedy is largely drawn from the personal experiences of star/co-creator Catherine Reitman." 
What / If
What / If is all about manipulation and cons. The synopsis reads: "Desperate to secure funding for her med tech startup, an idealistic scientist and her husband strike an outrageous proposal from a notorious investor: A night with Sean in exchange for funding."
You
If you loved the dark and twisted side of Dead To Me, you'll love You. Strap in for this one, the show is all about Joe Goldberg, a seemingly normal city guy who ends up becoming obsessed with a girl whose path he crosses with. He'll literally stop at nothing for her. It's a lot.
Wanted
In exactly the same vein as Dead To Me, Wanted is a series all about two women who are very different but are connected through one thing – crime. The synopsis for Wanted on Netflix reads: "Polar-opposite strangers Lola and Chelsea become partners on the run when they witness a murder involving dirty cops and are framed for the crime."
Grace and Frankie
Grace and Frankie is top-tier heartwarming and easy television. And sometimes, Jen and Judy are literally exactly the same as them – it's almost scary.
The synopsis says: "For as long as they can recall, Grace and Frankie have been rivals. Their one-upmanship comes crashing to a halt, however, when they learn that their husbands have fallen in love with each other and want to get married. As everything around the ladies is coming apart, the only thing they can really rely on is each other."
Santa Clarita Diet
Santa Clarita Diet is another of Netflix's great dark comedies. It's all about a pair of married realtors (is that what everyone in a Netflix original series does?) who live in Santa Clarita with their daughter. Their lives take a bit of a turn though when the wife starts craving human flesh. It's a Netflix favourite.
Schitt's Creek
If you want more of people laughing at their own tragic lives how Jen and Judy often do, Schitt's Creek is for you. It's all about a married couple who suddenly go bankrupt. All they have left is an ugly small town named Schitt's Creek. It's funny, easy and you won't be disappointed.
The End of the F***ing World
This show is based on the comic book series by Charles Forsman. It's about two 17-year-old outsiders, James and Alyssa, who embark on a road trip to find her estranged father – who left home when she was a child. James, who is also just casually convinced he's a psychopath, has decided it's time for him to graduate from killing animals to something bigger – and he already has a target in mind. Alyssa is desperate for adventure. Put the pair of them together and it's a walking disaster, basically. 
For all the latest Netflix news, drops and memes like The Holy Church of Netflix on Facebook. 
Related stories recommended by this writer:
• 12 questions about Dead To Me I urgently need answering so I can sleep at night
• These 40 Dead To Me memes are better than an orange wine by the pool
• Quiz: Which character from season two of Dead To Me are you?