These are the 25 most savage reactions to the Tiger King after show on Netflix
Last week, the entire world came to a stand still to process the news that a whole new Tiger King after show episode was coming. We had high hopes of more drama, revelations and shocking confessions in "The Tiger King and I"- which promised brand new interviews from cast members.
Then what actually landed on Netflix was a bunch of Skype interviews (fair, everyone is isolating) with Joel McHale which looked like they were sponsored by AirPods. Yes we learned a few more interesting things and it was enjoyable to catch up with everyone and hear what they thought of the show – but a lot of people are arguing the extra episode was unnecessary and to put it straight, boring.
Even so, Twitter's reactions and memes from The Tiger King and I are much better content than the show itself. Here are the best. Enjoy.
1. No Carole is the biggest crime of this after show
the tiger king aftershow doesnt have carole baskin@joelmchale how could you leave out our diva? pic.twitter.com/1P0HRX0Jtk

— hi it's me Pri (@thequeenpri) April 13, 2020
2. THIS IS NOT WHAT WE WERE PROMISED
Netflix promised a new Tiger King episode, turn it on and it's Skype calls with Joel McHale…. pic.twitter.com/fpEACHUu2u

— Ron D (@evildeadron) April 12, 2020
3. No, no we are not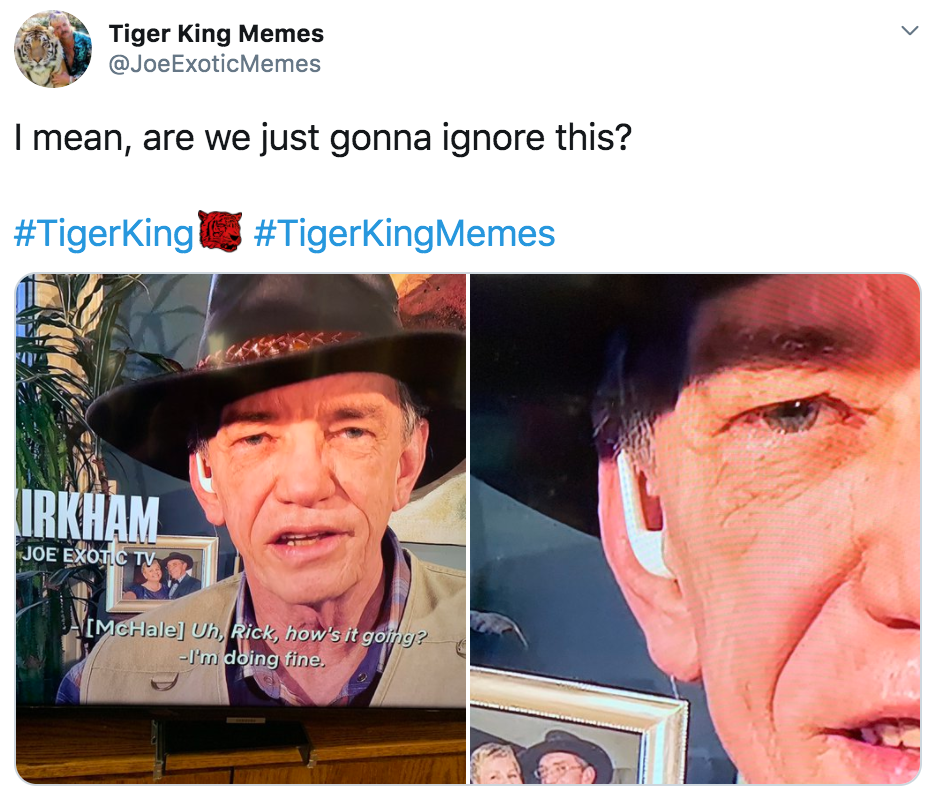 4. I demand ANSWERS
#TigerKing the fuck is this new episode!? I don't want a chat show I need TRUTH! pic.twitter.com/YMstVIiDXH

— Katy (@C0tt0n13) April 12, 2020
5. I mean, the last two things are for sure
The Tiger King catch-up episode with Joel McHale is marvellous.
Carole Baskin definitely killed her first husband.
And Jeff's nanny is indeed very hot.

— Ang (@ScarlettKPW) April 12, 2020
6. Get him his own show, that's something I would watch
"No, I don't do meth. I never have. I like sleeping too much. I used to have a drinking problem, now I do not. Alright, so fuck all y'all man." hands down best quote from #TigerKingandI

on a real note tho, he seems like the chillest person there and hasn't even seen the show 🤯 pic.twitter.com/WHdwMxJWTi

— abby (@abby__hawk) April 12, 2020
7. Interesting
my zoom class looks a little different today#tigerkingandi #TigerKing pic.twitter.com/LCAaQWU5nD

— jenn ツ 2.0 (@JennWidmayer) April 12, 2020
8. Erik just does not give a damn
Erik Cowie: He's gonna die in prison – good riddance" #TigerKing #tigerkingandI

Me: pic.twitter.com/O1BLgx3ANh

— The Dirty Arcade (@JunkShopTees) April 12, 2020
9. Yikes
This extra episode of #TigerKing is….. desperate to say the least pic.twitter.com/vGb3Gr2s95

— puta (@biggirlshouse) April 12, 2020
10. Um, Jeff wys??
"The Feds tried to get him, PETA tried to get him, but it was me who got him in the end" sounds like Jeff admitting to setting joe up🤯 #tigerking #tigerkingandi

— 𝔸𝕓𝕓𝕚𝕖 ♡ 𝕎𝕚𝕟𝕥𝕠𝕟 (@abbiewintonn) April 12, 2020
11. I want more RICK !!
12. I think it might be???
Is #TigerKingAndI just a long advertisement for AirPods? #TigerKing

— Louis Paul Pisano (@LOUIS_via_ROMA) April 12, 2020
13. TELL THEM
The #tigerkingandi is a rush by Netflix and wasn't needed. It's too close to the release of the documentary and added no value. Seemed like an advertisement for iPhone and EarPods.

— Anthony Dominic (@alloveranthony) April 12, 2020
14. If you didn't already know this, this was probably the most shocking revelation
WAIT…. so that WASN'T joe exotic singing?!?!?!?!? #tigerkingandi pic.twitter.com/3gJSrS0Aix

— sinead⁷ (@BANGWOOL_PD) April 12, 2020
15. That's the tea
Joel McHale ruined the #tigerkingandi by being Joe McHale. They honestly couldn't have found ANYBODY else?!

— Sarah Oyibo (@SarahSparling2) April 12, 2020
16. There is no explanation needed
I think Saff should be president and I don't feel the need to expand on this. #tigerkingandi

— Kate Kennedy (@TheOGKennedy) April 12, 2020
17. Justice for Josh, please
Can we please get Joe's former campaign manager therapy? Can we GoFundMe that or something? #TigerKingAndI

— Katie (@WizzKhaleesi) April 12, 2020
18. Absolutely not
is there any doubt jeff lowe keeps that oakley hat on during sex?#TigerKingAMovie #tigerkingandi pic.twitter.com/tjYZ7qbcIb

— Joseph Exotic Esq. (@Potatokounmpo) April 12, 2020
19. I'm not ok with this, not one bit
The new #TigerKing episode is a giant let down. pic.twitter.com/tDYnrW0P4W

— Sam McGlone (@leumas816) April 12, 2020
20. He's my fav
Highlight of #tigerkingandi is definitely this guy with a single Airpod in, upside down 🙃 pic.twitter.com/xdkkQ3C5AJ

— Will Porter (@WillPorter93) April 12, 2020
21. A car crash if you will
The interviewer jokes didn't hit, what a disaster #TigerKingNetflix #tigerkingandi

— Lakeishabella (@LakeishaBella) April 12, 2020
22. Netflix why? ? ? ?
Not sure why Netflix felt the need to put this out…. #TigerKingAndI pic.twitter.com/GoH3OQX5mI

— jess ❥ (@cardiwonagrammy) April 12, 2020
23. Yeah, what of it?
Twitter: Roasts entire cast of Tiger King characters relentlessly for weeks.
Joel McHale: Makes a few additional jokes.
Twitter: pic.twitter.com/uXeqCcOaKD

— Eric Little (@SoCalEricLittle) April 13, 2020
24. Brutal !
I was excited for the new #TigerKing episode, but as soon as I saw this face on my screen, I didn't even bother. pic.twitter.com/Dg3UwkH3lY

— Jaden (@OberkromJaden) April 12, 2020
25. This is true tbf looool
The Tiger King and I after show and all seven episodes of Tiger King: Murder, Mayhem and Madness are available on Netflix now. For all the latest Netflix news, drops and memes like The Holy Church of Netflix on Facebook. 
Related stories recommended by this writer:
• If you thought Tiger King was wild, try these 11 other Netflix shows next
• There's a new documentary about Carole Baskin's missing husband coming
• Quiz: Which of the Tiger King big cat zoo owners are you?
• Are you more Carole Baskin or Joe Exotic? Take this quiz to finally find out