Joe Exotic is a fashion icon and here's 11 chic outfits that he's worn as proof
Some people really won't want to hear this, but as a self-proclaimed lover of everything Joe Exotic, it's important to first address this important fact before we give him any credit – he is undeniably a terrible person in many ways. Whether it's the directors discussing what they truly think of him as a person (spoiler alert, not good) or even pretty much every person in the series having something bad to say, everyone is in agreement that he's done some fucked up stuff in his time. Okay, glad that's out of the way.
Now, there's one absolute in this world. If Joe Exotic is not a fashion icon then, quite frankly, tigers aren't black and orange. Like, what did we do to deserve so many looks being served up in just seven episodes? The pinks, the golds, the animal prints for God's sake – yeah, plot to kill people and euthanise five tigers, but make 👏 it 👏 fashion 👏 sweetie 👏.
Today, we're going to rank the top 12 iconic Joe Exotic looks:
11. The role player
Joe was no stranger to dressing up for the occasion, so it's no surprise that when the time called for fancy dress, he'd be more than keen to go the whole mile. Whether he was a magician performing with his travelling animal show or playing king at the park for the visitors, there is never any half measures with this man. We're here for the ruffled cuffs.
10. The rough and ready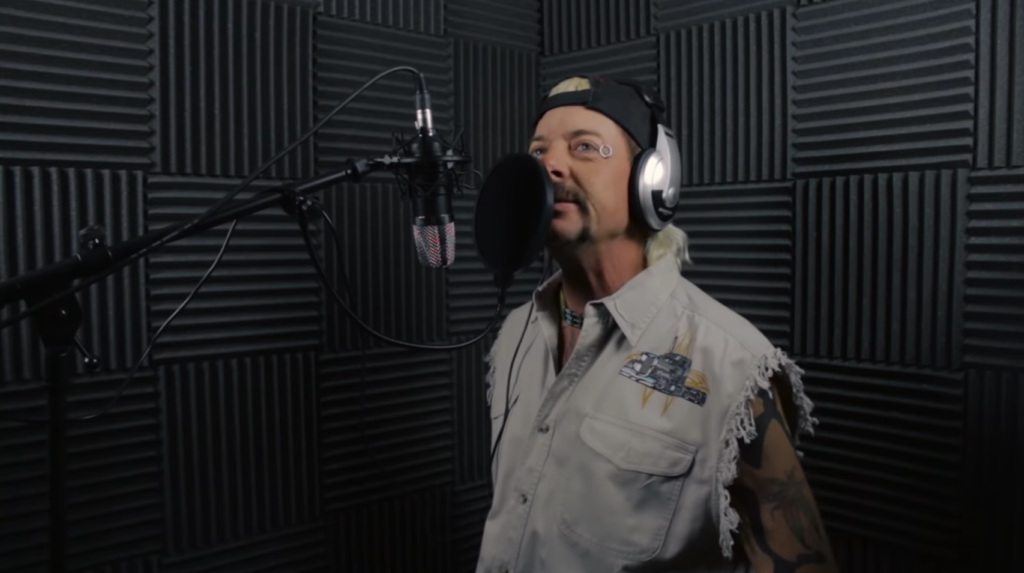 Joe brought this shabby chic look to the recording studio for one of his country songs on his YouTube channel. It's unclear whether he's removed the sleeves and distressed the top himself but either way, this is a serious look.
9. The politician
The head thing. The crutch and leg brace. The belt with multiple accessories hanging off of it. Every part of this outfit screams "you want me as your next president". The head says biker, the body says country boy, and we say: Joe, you're a living breathing fashion icon.
8. The thriller
In this screengrab from one of his lesser-known music videos, Joe dons what looks like a cheap copy of Michael Jackson's thriller outfit. Perhaps there was more than crocs that MJ donated to GW Zoo.
A cheeky bit of tattooed chest peaks through the jacket as the wind playfully tugs at his blonde locks. Straight out of a magazine.
7. The body shot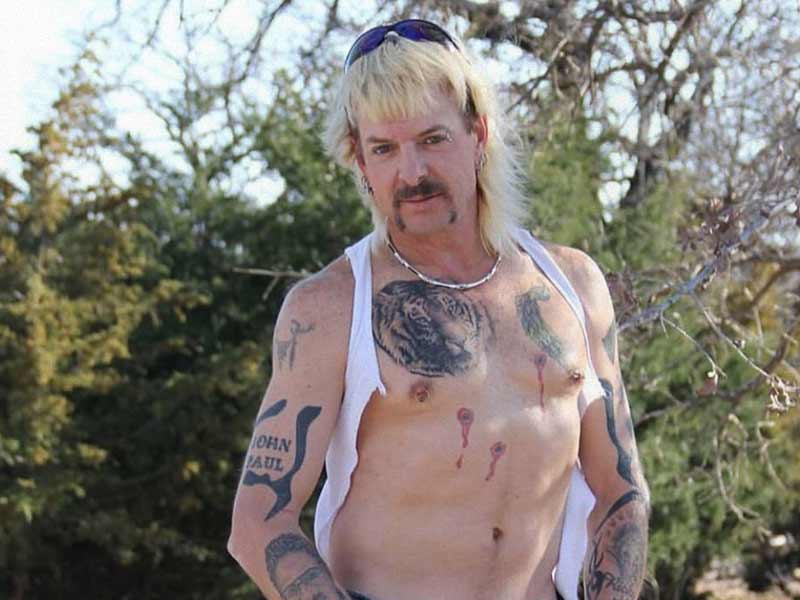 You know the old saying: "If you've got it, flaunt it."
If by "it" you mean a load of questionable tattoos, a dodgy trim and a couple of nipple-rings thrown in for good measure, then Joe is your boy, and the ripped shirt is the cherry on a very interesting cake.
6. The pretty woman lover
Joe sets pulses racing as he brags about his sexual appeal to women in this music video, and to be quite honest, we can see exactly why. He goes for an all-black get up that isn't dissimilar from previous music video looks, with the leather and chains nicely complimenting the hat. Even the motorcycle that he rides is all black, so it's clear that some serious artistic direction has gone into this one.
5. The shiny print shirts
Joe must've got these in some sort of multipack sale because he's worn these shirts more often than he's called Carole a bitch, and that's saying something. From what we can tell, he owns this pattern in at least three different colour variants and, put simply, they all suit him down to a tee.
4. The king of norm-core
It's time somebody said it: Forget Shia Labeouf, Joe Exotic is the norm-core icon.
At times in Tiger King, a switch would clearly flick in Joe's head and he'd strip it right back for us. The rugged, utilitarian look of work clothing, the slight irony of wearing an Ironman T-shirt to your deposition and the old beige cap – occasionally he wants to be lowkey, but the workwear vibes won't get past our observant eyes, Joe. Love it.
3. The truck sleeveless… thing
This look nearly got away from us because it only features in the series for a few brief seconds, but oh what a marvellous few second they are.
If there was an outfit to embody everything that people from that part of America hold dear in life, this would be pretty close. There's a big truck on the back, a cow skull and he even has bullets around his built. Giddy up indeed 🤠
2. The here kitty kitty priest
I mean, what was he thinking wearing a clerical collar? It's outrageous, possibly even offensive to some – was there some sort of reference that we weren't getting? Is it to symbolise the funeral of Don Lewis? But then you look deeper.
Moody, multi-toned blacks with occasional accents of colour are a surefire classic. You could say he's played it safe with this look, but this combination will forever be iconic. We also see the very same outfit make an appearance at Travis' funeral, so its versatile in use:
1. The pink wedding
It had to be this at number one. Yeah, they're just wearing jeans and a top, but it's so much more than that. The setting, their facial expressions, the whole circumstance of these gents being stood there in pink shirts having a three-way marriage in front of their nearest and dearest family.
This is up there in some of the most iconic looks that have graced viewers in entertainment history.
Honourable mention: The shirts that didn't make the cut
There's something genuinely confusing about these shirts – do they cost hundreds? Were they found for a couple of dollars in the factory store? Joe has a collection that's almost too big to fathom, and they're all great.
Related stories recommended by this writer:
• Tiger King: The directors have officially responded to all the questions we had
• These are all the mad things that Netflix left out about Joe Exotic in Tiger King
• Joe Exotic's husbands: This is what the Tiger King's partners are up to now
• QUIZ: Who said it, Tiger King's Joe Exotic or a politician?
• What happened to Tiger King's Doc Antle after filming stopped?
• This is how everyone involved in Tiger King reacted to the series