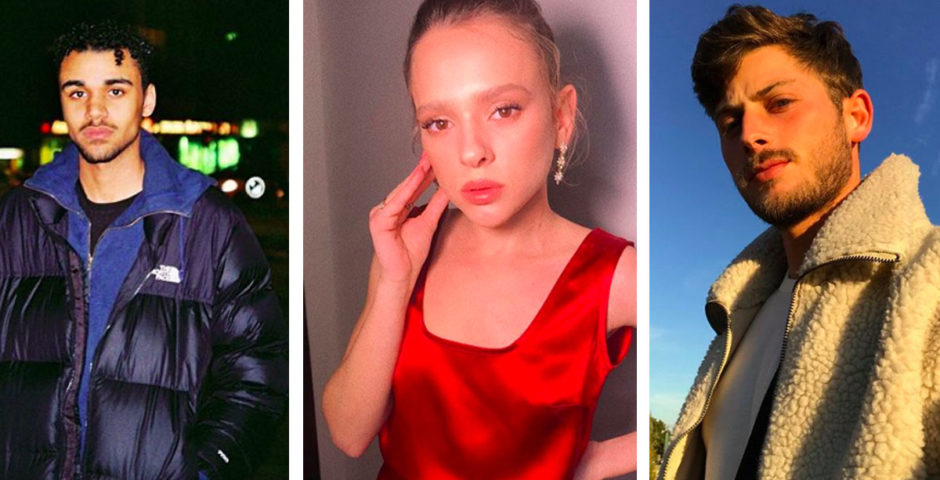 These are the incredibly aesthetic Instagrams of the cast of Netflix's Unorthodox
I've never seen such a cool group of people
Unorthodox is Netflix's latest drama series and has been called a "weird emotional ride" and a "work of art" by people on Twitter.
The show is the first Netflix series to be primarily in Yiddish and is based on Deborah Feldman's autobiography "Unorthodox: The Scandalous Rejection of My Hasidic Roots".
The four part series follows the life of a 19-year-old Jewish girl called Esty who runs away from her arranged marriage and intense ultra-orthodox community in Brooklyn. She goes to Berlin to live with her mother and takes classes at a music conservatory. Her husband follows her to Berlin to try and bring her back to Brooklyn.
The cast are incredibly talented, good looking and all have great Instagram accounts that you should be stalking now.
This is where to follow the Netflix Unorthodox cast on Instagram:
Shira Haas – Esty Shapiro
Instagram handle: @shirahaas
Shira is 24-years-old and the lead role in this newest Netflix series. Her Instagram is a series of promotional shots for Unorthodox, pictures with her presumed boyfriend and a lot of aesthetic shots like this one of her on a balcony and hanging out with her mates.
She also has pictures of her long hair before it was shaved off for playing Esty.
Jeff Wilbusch – Moishe Lefkovitch
Instagram handle: @jeff_wilbusch
Jeff's Instagram is full of pictures of him and his wife Anna, who he has called the "love of his life", which is incredibly cute and their artsy shots together somehow manage to not look cringe.
Jeff is 33-years-old and his Instagram also features quite a lot of hot selfies, just saying.
Amit Rahav – Yanky Shapiro
Instagram handle: @amitrahav8
Amit plays Esty's husband and is 24-years-old. Amit has a very decent Instagram following with over 30,000 followers. His insta is very cool and full of pictures of travels, hanging out with his equally cool mates and they are edited extremely well with their filters. Basically I'm following him straight away.
Aaron Altaras – Robert
Instagram handle: @aaronaltaras
Aaron is fit, 24-years-old and has a very edgy last name. I'm obsessed. His Instagram is equally as edgy and heavily features a fit blonde girl called Eliza who is an artist, so it's safe to say she's probably his girlfriend. Sigh.
Tamar Amit Joseph – Yael Roubeni
Instagram handle: @tamar_a_j
Tamar is nearly at 10,000 followers on Instagram and she is 25-years-old. Her Instagram is a mixture of holiday pictures, very smiley happy selfies and wine. So it's safe to say I'm a fan.
Tamar was apparently in the Israeli Defence Forces for three years after finishing school.
Langston Uibel – Axmed
Instagram handle: @langstonuibel
Langston's Instagram feed is just such a vibe. It's full of night out pics, blurred photos and him in a lot of decent outfits. He's got nearly 6,000 followers and is blue tick verified.
Langston is only 22-years-old and he's already been in three Netflix series – Unorthodox, Berlin Station and Dogs of Berlin. As well as a number of movies and I feel very unaccomplished in comparison.
Aziz Dyab – Salim
Instagram handle: @aziz.dyab
Aziz's Instagram is pretty low key, he's got less than 2,000 followers and less than 20 posts. The pictures he does share are promotional things for Unorthodox and lots of intense looking pictures of him.
Aziz is 25-years-old and he can play the guitar, tennis and speak three languages. Impressive to say the least.
Safinaz Sattar – Dasia
Instagram handle: @safisafari
Safinaz has a very small Instagram following and only four posts on her account so far. They include fun selfies and promo for Unorthodox.
She's only 19-years-old and has already been in films, TV series and theatre productions.
Unorthodox is available to watch on Netflix now. For all the latest Netflix news, drops and memes like The Holy Church of Netflix on Facebook. 
Related stories recommended by this writer:
•Netflix has just dropped a wild true story doc about triplets separated at birth
•Someone made Tiger King on The Sims and to be honest, it is art
•These are all the mad things that Netflix left out about Joe Exotic in Tiger King