Joe Exotic's husbands: This is what the Tiger King's partners are up to now
John Finlay finally has teeth!
*spoilers ahead*
Tiger King follows Joe Exotic's life very closely, but haven't you found that it answers as many questions as creates them?
Like, what happened to his string of ex-husbands? We know that Travis Maldonado tragically shot himself in the head by accident, and John Finlay appears along with Dillon Passage, but what are they up to now that Joe is in prison? And, did you even know that he had another husband that wasn't even featured in the series? We'll catch you up on what all of Joe's beaus, past and present, are up to now.
Brian Rhyne
Due to the fact that it wasn't really mentioned in the series, not many people are aware that Joe's first husband was a man called Brian Rhyne, who he was with before he'd ever even started the zoo. It's worth mentioning that, although referred to as his husband, they were never actually legally married. He was with Joe and his brother, Garold, when they bought a pet store together in Arlington.
There are no photos of Brian to be found online, and that's because, unfortunately, Rhyne died of health problems attributed to HIV in 2001. His funeral was held at the zoo.
JC Hartpence
JC Hartpence was a lover of Joe's after his first husband died. By the time Finlay came along, Hartpence and Joe were already in turmoil, due to his drug/alcohol abuse and differing views on the zoo. According to Texas Monthly, Hartpence wanted it to become "a rehab-and-release sanctuary, with large enclosures where the animals had room to roam. Joe, on the other hand, was increasingly buying new animals from breeders and breeding animals of his own for profit."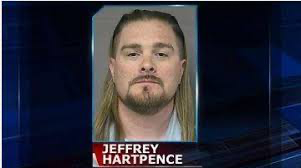 Since, Hartpence spoke to Texas Monthly and told them that he was convicted of molesting a child in 2006, and he murdered a man in 2014, being given a life sentence – Joe Exotic's circle is honestly all kinds of insane.
John Finlay
First meeting when Finlay was fresh out of high school, they were together for more than a decade, during which time we see in the series that Finlay got a tattoo which read "Private Property of Joe Exotic". In 2014 they held a three-way wedding ceremony (much to Finlay's disapproval it seemed), and later that year he split from Joe. According to Texas Monthly, they were never actually married according to online court records.
Finlay claimed to various people that he was actually straight, and even got a female employee pregnant. Nowadays, his Facebook shows that he is happy with, according to comments, his wife called Stormey:
According to Texas Monthly, he now works as a welder, and told them of how Joe "had ruined his life, but [that] he was hopeful about having the chance to start over."
He also got new teeth, writing on his page, The Truth About John Finlay, "Yes I have my teeth fixed. The producers of the Netflix series had video and pictures of this, but chose not to show it. It's all about the ratings for them, not the people they hurt."
He's pretty adamant that there's a truth that Netflix didn't show not least because, you know, the whole page is literally called The Truth About John Finlay. Hopefully that indicates that we've got some more tasty drama to come:
Travis Maldonado
Maldonado was 19 when they met, and in 2014 they were (unofficially) married in a three-way ceremony with Finlay.
In 2017, Travis shot himself in the head accidentally, killing himself. This happened in front of a fellow employee, footage of which is shown in Tiger King. Just 66 days later, Joe was to marry his fourth husband, Dillon Passage.
Dillon Passage
On December 11th, 2017, Maldonado married Dillon Passage. He only features briefly in the series towards the end, and so not a massive amount is actually shown of their relationship. His Instagram shows that he's pretty much living a normal life since the whole "husband went to prison for conspiring murder" thing:
It seems like life is pretty much going on without Joe, and yes, they're still married. That was confirmed when he responded to a comment asking about a wedding ring on one of his photos:
Related stories recommended by this writer:
• Where is Joe Exotic from Netflix's docuseries Tiger King now?
• Tiger King Joe Exotic was on Louis Theroux and he joked about shooting him too
• The crazy theories about what happened to Tiger King's Carole Baskin's husband