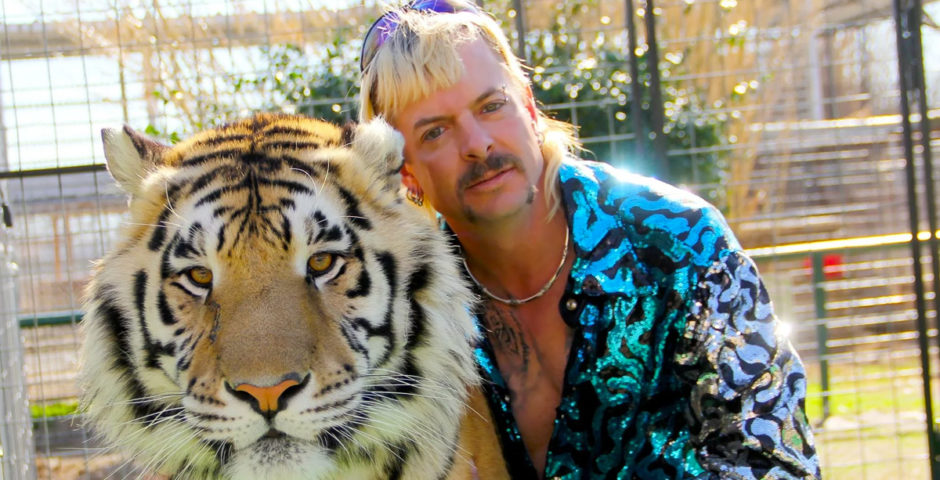 Wild true crime documentary series 'Tiger King' drops on Netflix TOMORROW
It's the day we've all been waiting for!!
PSA: Netflix's latest true crime documentary Tiger King is dropping TOMORROW. And before you begin frantically refreshing your Netflix homepage looking for it, here is the exact release date and time for Tiger King, worldwide.
Netflix itself said you can file this docuseries alongside Fyre Festival and Abducted in Plain Sight for shows which will make you question everything. So strap yourself in for your latest true crime obsession. 
Tiger King is all about the life and crimes of Joe Exotic
Tiger King is a seven-part docuseries based on Joe Exotic, or Joseph Maldonado-Passage, who was a tiger breeder who ran a roadside zoo in Oklahoma.
He was convicted in 2019 over a plot to kill his long-time critic Carole Baskin. She is the founder of the Big Cat Rescue Wildlife Sanctuary and had criticised Joe's zoo's treatment of animals. He was convicted last April on two counts of murder-for-hire, eight counts of violating the Lacey Act for falsifying wildlife records and nine counts of violating the Endangered Species Act. He was also found guilty of killing five tiger cubs, and for selling and offering to sell tiger cubs in violation of the Endangered Species Act.
Netflix announced the documentary, tweeting saying: "From the executive producer of FYRE: The Greatest Party That Never Happened comes #TigerKing, a new docuseries about Joe Exotic — a gun-toting polygamist who presides over an Oklahoma animal park — and the murder-for-hire plot that led to his arrest."
The Netflix synopsis for the new docuseries reads: "A rivalry between big cat eccentrics takes a dark turn when Joe Exotic, a controversial animal park boss, is caught in a murder-for-hire plot in this limited docuseries where the only thing more dangerous than a big cat is its owner."
It sounds quite literally, wild.
What is the release date and time for Tiger King on Netflix?
Tiger King is being released worldwide on Netflix on March 20th. The release time of Tiger King is exactly one minute past midnight PT. This means it has roughly the following release times worldwide:
• 1:01am MST (US)
• 2:01am CST (US)
• 3:01am EST (US)
• 8:01am GMT (UK)
• 9:01am CET (Central Europe)
• 10:01am EET (Eastern Europe)
• 16:01pm AWST (Australia West)
• 17: 31pm ACST (Australia Central)
• 18:01pm AEST (Australia East)
But please, hold tight – these times aren't always exact, so don't panic if it's not there at the precise time. It'll be there tomorrow, don't you worry.
In the meantime, watch the trailer for Tiger King here:
For all the latest Netflix news, drops and memes like The Holy Church of Netflix on Facebook. 
Related stories recommended by this writer:
• Jeffery Epstein, gay porn and murder: 20 new docs to be dropped by Netflix
• 'Feel Good' is the 'beautiful' and 'truly funny' romcom we all need right now
• If you really are true crime obsessed you'll get at least 10/13 in this quiz