Which British universities should the 2020 Love Islanders have gone to?
Finley is Nottingham through and through
Thank Christ Love Island is nearly over. It's been a gruelling six weeks and honestly the show hasn't so much limped its way over the finish line as it has been beached there like a malnourished whale on a beautiful South African shore.
Not many of the Love Islanders actually went to uni, because they were busy fashioning themselves into the the super jacked/super skinny models we've been looking at for the last month-and-a-half so they could make more money than you'll ever earn on some stupid grad scheme. But knowing what uni the Islander would have gone to is an important assessment to make – it's basically a window into their very soul.
So here it is lads, the last and most nourishing Love Island content of the yea-oh wait there's going to be another series in summer oh please God no. Love Islanders as British unis let's go aghhhh:
Finley – Nottingham
Categorically fit, especially when he's swinging his top over his head when Ocean plays the Baywatch theme tune. 
Paige – Newcastle
Paige is not scared to bin blueberry trebles all night long. She can soldier through the Swingers queue in the freezing cold, and wouldn't be dead she doesn't need to wear a jacket on a night out, and she's definitely
Mike – Coventry
Mike is every boy in a Cov club smoking area trying to chat you up with entry level copy and paste chat that could be applied to any girl. "How you doin baby?" he'll say as he slides up next to you in the Kasbah garden. Then he'll proceed to say "nah lemme take you out, lemme take you out" until you give him a fake number and go inside. Then he'll forget your face and hit on all your mates in front of you. Smooth.
Priscilla – Warwick
Infinitely more classy than Coventry, and less dirty too, Priscilla would float through the streets of Leamington on her way to her lectures. Her oat flat white is at perfect temperature by the time she's reached the library, and she never has to struggle for a seat on the bus – there's one saved for her.
Luke M – Birmingham
If Love Islanders could be made on an online generator, Luke M would be the default product: quiffed, muscled, tattoo'd, well roundedly handsome. A middle-of the-road uni like Birmingham would become Luke, and tbf the people who go to Birmingham are fitter than you'd expect. 
Demi – Cardiff
Demi would live in Taly North and walk to Cardiff SU sinking a bottle of Echo Falls. When she gets there, she'd definitely fall down the massive SU steps (RIP), before being kicked out by a YOLO bouncer. But it's no worries – she'd head straight for Live Lounge and scream Mr Brightside whilst sinking VK. 
Luke T – Leeds
Take a look at the following pictures and tell me to my face Luke T wouldn't be studying at Leeds, living with the boys in Hyde Park and going out to Beaverworks: 
Siânnise – Bristol
Okay look, this isn't a cop out just because she's from Bristol. Siânnise doesn't belong anywhere else, plus she's definitely the type of person to study in their hometown so they can go back home to visit the family every weekend for mum's Sunday lunch. Plus, she's got a whole wardrobe of mini rave shades and neon outfits ready to be worn out to a big session at Motion until 6am. 
Callum – Brookes
It's universally known people don't go to Brookes for a first class education, but for three years of drinking, having sex with beautiful people and drinking some more. That's why Callum would be perfect at Brookes – he just wants to go out with the lads and pull as many girls in Bridge and the Bridge smoking area. Who cares if he gets a 2:2! He's shagged more women than he can remember, and the £9k fees were worth every single last penny. 
Connor – King's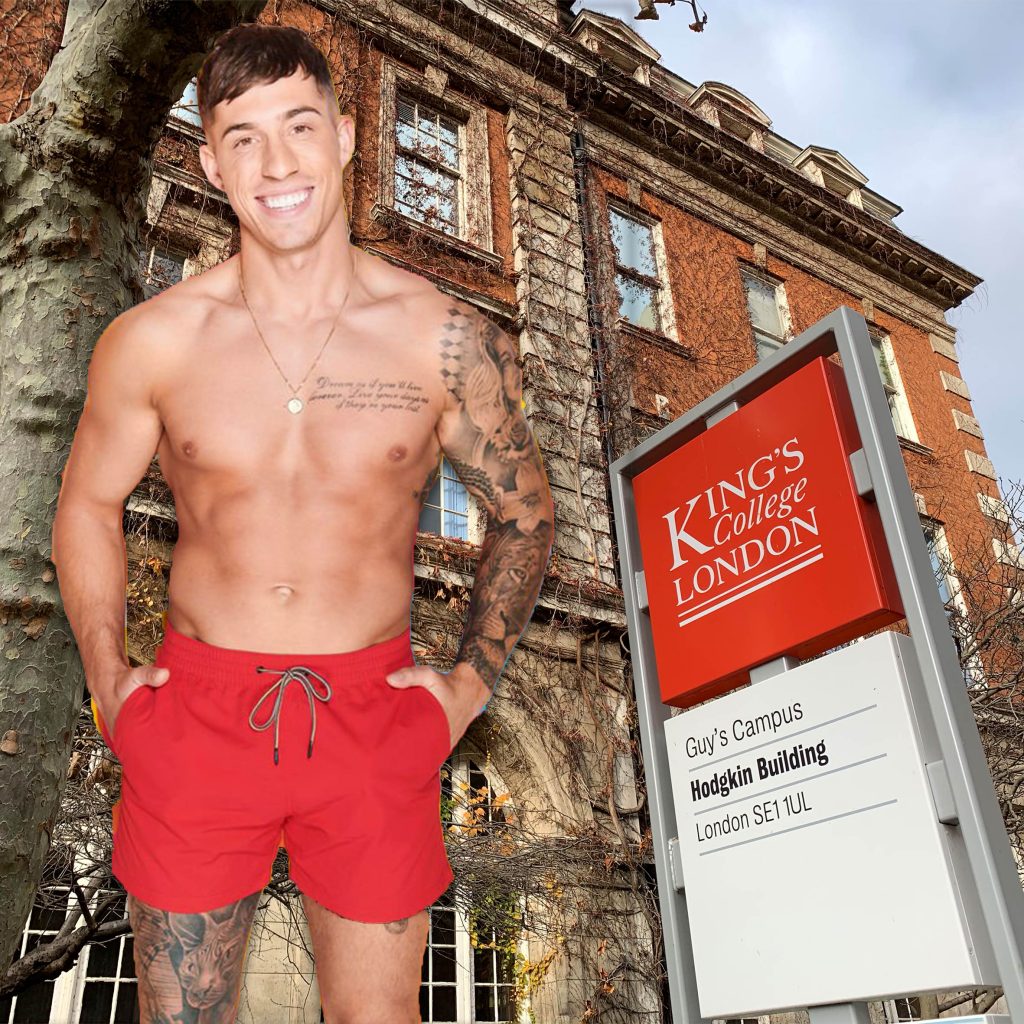 King's is shit at a lot of things, but dentistry is not one of them. And if there's one thing you can say defines Connor it's his gleaming white chompers. You'll find him sat in a puddle of his own vomit at HOP after a brutal initiation with the other medics, before he comes back to life in Guy's Bar where his veneers are employed part-time as a lighting fixture.
Molly – Edinburgh
You know how the Powerpuff Girls are made from sugar, spice, and everything nice? Edinburgh girls are made of posh, small, and blonde – and those are indeed Molly's three only definable personality traits. I can picture her now in Pollock Halls, champers bottle in one hand, iPhone XR in the other, moaning about how the cleaner always comes in and wakes her up from her midday nap.
Shaughna – Oxbridge
Smart, switched on, and going places – Shaughna had the best read on everyone in the villa, and was the only Islander to actually have a real job before entering. Ergo, like anyone from Oxbridge, she's destined for greatness.
Eve – Manchester Met
Peak when your sister does the same subjects as you but flukes her A Levels and gets into a better uni, just like how Jess somehow managed to outlast Eve for several weeks longer than she had any right to.
Jess – Manchester
Jess is Manchester so the above joke can make sense. Keep up.
Ched – Loughborough
He's big as fuck and can't string a sentence together because his gains have literally infiltrated his brain. And you know what? Who needs words when you can just literally eat anyone who gets in your way and convert their fragile human bodies to protein. Rah.
Nas – York
You'd be happy with a York student as an in law, wouldn't you? In the same way Nas fills the boring but very necessary role in the villa, so too does York represent a zen middle ground between the rowdier unis. Nas would be in the centre of the dancefloor in Salvos, grinning ear to ear and shedding tears at home when his mate gets with the girl he fancies. He wanted to be in Derwent college but ended up in Alcuin because of course he did.
Rebecca – Bournemouth
Would be found in Lost Garden sipping cocktails out of the monkey head (with flares, obviously). This is only when she's not working as a shot girl in Halo. 
Sophie – Exetah
Sophie wears her Exeter Emeralds uniform around the Forum and to TP, even on days when it's not sports night. She's the right amount of posh, super girly, and there's no way she'd be caught in Pret looking anything but her absolute best. 
Wallace – Norwich
Wallace is included here because of the hall of fame brevity of his appearance rather than in spite of it. He'd go where all forgotten children go, to the University of Easy Acce-I mean East Anglia, and would probably love it in the LCR among his fellow abandoned kin.
Leanne – Liverpool
Liverpool Uni girls are the glammiest glams at any uni in the UK, for better or worse. Leanne gets bored easily, so Liverpool's nightlife would suit her down to the ground: bouncing between the Raz, Heebies, and Level without a care in the world, and still making her 9am with nary a trace of a hangover. 
Ollie – Durham
He's posh as fuck and was a rugby captain, what more do you want here? In fairness it's a wonder he ever went to Royal Holloway given Durham was clearly his destiny. He'd be in St Chads because he is a Chad. Booooooooooooooooooom.
Related stories recommended by this writer:
• Ranking the winter Love Islanders by how likely they are to steal the £50k
• Quiz: How long would you last in the Love Island villa?
• In The Style raises £100k in less than a day with 'Be Kind' t-shirts