Ex-Islander reveals who got scouted, plus what goes down in the cast WhatsApp
The group was set up by Connor
Winter Love Island is about to finish. Now the end is on the horizon, it's time to get to know some real Love Island secrets. Were the Islanders scouted? How much alcohol do they actually drink? Is there a dumped Islander chat?
Speaking on The Tab's Is it in Yet? sex podcast, Ollie Williams has been sharing how many of his fellow Love Islanders actually applied for the show, the truth behind those "hunting" pictures and he gave us a look inside the ex-Islander WhatsApp group.
In the "Sex with your ex" episode Ollie discusses the rules of wanking in the villa, and reveals his own habits.
Follow the Is it in Yet? podcast Instagram page here for more sex confessions like this.
You can listen to Is it in Yet?, on Apple, Spotify or wherever you usually get your podcasts. You can also listen to the full episode right here:

Strap in, here's all the tea:
All of the winter Islanders were scouted
Ollie told The Tab: "I didn't apply, I don't think anyone did. We were all approached but told to say we'd applied. I was approached on Instagram in September of last year".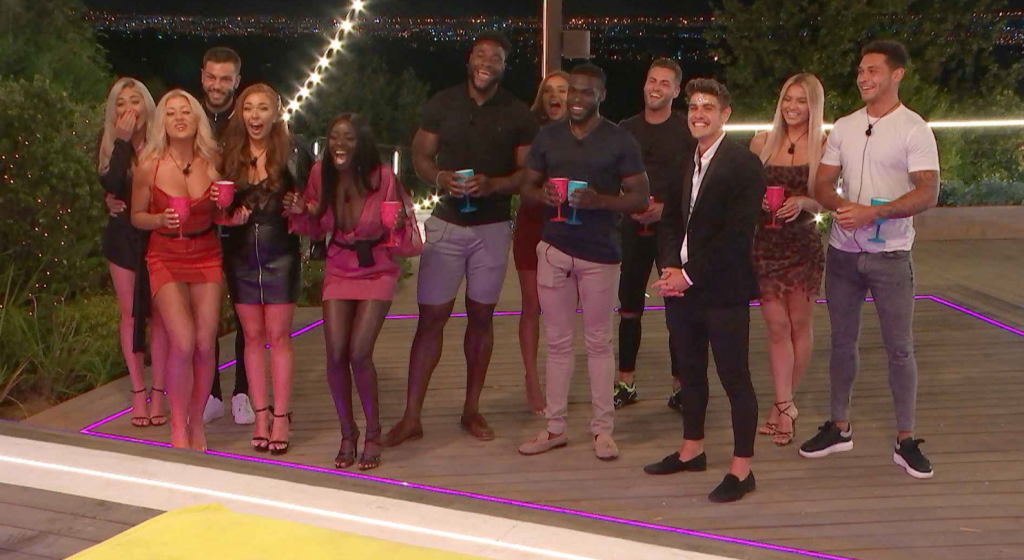 Last year, only six Islanders actually applied for the show, with 83 per cent being scouted by ITV. The 2019 Islanders who applied for Love Island were Amy Hart, Michael Griffiths, Ovie Soko, and Joe Garratt. The other two cast members who applied were Casa Amor Islanders.
The first night in the villa is VERY boozy
Everyone wants to know exactly how much alcohol the Islanders are given. It has seemed in recent series that the alcohol supplies have been cut back, but Ollie told The Tab's Is It In Yet? Podcast that his first night in the villa was a big one.
He said: "The first night there was loads of booze. Two bottles of champagne that we were given, two glasses of wine each, and the twins also brought in two bottles of champagne. Me and Connor were constantly topping each other up."
The Beach Hut is the Islander equivalent of a naughty step
If you do something and hear your name on the villa tannoy requesting you to go to the Beach Hut, it's the equivalent of being called to the headmaster's office, Ollie said. He added: "If you do something outrageous that they can't air they'll just tell you off. I got told off over the tannoy for saying the C word. I said the word 'gimp' and got told I couldn't use that word. They said it was a 'PUB' word – which means potentially unacceptable behaviour."
'I was a public enemy'
Whilst Ollie was in the villa, pictures were published accusing him of being a trophy hunter. Ollie said he had no idea what had been reported about him in the press and even his mum thought the pictures were the reason he had left the villa.
Ollie described how when he left Love Island he was security chaperoned around and had a private terminal when he landed at Heathrow. He said he was made to feel like he was a public enemy. He told The Tab's Is It In Yet? Podcast: "When I came out it was crazy. It was so surreal. ITV knew at the end of the day, the public were like 'kill him'. But out of context, you can see why."
Ollie explains the real context of *those* hunting pictures
So what is the truth about *those* pictures? Ollie explained he was doing an anti-poaching course and was asked one day to do a conservation hunt. "These animals had been hunted in the day and the guy was like 'do you want to get in a photo' and I was kind of put on the spot a bit and then he posted them", he said. Ollie added that what he was doing is good work, and is nothing but beneficial for local communities. However, he does regret the photos because they make it look like he shot the animals which was not the case.
He explains the full story on The Tab's Is It In Yet? podcast.
Islanders can't engage in sexual activity that might 'upset' others
Ollie explained that in the Islanders' contracts it says they cannot engage in any sexual activity "which may upset other Islanders." Masturbating is difficult, because there are cameras in every single room apart from the bathroom. There's CCTV in the bathroom but not TV cameras – so they can still see if something happens.
Ollie said: "People don't wank in the showers because there are only two inside the villa, and they're in the girls' dressing room. You can't wank in bed because you're sleeping next to someone."
Ollie claims Islanders are told by producers what to say in their entrance VTs
He said: "In my VT they literally told me what to say, pretty much. I never introduced myself as an heir to an estate. I said I was a farmer from Cornwall and they said 'aren't you an heir to the Lanhydrock House estate' and I said 'kind of but I'd never say that'. It's just such bullshit TV."
There's a Love Island contestants' WhatsApp group chat!!!
Yes, there is a group chat already, with all the Islanders who have left the villa. It's on WhatsApp, and is simply called "Love Island ?". It was set up by Connor, and the ex-Islanders mostly discuss who's up for a beer on that day. Shaughna hasn't been added to the chat yet.
Ollie had to change his number after leaving the villa
He told The Tab's Is It In Yet? Podcast that after he left Love Island all of his social media apps showed 999+ notifications. He had messages from random people he'd met in clubs years before and texts from people he didn't even know. He chose to not even go through them all and instead get a new number completely.
You can listen to this episode plus season one of Is it in Yet?, on Apple, Spotify or wherever else you usually get your podcasts.
For all the latest Love Island news, memes and gossip like The Holy Church of Love Island on Facebook.
Related stories recommended by this writer:
• Quiz: How long would you last in the Love Island villa?
• Quiz: Can you guess the winter Love Islander from their baby picture?
• Winter Love Island secrets: How the producers make the show as dramatic as possible