All the famous people you didn't know were behind the Big Mouth characters
Including Kristen Bell, Jenny Slate and Kat Dennings
The experience of watching Big Mouth is a lot of asking yourself "that voice sounds familiar" or "that cartoon pubic hair kind of looks like an actor I know". Looking into the full cast of the show, from the major roles to the smaller ones you will be amazed how many insanely famous people are behind the Big Mouth characters.
All the famous voices behind Big Mouth:
Nick Kroll as Nick Birch
Nick Kroll not only created the show but he also voices the main character, Nick Birch, and four other characters – Coach Steve, Lola, Maury the Hormone Monster and Rick. Apparently the character of Nick is based on what he was like as a teenager.
If you recognise him it's probably because you've seen him in one of these films: I Love You, Man, Date Night, Get Him to the Greek, Dinner for Schmucks and A Good Old Fashioned Orgy. He also had more prominent roles in Adult Beginners, Sausage Party, Loving, Sing and Captain Underpants: The First Epic Movie.
John Mulaney as Andrew Glouberman
Andrew Glouberman the outrageously hormonal best friend to Nick, is voiced by John Mulaney. John Mulaney is a writer and actor, best known for Spider-Man: Into the Spider-Verse and Saturday Night Live.
Jessi Klein as Jessi Glaser
Jessi Klein voices the teenage feminist Jessi Glaser. Jessi Klein is a producer and writer, known for Inside Amy Schumer, Transparent and Saturday Night Live.
Jenny Slate as Missy Foreman-Greenwald
Jenny Slate is behind the shy yet extremely horny character, Missy. Jenny Slate has been in so much, including Brooklyn Nine-Nine, Alvin and the Chipmunks, and Parks and Recreation. She also voiced Gidget in The Secret Life of Pets and Tammy in Bob's Burgers.
Jason Mantzoukas as Jay Bilzerian
If you didn't already know Jason Mantzoukas played Jay, now you won't be able to unsee it. Jason Mantzoukas is best known for The Dictator and The Good Place, his voice is also in The Lego Batman movie and The House.
Fred Armisen as Elliot Birch
Nick's overly affectionate dad, Elliot, is voiced by Fred Armisen. Comparing them both, it's clear Nick Kroll based the cartoon's look on Fred. If you recognise the actor, it's because he's in some major film throwbacks, including Easy A, Anchorman and Confessions of a Shopaholic.
Kat Dennings as Leah Birch
Kat Dennings, best known for her role as Max in Two Broke Girls, is the voice behind Leah. Kat's iconic monotone sassy voice makes so much sense for Leah. Kat was also in House Bunny, Big Momma's House and 40-year-old Virgin.
Maya Rudolph as Connie the Hormone Monstress
Everyone's fave bubble bather, Connie, is voiced by Maya Rudolf. Maya is best known for Bridesmaids and Grown Ups, as well as doing voice-overs in Big Hero 6 and The Emoji Movie.
Andrew Rannells as Matthew
Andrew Rannells voices Mathew, the school reporter. Andrew Rannells is also in A Simple Favour, The Intern and Sonic X.
Gina Rodriguez as Gina Alvarez
Gina Rodriguez, most famously known for her role as Jane in Jane the Virgin, is the voice behind Nick's big crush, Gina. Gina Rodriguez has also been in Annihilation, Someone Great and is one of the voices behind Ferdinand.
Jordan Peele as Ghost of Duke Ellington
Big Mouth has loads of huge names in fairly small parts and Jordan Peele as Duke Ellington is one of them. Peele is famous for his comedy writing and performance in Key and Peele. He's also more recently known for writing and directing psychological thrillers Us and Get Out.
Retta as Duke Ellington's mother
Duke Ellington's mum is played by Retta, famous for being Donna in Parks and Recreation.
Wanda Sykes as The Ghost of Harriet Tubman
Wanda Sykes ranks among Entertainment Weekly's 25 Funniest People in America. As well as voicing Harriet Tubman in Big Mouth, she's also famous for her roles in Over the Hedge, Ewan Almighty and Bad Moms.
Chelsea Peretti as
 Cellsea
Chelsea Peretti voices the evil mobile phone, Cellsea, that tries to destroy Nick's life but also teaches us all a valuable lesson about getting addicted to social media. Chelsea Peretti is best known for being Gina in Brooklyn Nine-Nine, she also wrote content for Parks and Recreation.
Carole Kane as Menopause Banshee
The Menopause Banshee only has a brief role towards the end of season three. She's voiced by Carole Kane, who you'll recognise as Lillian from Unbreakable Kimmy Schmidt. Carole Kane was also in Scrooged and Taxi back in the day.
David Cross as Skip Glouberman
David Cross is the voice of Skip Glouberman. Skip is the brother of Marty Glouberman (Andrew's dad) and the father of Cherry Marashina.
David Cross plays Russ Snyder in Unbreakable Kimmy Schmidt, he was also in Scary Movie Two and voiced characters in Alvin and the Chipmunks, Megamind and Kung Fu Panda.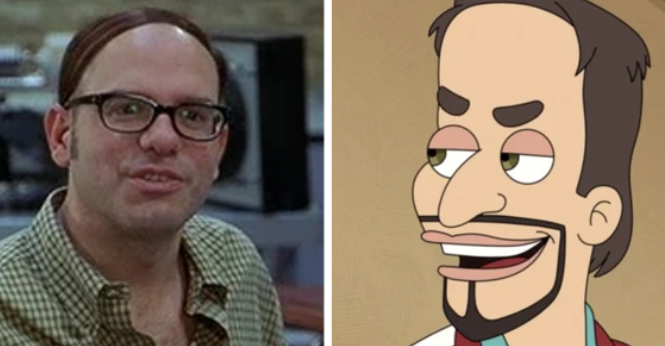 Julie Klausner as Cherry Glouberman
Julie Klausner voices Cherry, Skip's daughter and Andrew's cousin who he falls in love with in the incredible Florida episode. Julie Klausner was also in Zoolander and behind the writing of loads of comedy TV series.
Ali Wong as Ali
Ali is voiced by Ali Wong, who's best known for Ralph Breaks the Internet, American Dad and BoJack Horsman.
David Thewlis as The Shame Wizard
David Thewlis ie, Lupin from Harry Potter is the voice of the Same Wizard – the character everyone hates because he's too real. David Thewlis has also been in The Boy in the Striped Pyjamas, Wonder Woman, Dragonheart, Legend and loads more.
Thandie Newton as Mona the Hormone Monstress
Mona is Missy's hormone monster with the cool haircut. Mona is voiced by Thandi Newton who you'll recognise from Norbit, The Pursuit of Happiness and 2012.
Jack McBrayer as pubic hair #1
Okay, once you see this you will only be able to see Jack McBrayer's face in the pubic hair. Jack McBrayer's been multiple comedies, such as Forgetting Sarah Marshall, and has voiced Wreck-it Ralph and Despicable Me.
Kristen Wiig as Jessi's vagina
A mystery voice that has probably been playing on your mind because it sounds so familiar but you couldn't quite place it. Jessi's vagina is voiced by the other half of the Bridesmaids duo, Kristen Wiig. She's best known for The Secret Life of Walter Mitty, The Martian and Ghostbusters.
Kristen Bell as Pam the pillow
Another big name for a more minor part. Kristen Bell voices Pam, the pillow that Jay frequently has sex with. Kristen Bell is the main character in The Good Place. She's also Sarah Marshall in Forgetting Sarah Marshall, and stars in Couples Retreat and Bad Moms.
Natasha Lyonne as Suzette the motel pillow
Natasha Lyonne, better known as Nicky from Orange is the New Black, is the voice behind Suzette – the pillow Jay meets at a motel and has a love affair with. Genius.
Related stories recommended by this writer:
• Quiz: Which Big Mouth character are you?
• If you love Big Mouth, here are seven series you need to watch right now
• This is where you recognise all the cast of Netflix's The Stranger from