These are the most complained about moments on Love Island ever
Georgia Steel and Jack Fowler's kiss had a LOT of complaints
I swear this year's Love Island has SO many daily complaints sent in to Ofcom. There's been Siânnise apparently saying the n-word and Ollie's hunting past being found out and people demanding he be taken off the show. And about a billion more. 
And it's not just this year. Every year Love Island receives a number of Ofcom complaints. Like when Dani got the photo of Jack and his ex or when the Islanders weren't allowed to smoke on screen. 
Ofcom is the UK's official communications regulator. It's meant to protect the public from harmful or offensive material aka when Callum couples up with Molly and the British public couldn't handle it. Yes that was one of the highly complained about events from the current series.
And it doesn't stop there, these are the most complained about moments in Love Island history:
Winter Love Island
Total number of complaints so far: So far 1,612
Ollie's hunting photos
When photos of Ollie appearing next to dead animals he'd allegedly hunted surfaced people were pissed off. Ofcom received 231 complaints and many people on Twitter demanded he be removed from the show. 
Ollie ended up leaving the show after a few days anyway because he wanted to get back with his ex.
The headlines game
Ofcom received over 350 complaints after everyone was pissed off that Paige was led to believe sweet boy Finn had strayed during Casa Amor. He would never.
Siânnise referring to Nas as Aladdin
All the way back on the first day of Love Island when they were coupling up, Nas and Siânnise got together. In one of their first chats, Siânnise compared Nas to Aladdin.
Nas seemed perfectly happy with the comparison and did not appear offended. However a lot of people on Twitter were not happy, with many claiming her comment was "racist". Ofcom received 36 complaints for the Disney comparison. 
Callum choosing Molly
When Callum brought Molly back into the villa after Casa Amor we were all upset for Shaughna. But not as upset as the 65 people who complained to Ofcom about Callum's choice. Wow.
A unknown number of scaffolders also sent in complaints after Shaughna said she should have known not to trust a scaffolder.
Demi and Luke M's gross kissing
Ew, ok you know what, fair on this one. Ofcom received seven complaints from viewers on the 11th February, which was the day Demi and Luke M kissed. Viewers complained because of the slurping noises during kisses and the microphone sensitivity which picks up every single kissing sound. 
When Siânnise allegedly said the N-word
After the Casa Amor recoupling when Callum picked Molly, a lot of viewers thought they overhead Siânnise saying the n-word when talking to Shaughna and suggesting who she should date.
Ofcom received 62 complaints. ITV have denied she used the word and said they wouldn't broadcast the use of the word either.
A spokesperson said: "Viewers are mistaken. No one said — and nor would we broadcast — the word in question.
"We strongly refute any suggestion to the contrary."
Series five
Total number of complaints: 3,104
Maura's "inappropriate" behaviour towards Tommy
When Queen Maura first rocked up to the villa, she had set her sights on Tommy and wasn't backing down. In one moment that received 709 complaints from viewers, Maura straddles Tommy and asks her to kiss him. In the moment Tommy could appear to look quite uncomfortable and he doesn't kiss Maura back.
The viewers believed Maura had 'sexually harassed' Tommy, however when Ofcom looked into the complaints they said they took into account Tommy and Maura's relationship before and after that moment, but did understand why viewers disapproved of her behaviour.
They said: "While we recognise many viewers disapproved of a contestant's behaviour, we took into account the context in which it occurred, including the nature of Maura and Tommy's relationship, before and after."
Joe's treatment of Lucy
Over 700 viewers complained about Joe's 'emotionally abusive' actions towards Lucy during their time in the villa. One particular moment which caused Ofcom to receive a bunch of complaints was when Joe told Lucy off for hanging out with the boys so much and encouraged her to spend more time with the female islanders instead.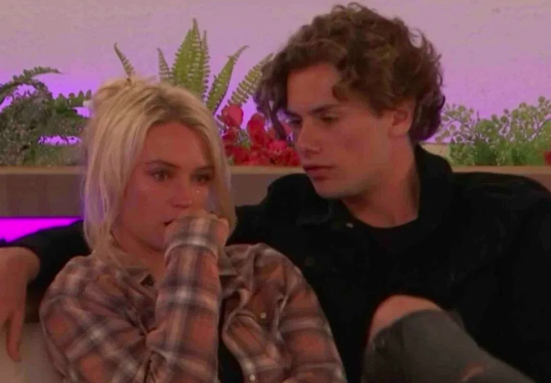 Women's Aid commented on Joe and Lucie's relationship and said the complaints showed more people were aware of "possessive behaviour".
The Casa Amor recoupling
Casa Amor always brings drama and usually a few complaints. On last year's show Michael dumped Amber for Joanna and Curtis coupled up with Amy only to then tell her he didn't actually want to be with her. Who could forget when Amy said: "I was coming in here to tell you I loved you."
Ofcom received 196 complaints after the episode.
A few people weren't happy with Tommy getting Molly-Mae off
When Tommy and Molly-Mae were getting a little frisky under the covers, Molly-Mae said "Jesus Christ" when it looked like Tommy was pleasuring her. Six people complained about that scene in particular and Ofcom received 12 complaints for the entire episode.
Series Four
Total number of complaints: 4,197
The Dani Dyer scene
Such a famous Love Island moment when Dani got sent the footage from Casa Amor with Jack and his ex. Dani was extremely upset when she saw the footage.
Ofcom received 2,525 complaints from viewers as they thought Dani had been misled and was being emotionally manipulated. Ofcom did not investigate the complaints as they said viewers "are likely to expect emotionally charged scenes."
Adam's treatment of Rosie
Remember that very tense conversation between Adam and Rosie, after he said he was going to go after Zara. And he rolled his eyes, smirked and generally didn't talk kindly to Rosie. Well Ofcom received 21 complaints for his behaviour, with some viewers accusing Adam of 'gas-lighting' Rosie.
Georgia and Jack's legendary 'kiss'
Wow, season four was wild. And this kiss or lack of caused so much drama. It also received 630 complaints. Yeah I was shocked too. People were annoyed for Laura who was upset and thought Jack was lying to her and people also complained because Idris lied to Laura about the kiss.
Laura and Paul placing second
Yes people really took the time to complain about this. When Laura and Paul finished in second place behind Jack and Dani people were fuming because Laura and Paul weren't a 'real' couple and got more votes than Josh and Kaz and Wes and Megan. A number of viewers complained to Ofcom about the result lol.
Series three
Total number of complaints: 130
The 2017 series of Love Island was the last time the Islanders were filmed smoking. Ofcom received 26 complaints about the amount of cigarettes the Islanders were seen smoking.
Following all the complaints the issue was debated in the House of Lords and ITV was accused of 'glamorising' smoking.
Series two
Total number of complaints: 41
When Love Island was in its glory days, it got less than 50 complaints. Only eight viewers complained when Terry and Emma had sex in the room with the other Islanders. People have no standards.
Series one
Total number of complaints: 13
Series one got hardly any complaints, mainly cause nobody watched it. But for all the shagging that went down you'd think a few more would have complained but clearly the viewers of 2015 were down for watching all the sex.
For all the latest Love Island news, gossip and memes like The Holy Church of Love Island on Facebook.
Related stories recommended by this writer:
•Reliving the most dramatic Casa Amor moments on Love Island ever
•These are the 46 wildest Love Island moments EVER
•Ranking every Love Island couple proposal from least to most cringe