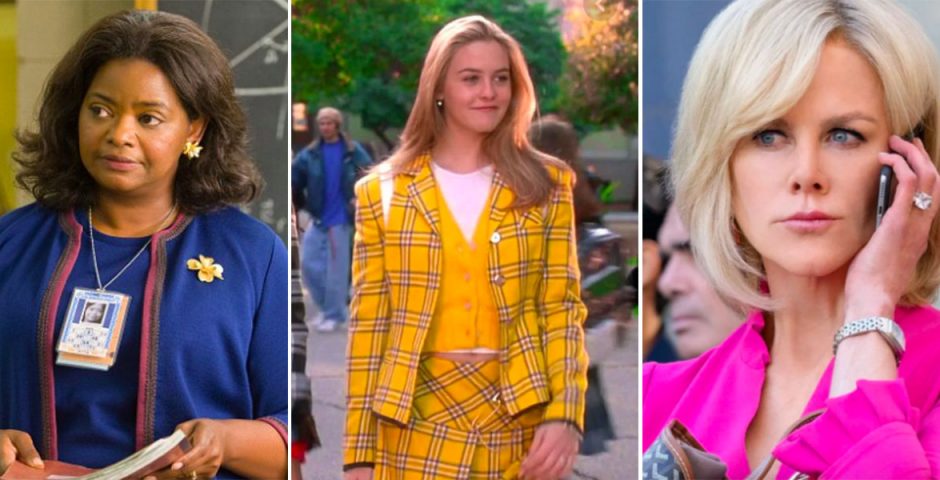 Here are 18 empowering feminist films that will remind you men are a waste of time
Because women are fantastic!
Valentine's Day is tomorrow and it probably feels like your only options are to find a boyfriend in less than 24 hours or to sit at home with your other single mates, watch RomComs and laugh/cry to films that centre around women trying to find a man for Valentine's Day.
Well, not this year ladies. Instead, whack on one of these 18 feminist films that will make you feel nothing but empowered and remind you of the power of single women and the beauty of female friendship. And that men are a waste of time (some of them).
18 feminist films you need to watch:
Little Women
Little Women is a film about four women navigating marriage, womanhood, money and their place in 19th Century America. It celebrates sisterhood and the unique connection between women. It includes a rebellious woman unwilling to accept the expectation of husbands and babies. As well as women looking to marriage for economic and emotional support.
It is everything that's great about powerful women supporting each other through bullshit patriarchy. When you finish it, all you'll want to do is stand on your roof and shout WOMEN ARE AMAZING!!
Hidden Figures
Three female mathematicians play a pivotal role in astronaut John Glenn's launch into orbit. Meanwhile, they also have to deal with racial and gender discrimination at work.
The film stars Taraji P. Henson, Octavia Spencer and Janelle Monáe, and is incredibly moving.
Bombshell
Gretchen Carlson hits Fox News founder Roger Ailes with a lawsuit alleging sexual harassment. Her decision leads to Fox News correspondent Megyn Kelly coming forward with her own story, as well as multiple other women, inciting a movement that reverberates around the world.
The film follows three women's resistance against the sexual assault and sexism in the television industry, as well as their fight for success. They eventually move past the competition that has been forced between them and work together to make huge change.
A League of their Own
An all-female baseball team who are managed by Jimmy, an alcoholic and a former star. It stars Geena Davis, Tom Hanks and Madonna, alongside so many more big names.
Boys on the Side
Boys on the Side is about a road trip of three women who meet by chance, all desperate to get away from their personal troubles. It stars a young Drew Barrymore, Whoopi Goldberg and Mary-Louise Parker. They find love, adventure and tragedy on their trip but it always comes back to the strength of the bond between three unlikely friends.
You will cry. You'll also hear The Cranberries which will make you cry even more.
Thelma and Louis
One of the most iconic feminist films ever. A man rapes a woman's best friend – what does she do? Shoots him and they both go on the run. They rob a bank, blow up a giant truck, shoot guns and drive a light blue convertible. It's badass.
The film follows the friendship of two women whose patience for taking shit from the men in their lives officially runs out. It's the friendship pair everyone wishes they're a part of. Also, they blow up a giant truck !!!
Nine to Five
Three women who are sick of their misogynistic boss work together to take over his company. It's hilarious and empowering as you watch women fight back against unequal pay and being undermined and harassed. The main characters are performed by Dolly Parton, Lily Tomlin and Jane Fonda, and Dolly's Nine to Five is the final song.
Kill Bill
A former assassin, known as The Bride, played by Uma Thurman, wakes from a four-year coma after her jealous ex-lover Bill (David Carradine) tries to murder her on her wedding day. Desperate to get revenge, she creates a list of every person who's contributed to the loss of her unborn child, her entire wedding party, and four years of her life.
She's a very angry, powerful woman fucking with anyone who gets in her way. Amazing.
Oceans 8
Eight women involved in a massive heist to steal a necklace worth $150 million. The film includes an all-star cast, with Sandra Bullock, Cate Blachett, Anne Hathaway, Sarah Paulson and Rihanna. It's funny, tense and there are loads of incredible clothes. Big yes.
Hustlers
Destiny, played by Constance Wu, is fighting to make ends meet working as a stripper. She then meets Ramona (Jennifer Lopez) the club's most successful earner. Ramona shows Destiny how to manipulate the wealthy Wall Street clientele. When the 2008 economic collapse cuts into their profits, the girls and two other dancers devise a scheme to take their lives back.
There's incredible strip dancing, a great score and cameos from Cardi B and Lizzo.
Clueless
Cher is a rich high-school student who is going through all the motions of adolescence and its problems. A new student joins (Tai) who she decides to take in and help with gaining popularity. There's so much sass and a flawless 90s wardrobe.
Ladybird
A film about the relationship between a mother and her rebellious teenage daughter. The film follows the daughter's struggle through school, boyfriends and the general anxieties that come with coming of age. All in all, it revolves around the complex yet unbreakable love between a mum and daughter. Also – Timothée Chalamet is in it.
Desperately Seeking Susan
Roberta Glass, a housewife, who's sick of her dull life tries every possible way to add spice to it. She then loses her memory and is mistaken for a New York City drifter, Susan. Another classic that also stars Madonna.
How to be Single
A film that has got so many people through a shit break up. How to be Single is about various women's experiences of relationships, breakup and loneliness. It's a hilarious comedy that will 100 per cent make you cry at the end when the main character finds acceptance in herself and the ability to choose to be single and happy.
If Valentine's Day is coming at a particularly sensitive time because of a recent heartbreak, put this on.
I Feel Pretty
An ordinary woman who struggles with feelings of insecurity and inadequacy on a daily basis wakes from a fall believing she is suddenly the most beautiful and capable woman on the planet.
With this new confidence, she is empowered to live her life fearlessly. It unpicks society's expectation of conventional beauty for women and how the ability to separate yourself from this offers total freedom.
Dumplin'
Starring Jennifer Aniston and Danielle Macdonald, Duplin' is about a plus-size, teenage daughter of a former beauty queen who signs up for her mum's pageant as a protest that escalates when other contestants follow in her footsteps, revolutionising the pageant and their small Texas town.
On the Basis of Sex
Ruth Bader Ginsburg is a struggling attorney and new mother who faces adversity and numerous obstacles in her fight for equal rights. Ruth then takes on a groundbreaking tax case with her husband, attorney Martin Ginsburg, knowing this could ruin her career or change the courts view gender discrimination forever.
Suffragette
In early 20th-century Britain, the growing suffragette movement is constantly changing the life of working wife and mother Maud Watts (Carey Mulligan). Galvanized by political activist Emmeline Pankhurst (Meryl Streep), Watts joins a diverse group of women who fight for equality and the right to vote. Faced with increasing police action, Maud and her dedicated suffragettes risk their jobs, homes, family and lives for what they believe in.
Related stories recommended by this writer:
• These are the 27 best films on Netflix for when you're horrifically hungover
• Here's 11 Netflix romcoms to watch on your own and cry to this Valentine's