We found the winter Love Island cast's LinkedIn profiles and they are jokes
No prizes for guessing who says 'I describe failure as simply a tool to educate'
With the arrival of the Casa Amor lot, Winter Love Island might actually be getting good. And as surely as it improves, so does our desire to know more about the Islanders' true personalities.
But there's only so much you can find out about their motivations and flaws from their behaviour on the show.
So the task falls to their various LinkedIn profiles to provide a window into the soul of the cast of characters battling for supremacy in a South African villa.
And they're good.
A sparse effort which probably still took her longer to put together than she spent in the villa, Eve's profile gives little away.
In fact, we already know Eve goes to King's, where she studies Geography and is described by friends as "super lovely and down to earth."
She's only got one connection, but given we couldn't find a profile for twin Jess, the identity of that single connection is anybody's guess. Her stint as a VIP hostess at Fez in Cambridge doesn't make the LinkedIn.
Remember Ollie? Of course. In excellent news, his LinkedIn is everything you'd imagine from someone falsely claiming to be inheriting a country estate.
Ollie's "About" section is a masterpiece of LinkedIn-ese. My personal highlight is: "I describe failure simply as a tool to educate, strengthen and mould you into a better person, it is an inconvenience but it is necessary for every person to move forward in life".
Frankly, the experience is daunting. Let's break this down.
"Managing director at ?" is this a secret company? Does he not know? What's going on?
Then there's the trio of assistant jobs: Racing Assistant, Gunroom Assistant, Anti Poaching Assistant.
If that wasn't enough, he's done modelling for England Rugby. We absolutely love it.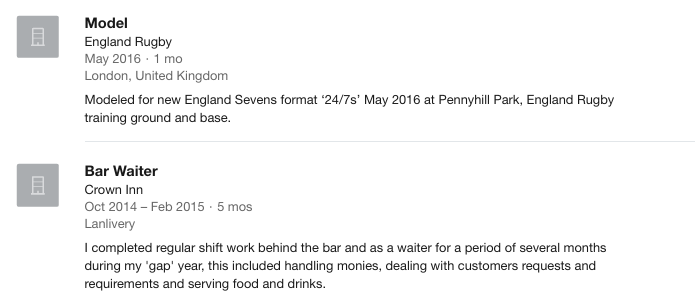 And, in a much-needed panacea for all those worrying about these kind of things, he's one of the few Islanders to have a license for those guns.
Overall, this is a very impressive profile. Whilst lacking in a profile picture, it does have an action shot of Luke presumably dribbling past someone.
Luke T's not just a professional footballer, he's an award winning professional footballer.
If you weren't already feeling bad about yourself, Luke's in his second year of a Banking, Finance & Management degree at Loughborough.
That's before we talk about the fact that putting "professional footballer" on your LinkedIn is a baller move.
Interestingly, both Luke and Ollie have some kind of diving qualification. Maybe that's a task we'll never see.
Casa Amor's Priscilla has the great cover photo and profile picture combination, coupled with a solid CV.
You'd use this as an exemplary LinkedIn.
However, Priscilla leaves out the fact she's won Miss Face of Africa and been in music videos for Wretch 32.
From now on, this is what I'm going to say whenever I'm asked for three strengths in a job interview: "Modeling, Dance, Microsoft Word"
Despite not seeing fit to add any pictures, Casa Amor's Jordan has a solid, workmanlike profile.
If Jordan can put up with MBA students at UCL, he can put up with the wannabe influencers in the villa. That is a fact.
This is a varied skillset but doesn't provide much insight into what he'll be like in the villa. Data Analysis could come in useful. Maybe. Possibly. Probably not if we're being honest.
If Eve's profile had a picture it'd be perfect. However, the Nottingham graduate more than makes up for it with a Proper LinkedIn Picture for her cover pic.
Check out the lovely blues and oranges in this landscape of The City. She definitely works in The City.
Eva's got a healthy recruitment-issue bio, the like of which is completely alien to those outside recruitment. My personal highlights are "our end goal is synonymous with that of our client partners" and "playing an active, consultative role in the grown of their business through strategic recruitment".
Her experience nothing to be sniffed at –  she's worked at Harrods and managed to get Nottingham alumni to donate to the university.
The education section is stellar, too – Eva got a 2:1 from Nottingham, the definition of above average, along with four A-levels and nine GCSEs. Good stuff.
If there are any particularly challenging tasks, Eva's your girl. Time Management! Teamwork! Leadership!
And for the post-villa hustle, Commercial Awareness!
Tragically, we couldn't track down LinkedIn profiles for the rest of the Islanders. You'll just have to imagine what they'd be like.
Related stories recommended by this writer:
• A clip has surfaced of the Love Island twins in a budget music video
• Meet Rebecca: The 21-year-old model and Winter Love Island bombshell
• Love Island Gossip Column: Shaughna was on Celebs Go Dating?! And Margot Robbie parties with ex-Islanders