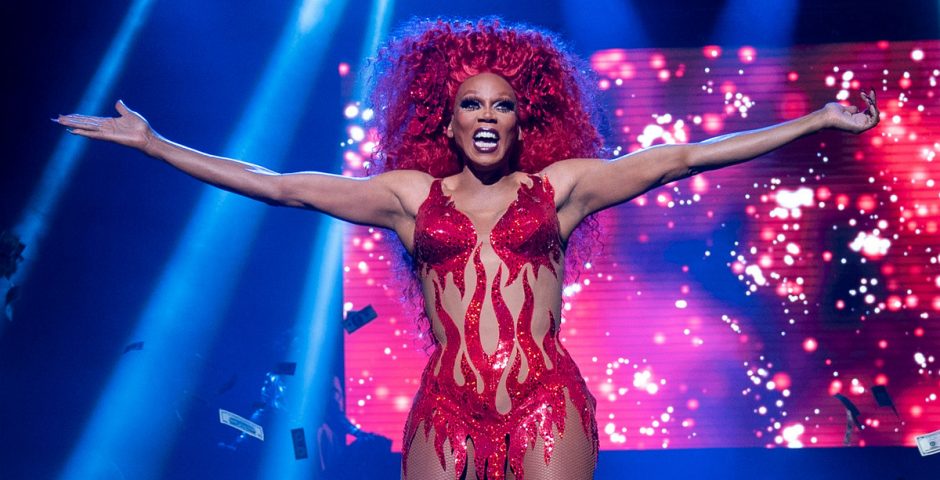 Meet the cast of RuPaul's new Netflix series AJ and the Queen
AJ and the Queen is the new Netflix series starring RuPaul Charles that gives us the hit of RuPaul's Drag Race we need while we wait for UK series two to arrive. The show follows a drag queen, Ruby Red (Robert), who is left with nothing after his boyfriend leaves him and takes all of his life's earnings. In Robert's trip across America to rebuild his career, he meets AJ, a recently orphaned ten-year-old who joins his journey.
Aside from the heartwarming narrative and the incredible drag costumes and performances, everyone is talking about this series because it has so many famous cameos and over 20 queens from Drag Race. Each episode includes a whole load of new stars, so to save anyone getting lost here's a list of the main cast and all the icons in the series.
Meet the cast of AJ and the Queen:
RuPaul Charles – Robert/Ruby Red
RuPaul stars in the series as "the Queen" Robert (Ruby Red when in drag), but he also co-wrote the show. RuPaul is best known for his series RuPaul's Drag Race which started in 2009 and continues to be a huge success with the latest series of RuPaul's Drag Race UK being released last year.
If you love Mamma Ru's incredible costume changes that we get in Drag Race, then get ready for this, times ten. We also finally get to see him lip sync for his life and shantay he can STAY.
Izzy G – AJ
The whole series toys with gender roles and stereotypes and this is clear in one of the plot twists of the show when AJ's true identity is revealed. AJ who is initially thought of as a young boy, later tells Ruby that she covers her hair and dresses in boys clothes.
Izzy G is an 11-year-old actress who also starred in The Highwaymen last year. AJ and the Queen is her breakthrough role.
Michael-Leon Wooley – Louis/Cocoa Butter
Louis is Robert's best mate and arguably the funniest character in the show. Louis is also a drag queen and goes by the name Cocoa Butter.
Michael-Leon Wooley is best known for his roles in The Princess and the Frog and Dreamgirls.
Josh Segarra – Hector/Damian Sanchez
Hector is the "villain" of the series after he steals Robert's money, destroying Robert's plan to open his own drag show. Hector is also outrageously attractive.
If you recognise him, it's because Josh Segarra was also the evil guard, CO Stefanovic, in Orange is the New Black.
Tia Carrere – Lady Danger
Lady Danger is a former pageant queen who works with Hector to con Robert. She's also notorious among the drag community for selling dodgy cosmetic fillers.
Tia Carrere is most famous for her part in Waynes World as the love interest Cassandra.
Cameos from RuPaul's Drag Race:
Bianca Del Rio, Valentina and Eureka O'Hara
Episode one includes eight!! cameos from Drag Race. Including Bianca Del Rio, winner of season six, season nine's Valentina and the runner up for season 10, Eureka O'Hara.  The first episode also includes smaller parts from Manila Luzon, Victoria 'Porkchop' Parker, Alexis Mateo and Vanessa Vanjie Mateo.
From the first episode, it's clear this is going to be a big ol' throwback to Drag Race icons and we're here for it.
Katya and Jinx Monsoon
Episode two includes season seven and All Stars Two legend, Katya, as well as Jinx Monsoon who won season five. In this episode, Jinx gives AJ an introduction to tucking which is eye-opening for everyone involved.
Jaymes Mansfield
Season nine's last place queen, Jame Mansfeild shows her face in episode three looking fire.
Ongina, Mariah Balenciaga, Kennedy Davenport, Jade Jolie and Chad Michaels
Episode four brings on another shit tonne of stars, including Laguardia-Newark-Kennedy Davenport from season seven and All Stars One winner Chad Michaels who does an unforgettable Cher impression.
The episode also includes season five's Jade Jolie and early seasons Mariah Balenciaga and winner Ongina.
Latrice Royale and Monique Heart
Latrice Royale of season four, All Stars One and Four has a larger speaking role as the owner of a club in Jackson in episode seven, while season 10 and All Stars Four star Monique Heart plays her drag daughter.
Ginger Minj
"Glamour toad" Ginger Minj features in episode nine as a party planner inspired to get into drag by one of Ruby's performances. Ginger was a season seven, All Stars Two contestant and famously one of Katya's "best friends" lol.
Pandora Boxx, Trinity the Tuck and JuJuee
Season two and All Stars One's Pandora Boxx (alongside Carol Channing puppet yay) appears in the last episode. In the final pageant, Ruby's two major competitors are played by season nine contestant and All Stars Four co-winner Trinity The Tuck and season three and All Stars One's Jujubee.
All in all where else can you see all of your favourite drag queens in one show? It's available to watch on Netflix now.
Related stories recommended by this writer:
• Start your engines, this queen wrote her dissertation on RuPaul's Drag Race
• Quiz: How much drag queen slang do you know, really?