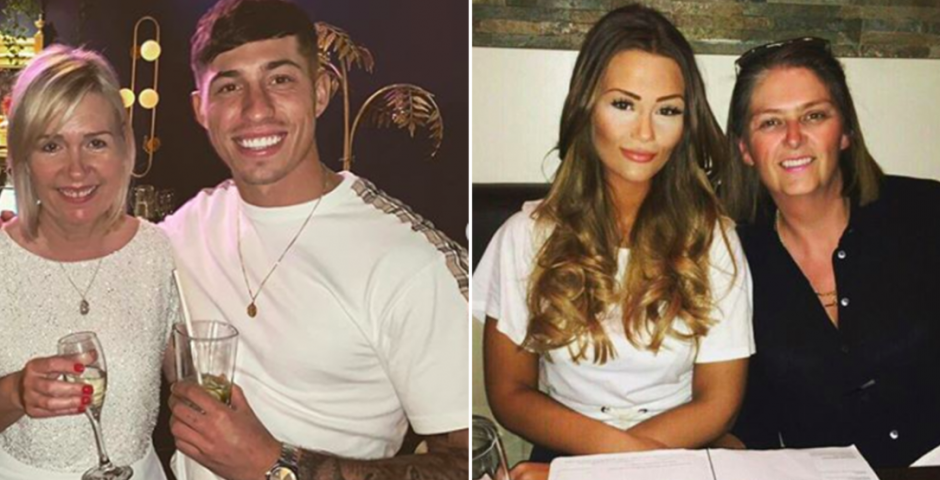 Meet the parents: The winter Love Islanders' mums and dads
Nas' mum was 'very excited' about him going on the show
We know the ins and outs of the Islanders' homes, who their fit siblings are and how much their fresh veneers cost them. The only natural next progression would be to find out who the men and women are that gave them life. We've found the winter Love Islanders' parents and what their thoughts are of their precious children's participation in the show.
The winter Love Islanders' parents:
Tracy Phillips – Shaughna's mum
Shaughna's posted loads of pictures with her mum, Tracy, on her Instagram, including pictures of them on holiday with her brother. The one below of the two of them at dinner is captioned "Ain't a woman alive that could take my mama's place".
Shaughna's mum made herself known after Jack Fincham, Islander from season four, showed support for Shaughna on Instagram and she replied. Tracy commented on the post "If only Shaughna knew" and then a heart emoji and "Much love to @jack_charlesf" – go on girl.
A pic of Tracy and Shaughna in Marbella looking v cute.
Lynda and Wayne Howard – Connagh's parents
Connaugh-with-a-G's parents have been quite vocal about him entering Love Island. His mum, Lynda, admitted to Wales Online that he's "particular" when it comes to dating girls. She added, "If he likes somebody he will make it clear and he will see where that goes".
He posted this picture for Mother's Day, captioned "Happy Mother's Day to the kindest and most caring woman I know".
Connaugh's Dad, Wayne, also spoke about his son to Wales Online saying that he's a "keen PlayStation gamer, who has participated in gaming tournaments across the country", and is actually very different from his "image as a hunk" – did his dad just call him a nerd?
Wayne added, "he's an Avenger's fan, a huge Marvel fan" – yeah, I think he did.
Ang Fudge  – Siânnise's mum
Siânnise has loads of pictures with her siblings and their mum, Ang. In the photo below you can really see the resemblance the four of them – they all have such great hair.
Another one of the sisters and their mum at, what looks like, a Hawaiian-themed party.
Julie Crawley and Mark Piper – Sophie's parents
In one of the first episodes, Sophie mentioned that her parents were called Julie and Mark. Looking on her brother, Jake's, Instagram this looks like a big family photo with her mum tagged on the left.
Although there are no pictures of her dad, Mark, on Sophie or her siblings' Instagrams, Rochelle Humes has spoken about her father, Mark Piper, and it is known that Rochelle and Sophie share the same dad.
Gillian and William Turley – Paige's parents
Paige's bother, Marc, posted this picture of him and his mum at her wedding. In the post, there's also a pic of his dad William, and of Paige and his bother – all of which are adorable.
Paige posted a picture on her own Insta of her and her dad during the Tough Mudder.
Paige also auditioned for Britains Got Talent in 2012 and made it through to the semi-finals. In the audition, she brought her mum and grandad who both cried when she sang Skinny Love.
Caroline Gannaway – Connor's mum
Connor shows his mum, Caroline, a lot of love on his Insta. He's posted various pics of them both, as well as pics of him in his mum's house so he clearly goes to visit her a lot.
In this picture of him and his mum at the beach, he's captioned it "Perfect weekend with my mum. Love you lots".
Nas' parents
Nas doesn't have many pictures of his family on Instagram but he posted this picture of what looks like his mum, dad and sister, in Thailand. Neither of them are tagged and haven't spoken out about Nas' appearance on Love Island so we don't know their names.
In one episode, Nas spoke about his mum's reaction when he told her about going on the show. He said, "My mom watches daytime TV like Loose Women and This Morning, so she said: 'I've heard all about this, it's going to be so exciting for you.'
"I told my mom: 'Maybe you can meet the girls at Loose Women or the people at This Morning', she's told me I've got to take her with me if I meet them."
Mary and Brian Gale – Eve and Jess' mum and dad
Jess and Eve haven't posted any pictures of their parents, however, their dad is famously vocal on Twitter for his constant support for the girls. He often replies to tweets against the girls, tweeting how special their relationship is.
He also tweeted after Eve returned home from the villa saying that he's "over the moon to see Eve reunited with her mother Mary" with a picture of her suitcase and water bottle because he couldn't show "the picture of them until aftersun". His whole Twitter is extremely wholesome and exactly how everyone would hope their dads would behave if they went on Love Island.
Related stories recommended by the writer:
• A clip has surfaced of the Love Island twins in a budget music video
• We found Love Island's Paige's old Facebook account and it's hilarious
• Inside the winter Love Islanders' homes: What do their houses really look like?