These are the most dramatic Love Island teeth transformations ever
Unsurprisingly they've nearly all had veneers
Everyone knows the majority of Islanders get quite a lot of surgery either before or after their time in the villa. From boob jobs, lip fillers, butt lifts and botox, it's very rare to find an Islander who hasn't had a touch up here or there.
But those sort of surgeries aren't always that obvious to see. However the one cosmetic procedure which is pretty easy to tell they've had done is veneers.
Connor from the current series of Love Island's veneers were gleamingly obvious. They basically lit up the room and it was a surprise Sophie could sleep next to him without them blinding her.
But Connor isn't the only Islander to get his teeth filed down and fit with composite veneers. Over the years quite a few Islanders have got veneers either before going into the villa or afterwards and for some of them it's made a MASSIVE difference to their face.
Here are all the stars with the most shocking teeth transformations.
The Islanders who got veneers before going into the villa:
Jack Fincham
Who could forget when Jack said in his promo video for Love Island his veneers are what get him the girls? Does anyone actually find veneers attractive?  If so please let me know.
Jack also said he got his veneers done in Turkey. The Dental Centre in Turkey is famed for doing loads of influencer and reality stars teeth, like Dan Osborne and Marnie from Geordie Shore.
Before getting his veneers done, Jack's teeth were not very straight, but after the process, his teeth were pearly white and straight.
Molly-Mae Hague
When Molly-Mae first entered the villa everyone had two thoughts, who is this insanely fit girl and has she got veneers?
Molly's teeth were perfectly white and some Twitter users commented her top teeth looked like one single tooth, which is generally the appearance veneers can give. Molly has never confirmed if she has had veneers, maybe she just had some really good braces and teeth whitening.
Megan Barton Hanson
Megan is literally perfect. She majorly improved season four of Love Island and has since been a body and sex positive activist. When she was in Love Island it was revealed she had a lot of surgery, including veneers.
In pictures of Megan before the show it's not completely clear what her teeth looked like, but when she was in the villa her teeth where perfectly straight and super white.
Megan confirmed she has veneers in an interview with OK! magazine.
Connor Durman
I couldn't leave Connor off this list. Connor's veneers are iconic and have created some legendary memes. He got them done in Thailand and a dentist has told us they probably cost £10,000.
His teeth before hand weren't as straight and as white as they are now.
The Islanders who got veneers after leaving Love Island:
Jordan Hames
Jordan was the butt of so many teeth jokes during his time in the villa. Remember the Shrek meme comparisons for his gappy teeth? Well clearly he could no longer handle the teeth heat and got veneers put in.
He shared a picture comparing himself with Shrek. Jordan edited the pic so it looked like they both had the gaps filled in their teeth and captioned it: "yoooo word on the street, my man shrek has followed the flex".
Montana Brown
Montana wasn't subjected to teeth criticism during her time on Love Island and they always looked good. However she clearly wanted a change as she got veneers put in. Her teeth were previously slightly different lengths but now they are all the same shape and size and she has a very pearly white smile.
Montana had 10 composite veneers put in at Maison Dental clinic, who do a lot veneers for influencers. Maison Dental also shared a video to their Instagram of Montana showing off her new teeth where they revealed the cost per tooth is £400 – £500.
Alex Bowen
Alex from season two, was always insecure about his teeth according to his wife Olivia,which is why he got veneers after Love Island.
Alex revealed on his Instagram he had 10 veneers put in and many of his followers commented he looked fitter before. Olivia said in a column she was angered with the treatment he received as the veneers had really changed how he felt about himself.
She said: "Alex had veneers applied recently and some people commented, saying he looked 'generic' after he posted a selfie on Instagram.
"It really angered me. He's always felt insecure about his teeth, but hasn't stopped smiling since he got his new ones."
Cara Delahoyde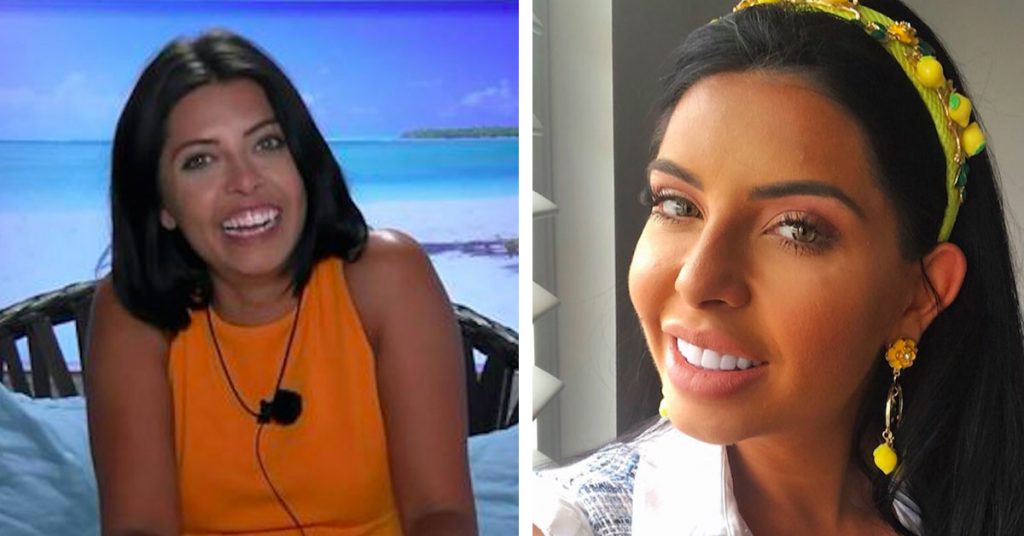 Cara and Nathan both got their veneers put in after they won Love Island. They went to the same clinic as Jack Fincham in Turkey.
Before she got veneers Cara's teeth were quite straight but were different lengths. After the procedure they were all the same size and much whiter.
Laura Anderson
Laura Anderson was clearly blessed with great teeth, they looked so straight and in perfect shape before she entered the villa. Laura got veneers after leaving Love Island.
The veneers have really contributed into making her overall appearance look quite different, her teeth are whiter and they make the mouth area look slightly wider.
Laura confirmed with OK! magazine she did have veneers put in.
Harley Brash
Harley is honestly so fit, I don't understand how someone can be this fit. When she was on Love Island in the summer she got trolled about her teeth and at the end of last year Harley got veneers put in at the Chelsea Dental Clinic.
She shared her teeth journey on Instagram and had always been self conscious about her smile, but is now finally happy with it. Harley also explained she had composite veneers put in, as well as having her top gum lasered.
She said: "Finally content with my smile all thanks to @drrhonaeskander ? I've always been self conscious about my teeth and having a gummy smile since I was a young teen and it was something I had always planned on fixing when I felt I was old/mature enough to do so… me and @drrhonaeskander had multiple consultations.
"We discussed my main concerns which were my gums and to make my teeth look straight but with a very natural effect… @drrhonaeskander talked through all options with me and in the end I decided to go with composite veneers as well as having my top gum lasered, both completely pain free. She's also a complete angel inside and out!"
Ellie Brown
When she was in the Love Island villa Ellie had very straight square teeth. Since leaving, her appearance has undergone quite a transformation and Ellie revealed late last year she was getting k-line, whitening and bonding at the Dental Excellence centre.
Her teeth are now much whiter and along with possible lip fillers have made her mouth area look bigger.
Related stories recommended by this writer:
•Laura Anderson from Love Island looks completely different now
•Ellie Brown's transformation is so mad, she looks like a different person
•These pics show what Connor's teeth looked like before THOSE veneers