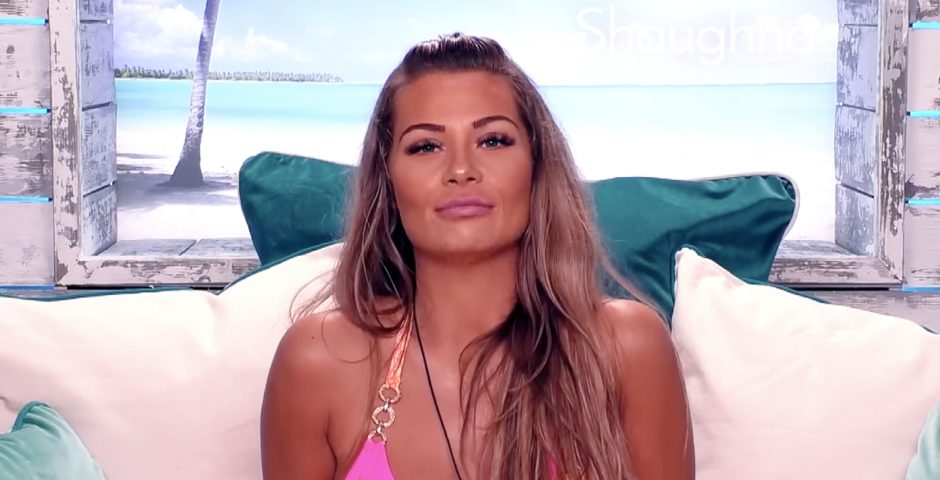 Here's all the evidence Shaughna is the best Islander in the villa
We even contacted her former employers
Let me level with you here: this year's Islanders? Not up to much. Between the questionable animal shooting, ugly veneers, and twin-fetish-baiting it's just a mess of a cast. I don't think I'd be able to name more than three of them at gunpoint.
That's why we should all be thanking God for Shaughna Phillips, who is the only Islander this year resembling a human being with a pulse. Last night she had absolutely zero time for Jess and Eve's bullshit after the latter pinched Callum from her and the night before she necked Callum so blatantly to mark her territory you just had to applaud her. It's all great.
She's straight-talking, funny, and – get this – she's a good egg outside the villa. She had better fucking win Love Island and if she doesn't I will dirty protest. Here's why:
She brilliantly owned up to the fact kissing Michael was an attempt to mark her territory
One of the big travesties of Love Island in its current state (let's call it the Baroque era of Love Island) is that no one shags on it anymore. The general lack of horniness among the Islanders for anything other than a Boohoo endorsement is part of what makes this pack of contestants so boring. Not Shaughna though – Shaughna gets it.
I mean, she 100 per cent won't shag on TV, because no one does these days, but cutting the bullshit and straight-up munching Callum's lips off was a fantastic power move, even if it didn't pay off in the end.
She then basically binned him off and called him a child
Honestly fair play to Shaughna for getting fed up with Callum's inability to even address the whole going-on-a-date-with-the-twins fiasco and just straight up dragging him to the corner of the villa for a chat. If that wasn't amazing enough she swept straight out of the chat, into the beach hut and said she'd had enough of little boys and wasn't prepared to be Callum's mum.
And you know what, yeah? She's right. We've all had enough of little boys and Callum isn't even that fit. Bring back Adam Collard I miss him.
She worked for Lambeth council and helped out with the aftermath of the Grenfell fire
If you don't think I'm a reliable indicator of how fantastic Shaughna obviously is, then maybe her old boss will convince you.
In an email to The Tab, Lambeth Council's Deputy Leader Claire Holland said Shaughna was "a delight to work with." A DELIGHT.
"She was the Democratic support officer at my Cabinet Member briefings in my role as lead on Environment & Clean Air," Claire added. "The topics would range from planting trees and installation of bike hangars and clean energy contracts to how to tackle fly-tipping and increase recycling."
Clare told The Tab she "cannot believe she has traded in discussions on controlled parking zones in Streatham for the Love Island villa," and confessed she'd nominated Shaughna for a Rising Star Staff Award "before I knew she was leaving us for Love Island".
"Not only is she a great colleague but she has a good heart", she said. "She's bright and wants to make a difference. And I am sure she will."
Her and Leanne are now hanging out together and Leanne is A+ so Shaughna is A++ by extension
I won't lie I can't remember anything Leanne has said, mainly because she's just sat there and let Mike's little mind implode with frustration at her nonchalance, but also because Love Island brutally undercuts her screen time. That's not the point though – the point is Leanne is a lot of fun, takes the piss out of the twins without being outright nasty, and wears really nice jackets. 
Look, if no one's actually going to shag on this show, the best we can hope for is some wholesome friendships and that shot of Shaughna and Leanne conspiring on the day bed was a very good sign – until they inevitably fall out next week.
She speaks her mind and you know who else did that? Amber last year
Ergo, give her the money.
She has big classic Love Island vibes
Remember the good old days of Love Island? Back before everyone walked straight out of the villa and into a mountain pile of tragic car air freshener endorsements? In those days post-villa stardom was more of a reward for being good craic and less of a formality, and the people who went on Love Island weren't so worried about what they did or said and how that might mess with their emerging brand. Shaughna radiates classic Love Island of yore energy and you can bet the last penny in your overdraft she'll be at the centre of some massive row later in the series. I can't fucking wait.
For all the latest Love Island news, memes and gossip like The Holy Church of Love Island on Facebook.
Related stories recommended by this writer:
• This is where all of the 2020 Love Islanders went to uni
• Exclusive: Love Island twin Eve Gale goes to King's College London
• Meet Mike Boateng: The Love Island police officer we're already obsessed with