The Apprentice's Ryan-Mark Parsons is selling signed headshots for £15
It was only a matter of time
The Apprentice may be over, but Ryan-Mark Parsons is still hustling hard.
But, doing what I hear you ask? Building a business? Starring as a LazyTown impressionist? Becoming the world's greatest Meme Lord? Um, no.
Instead, he's ripping off his fans by charging FIFTEEN POUNDS for a headshot and a signature. You can also get a personalised video for a tenner (not that you'd actually want one).
Ryan-Mark is ruining his National Treasure status – there are literal A-list celebrities who will send you a pic and a signature for free.
Yet, for some reason, Ryan-Mark thinks he's so much of a legend he can take advantage of his fans and charge £££s for a scribble and a selfie?? That's salesmanship right there.
Not long left… https://t.co/PV9eLFH3oK ? pic.twitter.com/WBrPL2FvOV

— RYAN-MARK (@ryanmarkparsons) January 1, 2020
If you've been sucked into this and are desperately waiting to get your hands on some personalised merch, I've got some even worse news for you – his shop is now closed.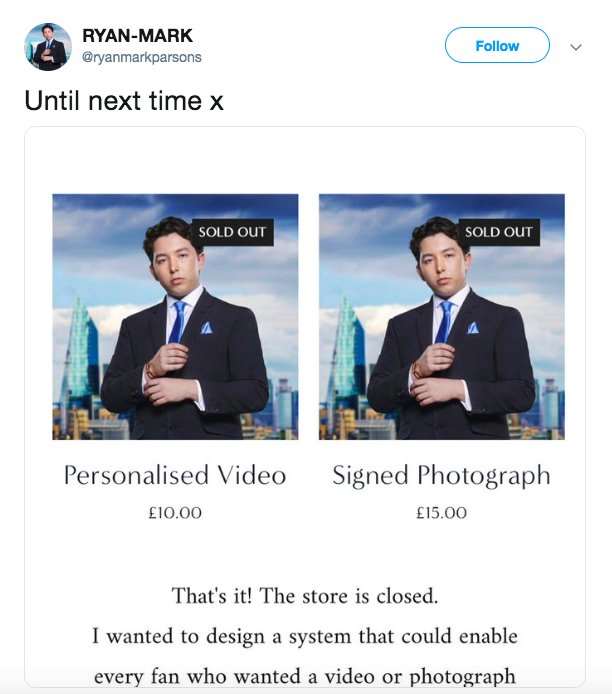 But hey, who are you kidding? Print off his headshot from Google, scrawl his name across the bottom and you'll never know the difference.
By doing it yourself you'll be able to spend the £15 on something really special, like monogrammed food containers or discounted 2019 Christmas cards.
Related stories recommended by this writer:
• A tribute to Ryan-Mark: The Apprentice King who was gone too soon
• Lottie and Ryan-Mark now hate each other and are having a huge Twitter fight
• The Apprentice's Dean has exposed Lottie Lion photoshopping her pictures