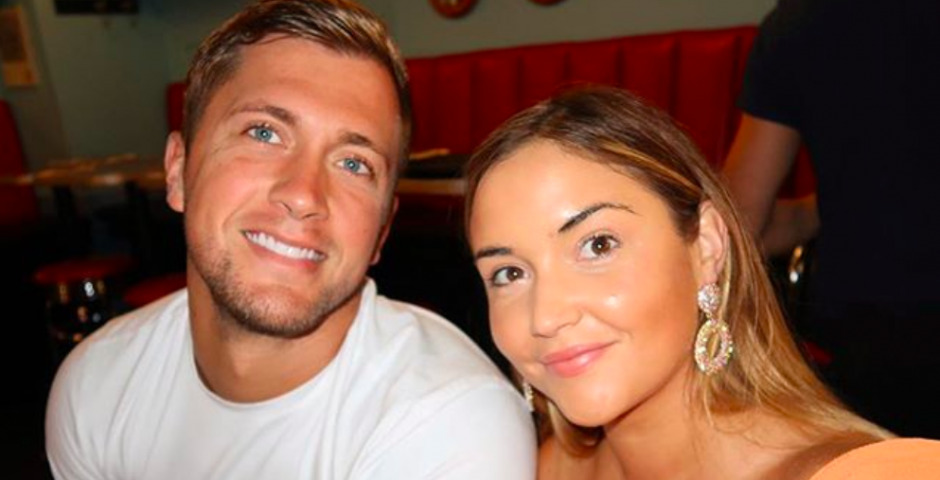 All the scandals in Dan Osborne and Jacqueline Jossa's relationship so far
Turns out their relationship has always been a rollercoaster
EastEnders actress Jacqueline Jossa was crowned Queen of the Jungle on I'm a Celebrity Get Me Out Of Here last night. Whilst everyone is super happy for her achievements on facing her fears and surviving the jungle, what we all really wanted to see was her reunion with her alleged cheating husband Dan Osborne.
Following cheating allegations that Dan had a threesome with a model and reality star, the married couple still reunited on the iconic jungle bridge with Jacqueline exclaiming moments before how much she loved her husband.
But it turns out their relationship has been dramatic from the start, so strap in because this is wild:
The pair met in 2013
The EastEnders actress, 27, met TOWIE star Dan Osbourne, 28, in 2013. Jacqueline was attending a singles night out and they were texting throughout night.
The pair began their relationship whilst Dan's ex-girlfriend was pregnant with his first child.
They then started to settle down in family and married life
The couple have two children, four year old Ella and one year old Mia. Both of their children are regularly featured on their Instagrams.
Dan and Jaq had a two year long engagement before getting married in 2017.
They split up a year into marriage
After a series of rows about Dan working away from home, the couple decided to call it quits and ended their relationship whilst Jacqueline was eight months pregnant.
Dan was pictured with Love Island's Gabby Allen on a yacht
Dan and Gabby were working at a bootcamp when they were spotted on a yacht together.
Dan responded to an Instagram fan's comments that they look 'cosy' by saying: "Cosy with another woman. I am speaking and laughing with a friend. But of course a man and and a woman can't be friends in this day and age can they. Also you don't know me, don't know how I 'act.'"
Marcel accused Gabby of cheating on him with Dan
Marcel accused the pair of sleeping together whilst on the bootcamp, and continuing it when they went back to the UK.
Gabby denied the allegations, with her spokesperson commenting: "Gabby was 100 per cent faithful during her relationship with Marcel and finds it disappointing that he is attempting to make himself feel better about his own adultery with these baseless and malicious untruths."
Dan moved back into the family home with Jacqueline for the sake of their children.
Gabby and Dan then both went into the Celebrity Big Brother House
The pair denied all allegations that they had slept together. Dan went on to place third in the show, despite claims he shouldn't have been cast for the show.
The reality star had been fired from TOWIE for a number of verbally abusive rants towards his ex Megan Tomlin, including one that featured this charming line: "I swear on this boy's life I will end your fking life if you shag another man. Never in your fking life are you going to be with another man. I can swear on my son's life."
Dan, shockingly, gets caught up in another cheating scandal
Dan was spotted kissing Love Island star Alexandra Crane on a night out in Manchester. The pair were pictured kissing and grinding up on each other. They left together and Dan followed Alexandra on Instagram.
However Dan posted a video on social media stating that they didn't kiss.
Dan and Jacqueline allegedly moved into separate bedrooms and stayed together, again, purely for the kids.
Then Jacqueline entered the jungle and things really started to kick off
It was alleged that in a unaired scene, Myles Stephenson told Jacqueline he believed the rumours of Gabby, his ex, and Dan to be true.
Dan was said to be "raging" over the rumours and flew out earlier to "confront" the Rak-Su singer.
It was reported that Dan and Jacqueline were allowed to leave voicemails about the situation, and Jacqueline considering leaving the show.
Then ANOTHER cheating allegation came out over the weekend
Model Chloe Ayling told the Sun she had a threesome with Dan and US reality star Natalie Nunn in a hotel room after a night of heavy drinking.
She claimed Dan "had full sex with Natalie in in front of me in the bathroom, and then kissed and performed a sex act on me."
The model has commented that she feels "so sorry for Jacqueline. She deserves to know what Dan is. He's making a fool of her."
Jacqueline was crowned Queen of the Jungle and had emotional reunion with Dan last night
Overnight the rumour-mill has gone into over drive with claims that Jacqueline will do no live TV interviews after her win and that her parents snubbed her husband by sitting away from him on the bus.
On the bright side, Dan and Myles appear to be friends, with the two pictured by the pool at Palazzo Versace Hotel.
Related stories recommended by this writer:
• Model claims she had a threesome with Dan Osborne behind Jacqueline's back
• Jacqueline's husband is flying to Aus to 'confront' Myles over cheating claims
• Myles tells Jacqueline HIS ex cheated with HER husband in unaired scenes