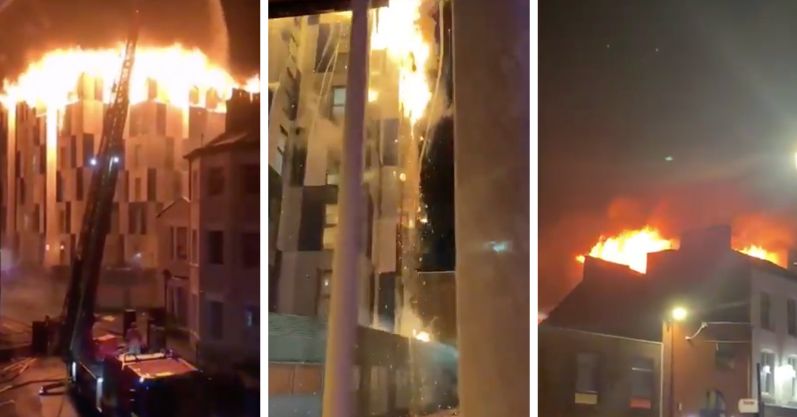 200 firefighters tackle huge fire at student halls as residents are evacuated
'You could see through the beams, it was just bare frame'
200 firefighters tackled a huge fire at a block of student flats in Bolton last night.
40 fire engines rushed to The Cube as flames engulfed the six-storey private halls at 8:30pm.
Two people were injured and treated by paramedics and fire crews rescued one person with a cherry picker as the building's cladding caught fire.
An eyewitness told the BBC how the fire "kept getting more intense, climbing up and to the right because the wind was blowing so hard"
Ace Love, 35, added: "The fire got worse and worse, to the point where you could see through the beams, it was just bare frame."
The fire was under control by 5:30am, with students being relocated to the Orlando student village and told to contact loved ones.
Andy Burnham, Greater Manchester's Mayor, said "most people have been accounted for but not everyone" at around 8:30am.
Videos from students show the dramatic fire and the efforts to control it.
Debris fell from the halls as the fire rose up its six storeys, destroying the top of the building.
Professor George E Holmes DL, Bolton uni's president and vice-chancellor, said: "University colleagues have worked through the night to make sure support is in place for students over the weekend.
"We have also arranged to provide necessities such as toiletries for all students affected and are opening the university over the weekend so students can be supported. We will also provide food for them."
Bolton student Shannon Parker told the BBC she was in her room as the fire started.
"I heard the fire alarm going off but it kept on going off so I just thought it was a drill at first until one of my flatmates shouted down the corridor that it was a real fire," she said.
"I ran out the flat as quickly as I could and I saw that it was one of the flats below mine and we went out by the fire exit."
Andy Burnham revealed that fire crews had used lessons from the Grenfell fire to send in a dedicated team to deal with the evacuation.
Greater Manchester Fire and Rescue Service praised firefighters for their quick response and thanked local residents for making donations to help students affected by the fire.
Have you been affected by the fire? We want to speak to you and find out more. Email [email protected]