The John Lewis Christmas advert is out and I am weeping
The John Lewis Christmas ad 2019 had been released, and the retailer has outdone itself.
Featuring Excitable Edgar, the clumsy dragon, the John Lewis ad is a heartwarming tale of a dragon who learns not to ruin Christmas.
As per, the music is yet another tear-jerking cover. Dan Smith from Bastille has recorded a (you guessed it) stripped-down piano and strings version of Can't Fight This Feeling by REO Speedwagon.
Watch the John Lewis Christmas ad 2019 YouTube version:
If you can't be bothered to watch that – maybe you're busy or just dead inside – here's a Match of the Day-style highlights package.
The advert is really cute. Excitable Edgar is accompanied by Ruby. As they're walking into town, the cute dragon melts a snowman with his dragon fire.
Then, whilst Ruby's baking, Edgar manages to get over-excited and melt an ice rink with his fire, leaving this poor villager half-submerged.
As the village gets ready for Christmas, Ruby has wrapped Edgar in a scarf to stop him going full firestarter on the fairytale village's Yuletide preparations.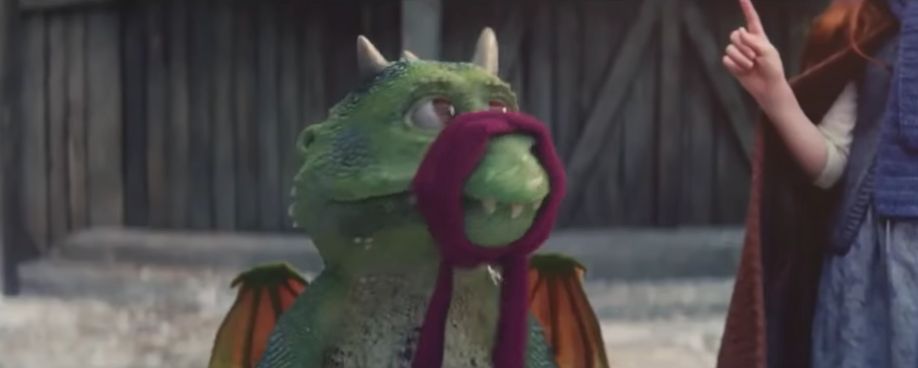 Disaster is averted as the townsfolk successfully unveil their (frankly quite garish) Christmas tree. But nobody counted on Edgar's ears.
He sets a few things on fire, gets doused in water by two heroic bucket-carrying villagers, then goes into hiding. Ruby doesn't know what to do with herself.
Enter: the magical power of Christmas. Ruby gives Edgar a gift to lure him out of hiding. His eyes light up. It isn't dragon poison like he feared. The two have a perfect scheme.
Ruby enters the village's Christmas dinner, fails to play the trumpet, and so makes way for Edgar.
Everyone absolutely shits themselves, but it's time for the big reveal. Edgar has finally put his powers to use for good. He's carrying a Christmas pudding.
The song reaches an emotional crescendo. The village simpletons go wild. Excitable Edgar is redeemed. I LOVE CHRISTMAS.
As ever when something crams so much emotion into two and a half minutes, there's always more fun facts.
10 year old Ruby had to do the performance alongside a stick, which was then replaced with the full CGI Edgar.
In fact it's a joint effort between John Lewis and Waitrose, which is sure to delight upmarket retail stans.
Craig Inglis, customer director at John Lewis, said: "It started from a spark of an idea – a little dragon's excitement about Christmas – and became the story of how someone goes the extra mile for their best friend to give just the right gift.
"It's a funny, heart-warming story that will resonate with our customers as they seek out the perfect gifts for their loved ones this Christmas."
Ever the middle-class hustlers, John Lewis is even selling Excitable Edgar toys. Kris Jenner could never.
To be honest, this has blown those Robert Dyas and Aldi adverts out of the water.
Related stories recommended by this writer:
• Ranking John Lewis Christmas adverts by their level of emotional blackmail
• Stop all the supermarket Christmas adverts because Aldi has already won
• This Robert Dyas Christmas advert is going viral and I have MANY questions