Get ready to bleed: Period pants are getting a makeover
When anyone mentions period pants, I usually imagine some big, granny knickers with a few stains and the occasional hole. But apparently, 2019 is the year this changes. With a wave of recent female empowerment surrounding free-bleeding, and one lady even free-bleeding through her first-ever marathon, it's unsurprising that someone has decided to turn the trend into a business.
So, say hello to Modibodi – a company that's reinvented underwear and swimwear to actually soak up blood and remove any need for tampons, pads or emergency loo roll.
My initial very-unfeminist response to this was "ick" – there's something about the idea of sitting in your own blood that makes me think of squelching nappies. But, surprisingly, when I looked into how these things are actually made, new materials mean that the pants are not only stain-resistant and super absorbent, but also moisture-wicking and odour-fighting.
After 23 years of living in a man's world, sneaking tampons up my sleeve, and internally cringing whenever someone said the word 'menstruation' – I think Modibodi is on to something. Their period pants not only work, but are also being used to help break period taboos, support and educate underprivileged women, and provide a reusable, sustainable option that's good for the planet.
Because that's another thing I'd never thought of – waste. It turns out that over 23,000 tampons pollute the ocean every day and the average pad takes over 500 years to break down. FIVE HUNDRED YEARS. That's crazy, especially when you think that on average most women will use at least one per day, for seven days every month.
With just one pair of period pants, you could significantly cut down on waste, save yourself some money and stick your middle finger up at the pink tax all at the same time. What's not to love? Treat yourself to some non-granny period pants so that you can feel sexy no matter the time of the month:
Hipster bikini, pink polka dot 
Flow: 15ml = 2-3 tampons or 3 teaspoons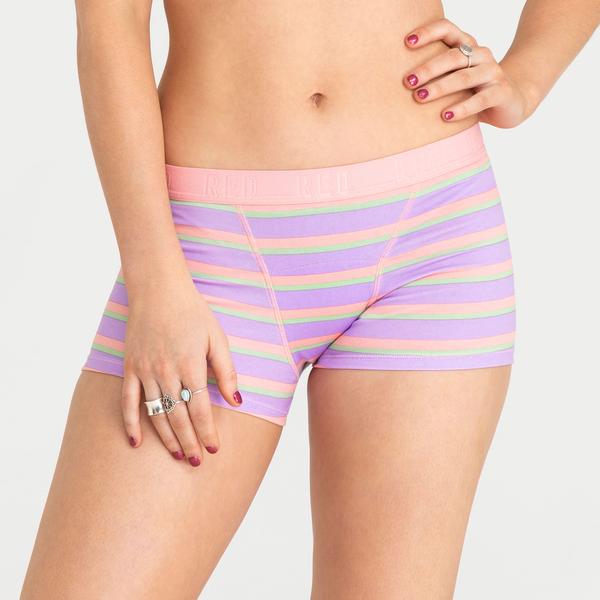 Flow: 20ml = 3-4 tampons or 4 teaspoons
You go girl.
Related articles
• The best winter skincare products to buy on a student budget
• What to wear to the 1920s NYE party everyone's having this year
• The best winter coats to live in at uni when your boiler inevitably breaks
• Here are the best secret santa gifts under £10 so you won't bankrupt yourself this Christmas