This is what the Made In Chelsea cast actually do, according to their LinkedIns
Wait, they have day jobs?!
Watch any episode of Made In Chelsea and you'd think all they do is mooch around Kensington all day, eat at overpriced brunch places and bitch about each other. But did you know that they actually had day jobs? That's right, this is what the Made In Chelsea cast do according to their LinkedIns:
Jamie Laing
Jamie is the founder of Candy Kittens, a "gourmet gummy candy" brand. He first started the business in 2012. He also went to Leeds University to study Theatre and Performance.
He writes: "By combining fashion and confectionary we aim to challenge the dated traditions of the market, striving as we do, to make candy cool. Our own range of Gummy Candy has been two years in the making and we are very proud to have launched the range exclusively with Selfridges nationwide. We believe we're bringing something that's fresh and unique to your shelves. Sugar has never been put to better use!"
Mr Laing has been endorsed for "birds", "chat", "breast implants", "bird watching" and "swag."
Victoria Baker-Harber
Queen Victoria is the founder and designer of Elle En Jette, a swimwear brand which is "elegant" and "timeless." She also went to the University of the Arts London.
James Taylor
James has 375 connections on LinkedIn and his last work experience is from 2016 as a Design Assistant at Holroyd Components Limited. He writes: "Being the design teams "b***h" had little benefits."
Past experiences include being a counsellor at Camp Nashoba North in America, Start Up Marketing Analysis at zkipster, Ski Instructor licence at Altracks and Import/Export at Twin Leaf Tea.
He says he finished Regent's University London in 2018, with a 2:1 in Global Business Management. He also did a year abroad at Northern Arizona University. Before that, he went to Framlingham College for Sixth Form and Friends School Saffron Walden before that.
Melissa Tattam
Melissa hasn't updated her LinkedIn since 2014, when she was an Office Assistant at Battersea Power Station. She's currently listed as a student at Quest Professional.
Miles Nazaire
Miles writes: "I have worked many jobs, which has evolved me in many different areas. My passion is film and editing, I worked at Knickerbockerglory as a runner and it was there that I wanted to build and create my own business in film production, if you like what you see and need some help for a shoot or an advert drop me an email."
He's currently listed as the Head of Production And Market at The Eelbrook. His education includes The Brit School between the years 2009-2013.
Angus Findlay
Angus is a "hard working TV personality, Model and Chelsea boy." His past experience includes Model and Reality TV personality May 2018-Present. He has also been the participant of "Best Dressed" on ITV, "Celebs Go Dating" and "Things Not To Say" on BBC.
Amelia Mist
Amelia is a student at Richmond, The American International University in London. She writes: "Currently working on a television show, Made In Chelsea and am a student at the American University in Richmond. Experienced Recruitment Manager Skilled in Research, Microsoft Excel, Customer Service, Management, and Microsoft Word. Strong human resources professional studying at Richmond, The American International University in London."
Her past experience includes doing a Cookery School course and being a chef, rep and a host at a Chalet. You couldn't make it up. She has also volunteered to clean rivers at River Wandle Trust.
Verity Scarlett Bowditch
Verity is a Sales Executive and an Account Manager at Fonix LED. She went to King's College to study Biomedical Sciences. She writes that her first and second year average was a first, which might imply she didn't finish her degree. She went to Parkstone Grammar School, where she got 12 A*s and As at GCSE level.
Freddie Browne
Freddie's bio reads: "Straight roads do not make skilful drivers." He continues: "Outgoing and personable, I enjoy meeting new people and embracing new opportunities. With good communication skills & an engaging personality, I like face-to-face roles which bring me into contact with the public."
He's the Head of Partnerships at CLiKD and has loads of experience in events and marketing. He attended Bradfield College, which according to Freddie, is "noted for producing plays in Ancient Greek and its Greek theatre."
He has completed Gold Duke of Edinburgh, as well as a fashion photography course and a cooking course.
Hugo Leefe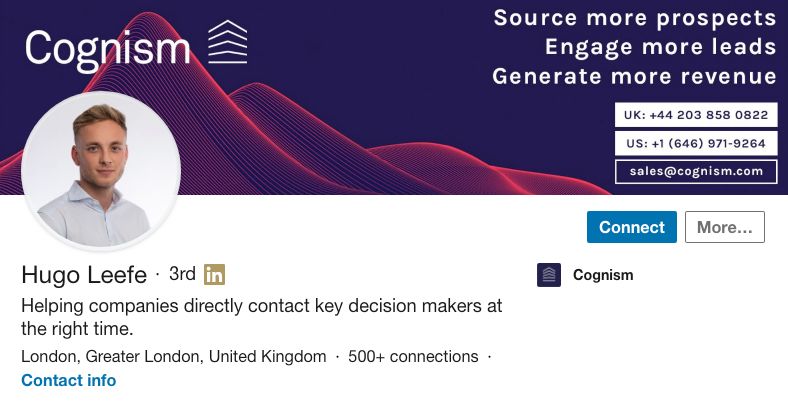 Hugo is "helping companies directly contact key decision makers at the right time." He's the Business Development Executive at Cognism and has tonnes of other experience in marketing, starts ups and sales. He graduated Northumbria last year with a degree in Public Relations, Advertising and Applied Communication. He played for his school's first team cricket and rugby teams.
Related stories recommended by this writer
• Made in CHEAT-sea: The wildest cheating scandals EVER on MIC
• This is where all the Made in Chelsea cast went to uni
• These are the fancy private schools the Made in Chelsea cast went to
• Made in Chelsea heirs: All the cast members sitting on huge family fortunes