28 grim things all freshers will experience living in halls
Does anyone know how you get those little bits out of a sieve?
First year halls is all a game of who is going to cave first. Who is going to take the bins out? Who is going to finally wash up the mountain of plates in the sink? Who is going to remove the traffic cone that's been sat in the middle of the communal area since week one? Who is going to charge Ryan down to the clinic to get his chlamydia diagnosis?
These are the trials and tribulations all first years experience when living in uni halls. If at least half of these things haven't happened in your halls so far, then soz mate you're not doing it right:
1. SOMEONE WILL PISS IN THE SINK AND IT WILL BE DISGUSTING
I guess you won't be leaving your dishes there any more!
2. THE COMMUNAL TOILET WILL BE SO RANK, THE CLEANER WILL REFUSE TO CLEAN IT 
Who thought eight people could be THIS disgusting?
3. ONE DAY, THE CLEANER WILL STOP CLEANING ANYTHING
Poor Belinda, she's seen a lot of things in her time.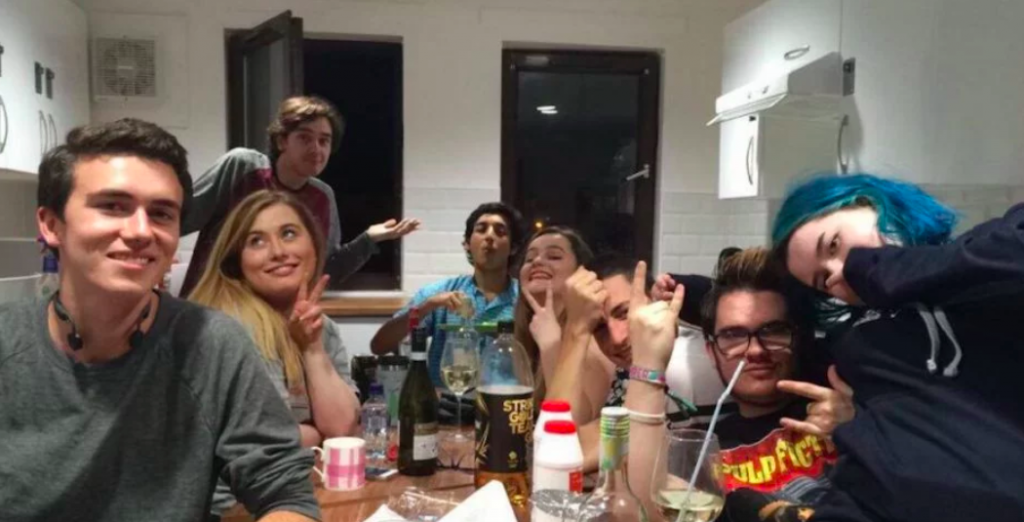 4. SOMEONE'S MEAT JUICE WILL DRIP ALL OVER YOUR STUFF IN THE FRIDGE
Sucks to be you if you're vegan.
5. THERE WILL BE ONE FLATMATE WHO CAN'T COOK, AND THEY WILL LIVE OFF PASTA WITH KETCHUP
Ew.
6. YOU WILL HEAR YOUR QUIETEST FLATMATE HAVE THE LOUDEST SEX
Turns out innocent Sophie isn't THAT innocent when you hear slapping noises each night. It will sound like a cat being blended.
7. YOU WILL PUT SOMEONE IN THE RECOVERY POSITION TO SLEEP AND THEY'LL STILL WAKE UP IN A PUDDLE OF THEIR SICK 
Emily why r u like this?
8. YOU'LL BUY SOME RED COLOURANT FOR HALLOWEEN FAKE BLOOD AND IT WILL STAIN THE WALLS 
Nothing spookier than losing your ENTIRE deposit.
9. THERE WILL BE SOMETHING STICKY SPILLED IN A CORNER OF THE KITCHEN WHICH WILL NEVER BE CLEANED UP 
It will be there until you die x
10. YOU'LL DO A CHONK SHOP OF HEALTHY FOODS WHICH YOU WILL PROMPTLY IGNORE FOR A MONTH 
By the time you remember it the mould living on it will be sentient.
11. THERE WILL BE A JAR OF HALF-FINISHED PASTE WHICH WILL FESTER IN THE FRIDGE ALL YEAR 
You'd throw it away but no one's sure who it belongs to.
12. SOMEONE WILL DRINK A DIRTY PINT BEFORE YOU GO OUT AND THEY WILL END UP VOMMING EVERY SINGLE TIME 
They'll aim it on the taxi door and end up paying a £50 fine.
13. IF YOU'RE A BOY LUCKY ENOUGH TO HAVE A SINK IN YOUR ROOM YOU WILL WEE IN IT 
Every. Night. Before. Bed.
14. YOU'LL TRY SOME ROGUE COOKING, LIKE DEEP-FRYING YOUR OWN CHIPS, AND SET OFF THE SMOKE ALARM
The hot oil will never be thrown away, and the flat will smell like McDonald's. 
15. THERE WILL BE A DESIGNATED COMMUNAL BLANKET WHICH IS BASICALLY JUST A BIG SNOTTY HANDKERCHIEF
And it will be your best friend!!!
16. THE FRESHERS' FOAM PARTY WILL PRODUCE ALL MANNER OF NASTY DISEASES
Freshers' flu is back babyyyyyyy.
17. AND OBVIOUSLY, AT LEAST THREE PEOPLE YOU KNOW WILL GET AN STI JUST FROM FRESHERS' WEEK
Hi my name's Chris, I got two As and a B in A-level and I have genital warts.
18. NO ONE WILL TAKE THE BINS OUT. EVER. 
It will keep growing, and growing, and GROWING until it's a trash mountain inhabited by a family of tiny mice. Not even the cleaner goes near it. 
Only people who went to uni last year will remember this pic.twitter.com/6elOg4igcC

— CEO of Celibacy (@ShyonGredley) September 10, 2019
19. SOMEONE WILL BLOCK THE SINK WITH SICK 
Shotgun not cleaning up x 
20. THE SINK, IN GENERAL 
Like the bin, it's another no-go area that over time piles up full of everyone's plates, saucepans and cutlery, with the food residue crusting over in the pool of lukewarm, soapy liquid. Extra points when there's old scrambled eggs in there. 
21. YOUR ONE NIGHT STAND IS EXPOSED DURING A FIRE ALARM
Especially grim if you come to realise they're a 6/10 in the daylight, and not the 9/10 they were on the Przym dance floor.
22. YOU THINK YOU'RE HEARING LEGENDARY FRESHERS CLUB ANTHEM "INTOXICATED" BY MARTIN SOLVEIG FROM YOUR FLATMATE'S ROOM, BUT ACTUALLY IT'S THEM MAKING THEIR BED SPRINGS *SING* 
Top shaggers, tho.
23. REALLY NICHE, BUT SOMEONE WILL UTTERLY FUCK YOUR SIEVE AND YOU'LL NEVER EVER BE ABLE TO GET THOSE LITTLE BITS OUT
There's not really a lesson to be learned from this.
24. SOMEONE WILL FUCK IN THE COMMUNAL BATHROOM
Yeah cheers Sam let me just get my DETTOL. 
25. THE SMELL OF BO, OVEN FOOD, THREE DAY OLD KEBABS AND KNOCK OFF MALIBU NEVER LEAVES
It's called eau de freshers.
26. WHEN YOUR WHITE FLATMATE PLAYS GOLD DIGGER AND SINGS THE N-WORD
We have a racist on our hands people!
why do all the people living in beds uni halls keep empty bottles of Caribbean twist in their window

— beth (@bethj0nes) November 2, 2015
27. THE COLLECTION OF USED BEER BOTTLES ACCUMULATING ALONG THE WALL, COLLECTING DUST 
Oh so this is what it feels like to be an interior designer!
28. HAVING TO BE NICE TO EVERYONE BECAUSE YOU HAVE NO MATES
Spoiler alert: I hate you all!!!
Related stories recommended by this writer:
• 82 things you should under no circumstances do at university
• 78 things that definitely happened during first term at uni