The ending of El Camino was meant to be *very* different
Netflix explain why you didn't give us this please
El Camino: A Breaking Bad Movie has just hit Netflix. With many saying the film was the conclusion for the characters we needed, you might be surprised to know the El Camino ending scene was meant to play out very differently. The audience was meant to get much more closure from Jesse's final departure than we actually did, but the scene was cut.
*Contains spoilers for El Camino: A Breaking Bad Movie*
The El Camino ending sees Jesse off to Alaska to start his new life as Mr Driscoll. He's finally got together enough money to pay Ed Galbraith to smuggle him there so he can have a fresh start. Jesse gets out of the back of the lorry and heads to a car to drive off to his new beginning.
Ed also agrees to do Jesse one last favour – to send a lengthy handwritten letter addressed to Brock Cantillo. Brock is the son of Andrea Cantillo, Jesse's ex girlfriend who was killed as a result of her relationship with Jesse.
What was the El Camino ending meant to be?
The conclusion of the Breaking Bad movie was in fact meant to be very different. Aaron Paul, who plays Jessie Pinkman, has revealed all in an interview.
We were actually meant to know the contents of the letter Jesse had written to Brock. Aaron told The Wrap: "Originally, in the first draft of the script, that's how the story ended. With Jesse driving through Alaska, and you hear the voiceover of what's inside of the letter."
In an interview with TV Guide he added: "That was the very first thing that Vince Gilligan [the film's writer and director] wrote when he wrote the script. He wrote that letter and then he wrote the script. In the original draft of the script, that is how the entire movie ends — the voiceover of the letter. But that was sadly cut. It's the most honest, beautiful, caring letter imaginable — really, just pouring his heart out and saying he's sorry."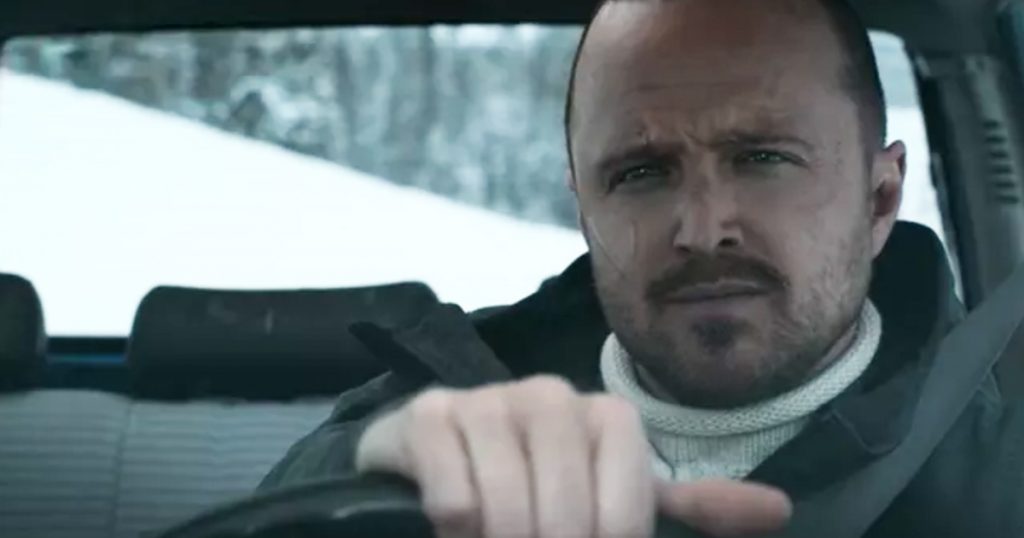 Jesse got close to Brock when he was with Andrea and then Walter White poisoned Brock with poisonous berries. This led to Brock being hospitalised, but he did recover later. Walt did it because he wanted Jesse to believe Gus poisoned Brock with ricin (in a cigarette) so that Jesse would turn against Gus.
So the El Camino ending was meant to illustrate Jesse's guilt and show us how sorry he really is for what happened to Brock. Jesse was originally going to drive off into Alaska as a voiceover read his lengthy letter to Brock Cantillo.
I'm not sure my heart would have been able to take this, but it would have been so much better.
For all the latest Netflix news, drops and memes like The Holy Church of Netflix on Facebook.
Related stories recommended by this writer:
• What the ending of El Camino: A Breaking Bad Movie really meant
• The original Breaking Bad characters that are back for the El Camino movie
• All the Breaking Bad references and easter eggs you missed in El Camino