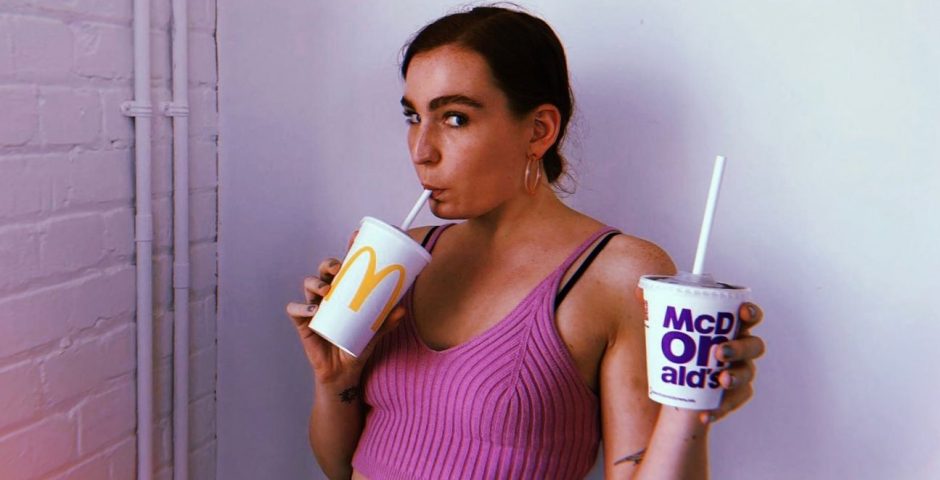 McDonald's items you can get in other countries, but literally no where else
Brb booking my flight to Norway for vegan nugs
We all love McDonald's but your fave items are just scratching the surface of the complete McDonald's menu. The UK menu is actually vastly different to the ones abroad. Belgium has the weirdest sauces, Germany has vegan burgers and the breakfast is super varied per country. It's safe to say we're missing out.
With restaurants in over 100 countries, there's a whole lot of sides, breakfasts and drinks that you've probably never heard of until now.
Breakfast
Guatemala
Guatemala has country breakfast, traditional and deluxe as well as offering a Texas omelette and oatmeal with fruits and maple syrup. The most important meal of the day is covered and I want a bit.
Colombia
If you're ever in Colombia, you can nab yourself a special Maccies croissant with a choice of egg and bacon or egg and sausage. Why do we not have this in the UK?!?!
Estonia
Estonia has a decent selection of morning McWraps with fillings including pork, egg, chicken and bacon.
Canada
Canada really smash it on the breakfast front, with a range of More-Ning McWraps, McGriddles and bagels available. Egg, bacon, sausage, hash browns. Take your pick, Canada has you covered.
Malta
Carrying on from the breakfast theme, Malta offers scrambled eggs. Scrambled eggs isn't something you'd normally head to McDonalds for but whatever floats your boat.
Malaysia
Malaysia also offer a scrambled egg sandwich which is basically just a variation of the egg McMuffin and it is both intriguing and deeply unappetising.
Sides
Brazil, Spain and the Ukraine
These three countries all offer cheese and bacon fries. Can you believe it? What an absolute post night out necessity. We all love a good McDonald's chip but these are even better.
Colombia
Colombia are smashing the guac game with a Pico Guacamole Chicken sandwich, with crispy or grilled options. This snack includes guac (obviously), Pico de Gallo, ranch sauce, cheddar and lettuce.
You can choose between crispy or grilled chicken and also an artisan roll or sesame seed bun. Bougie!
Sauces
Let's talk sauces, these make or break a meal. Abroad are doing it so much better than the UK, so saddle up and get ready to feel very jealous.
Belgium
In Belgium you can pick up pesto dressing (not sure what that would go with but fair enough) and apple curry dressing. Very bizarre. Curry sauce I can get behind but apple curry? I'm not convinced.
Poland
Poland has a blue cheese sauce which is a pretty funky addition to the menu and ideal for fry dipping, tbh.
Ukraine
Cranberry sauce is on offer in Ukraine and it's all year round – not just Christmas! Madness.
Vegan options
That's correct, McDonald's abroad offer even more vegan items. And they all look better than the UK's extremely average "Veggie deluxe" meal.
Finland
Finland offer a Vegan Classic McWrap or a McVegan, which is basically just a vegan Maccies burger. I'll take ten.
Germany
Germany's menu also includes vegan burgers! These contain a soy and wheat patty in a sesame seed bun with salad, tomato, pickles and red onion.
Luxembourg and Israel
Luxembourg and Israel also offer the Big Vegan which is basically the same as the burger in Germany.
Norway
The vegan highlight is Norway though. They're absolutely smashing the vegan scene with vegan nuggets! Plus, they also offer a veggie hummus salad.
Veggie options
Portugal
Portugal offer a McVeggie burger and Belgium has veggie nuggets. Portugal also offer spinach soup and pea cream, green broth and potato sauce? Some odd cuisine choices there, not very Maccies.
Greece
The Greek Mac is a great twist on a Big Mac. Instead of a burger bun, the Greek Mac is served in a pitta bun with white yoghurt sauce and you guessed it, it's available in Greece.
New Zealand
The Loaded Lettuce is effectively a naked burger you can nab in New Zealand. The meat can be either beef or chicken and comes with bacon, egg and onion all wrapped in lettuce. Healthy? Basically a salad mate.
Drinks
Morocco
McFizz is available in Morocco in either Pina Colada or Grapefruit Rose flavours. McDonald's deluxe if you ask me. Available only in Morocco, these drinks are everything the UK menu is missing.
Indonesia and New Zealand
The McFreeze is a drink available in Indonesia which is the same as the frozen Fanta available in New Zealand. The drink comes in peach, raspberry and orange flavours.
So there you have it, looks like we should all move abroad and take advantage of foreign McDonald's.
Recommended stories by this writer :
• If for some reason your uni was an iconic food chain, this is what it would be
• A definitive guide to every single item on the McDonald's menu and what it says about you
• Order a takeaway and we'll tell you which uni you should have gone to