Love Island Gossip Column: Amy lost SIX POUNDS in three days after Curtis dumped her??! Plus Francesca's super fit sister
She cried at the airport awh
Welcome to The Tab's daily Love Island 2019 gossip round-up, bringing you the pettiest drama and the least believable tabloid exclusives from around the web today.
Producers had to make sure Amy was eating after the break-up caused her to lose SIX POUNDS
Amy landed back at the airport yesterday and obviously The Sun were there to capture her tearful reunion with her family and "hundreds" of adoring fans.
The 26-year-old has since given her first exclusive interview after leaving the villa with the tabloid, in which she said watching Maura and Curtis crack on negatively impacted her mental health.
She said producers "stood over her" and watched her eat after she lost six pounds in the wake of the break-up.
Amy said: "I was in a very horrible place over the last week, to be told that the gloves were off with Maura and I had to 'brace myself', like a storm. I knew I had to leave when I did.
"I'm kidding myself thinking that I can watch Curtis cracking on with Maura. It would be self-sabotage.
"It's not nice. I have to put myself and my sanity first.
"I was grieving the loss of my first love, living in a house with him and watching one of my alleged friends get with him.
"I feel a million times better now I've left, but I defy anyone not to fall apart and be completely heartbroken."
Amy posts her first Instagram since leaving the villa
She's since been pictured back with her family, and has since uploaded a post on Instagram, where she says she has nothing bad to say about Curtis:
In the caption, she says: "It was a scary decision to make but the outpouring of love has confirmed what I already knew, it was the right one.
"My villa experience was the time of my life and my heartbreak was only a small part of my entire journey. I would do it all again tomorrow.
"I left on good terms with everyone and have nothing but amazing things to say about the show, the production team and Curtis… so if you read anything to the contrary, don't believe it!"
Fashion brands are fighting over who gets to sponsor Ovie
Both BooHooMan and ASOS have been tweeting about Ovie, with the former firing out meme after meme praising him:
The two brands then engaged in an exchange of gifs which The Sun helpfully screenshotted, but it's basically brand Twitter being cringe as per so you're better off ignoring it.
The date for the Love Island final has been CONFIRMED
Let's cut to the chase here – it's Monday 29th of July, Caroline Flack said so on Aftersun.
Lucie was reunited with her identical sister at the airport
We knew Lucie's sister was both incredibly fit and very similar-looking to Lucie, but seeing them together is something else:
The pair were reunited today, where her sister said: "Best moment ever, I'm so glad I have you home. Lots of tears."
Francesca's sister sells jewellery and also she is eye-meltingly fit
We've spoken before about the Love Island Gene Pool of fit siblings and wouldn't you know it we've found another one.
New girl Francesca's sister, Claudia, has over 11,000 followers on Instagram and looks like this:
She has a website where she sells her own jewellery – even Megan Barton Hanson has modelled for them.
A student cried literal rivers of fake tan over Ovie
When Ovie unexpectedly burst into tears after George was dumped, viewers were clearly effected, too.
Student Niamh Curtin said on Twitter: "Don't ever get sad at Love Island after having a spray tan, oh my days. Can we just take a minute please."
She also posted the picture of the streaky tan:
Some people are convinced Amy was told to leave the villa by producers
Ex on the Beach star Chloe Goodman has claimed producers will have told Amy to go:
She said: "Amy has 100 per cent been told she has to leave by producers… seen it happen a million times."
Amy had already left the villa once to take a break from villa life and see a therapist.
Curtis, Joanna, and Amber have all set up companies to profit after they leave the villa
The Sun discovered three Islanders – Curtis, Joanna, and Amber – have publicly visible documents on Companies House (the government website which tracks companies).
Curits's is called Jay C P Limited, and is based in Stoke-on-Trent, which is where his family live. Curtis is listed as the sole director of the company, and the documents to launch it were received on the 11th of June – eight days after the first episode.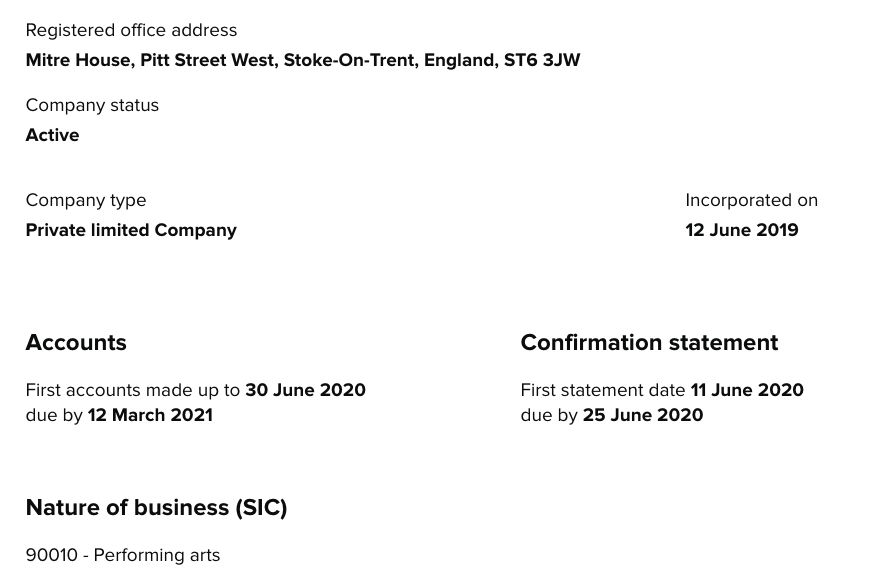 Set up this month, Amber's company is called ARG Promotions Ltd and lists Amber's job as "TV personality".
Joanna's company labels itself a "media representation services", and is called So.Blog Limited.
They are of course not the only Islanders in charge of businesses: Anton has his gym, Belle does make-up, and Amy is one of the directors of Worthing Musical Productions Limited.
Belle's dad has threatened to 'do a Rambo' and kidnap Anton
According to The Sun, Belle's dad was considering doing "a Rambo" to go to the villa to kidnap Anton and save Belle from him.
The "source" told The Sun: "He's said the chopper is on standby and he means it. It really is.
"He's determined to enter the villa, and he's vowing to take Belle's dog Lacey with him too."
Tamar Hassan had already warned Anton about upsetting Belle. Speaking to The Sun Online, he said: "Mate, I will come for you with a parachute and take you out if you do one single thing to upset Belle."
Love Island USA has started and it's being ruined by rain
While we're still working out how to actually watch the new US version of Love Island, all we can do is oggle the new cast.
Reports from those who have managed to watch it suggest it's not going down massively well. Since it's currently rainy season in Fiji, where the villa is located, large sections of the show are constantly being interrupted.
If you want to read a not-so-summery summary of the premier episode from people lucky enough to see it, The Metro have a handy one.
Dumped Islanders are shown a video of Alex and Samira advising them on post-villa life
The Ringer has spoken to six ex-Islanders, all of whom claim the show basically treats them like "performing monkeys."
Among those interviewed was Callum Macleod, this year's first ditched Islander. Callum was last seen promoting car air fresheners – a sure sign of the limelight having already dimmed.
He said this year's axed contestants will be shown a video in which Dr Alex and Samira from last year speak about life on the outside.
He told The Ringer: "They say things like, regardless of how liked you are, you're going to get people who will troll you, and just to ignore it."
Maura was cleared for 'harassing' Tommy
Many viewers said the moment Maura climbed on top of Tommy on the sofa and kissed him was "sexual harassment."
After receiving over 700 complaints about Maura aggressively coming onto Tommy, Ofcom has said they will not be investigating any further.
A spokesperson said: "While we recognise that many viewers disapproved of a contestant's behaviour in this episode, we took into account the context in which it occurred, including the nature of Maura and Tommy's relationship, before and after.
"The regulator said that all complaints about the episode had been 'assessed under generally accepted standards'."
Elma is still plugging car air fresheners
Not content with the one tragic pic of her dinging car air fresheners from her fist, Elma has double-dipped and uploaded a second:
She "can't get enough of them," apparently.
Related stories recommended by this writer:
• Finally we're seeing Curtis for what he is, an insufferable creep
• The Love Island Trash League: Which Islanders need to get in the bin?
• This is every Love Island 2019 contestant condensed into a starter pack