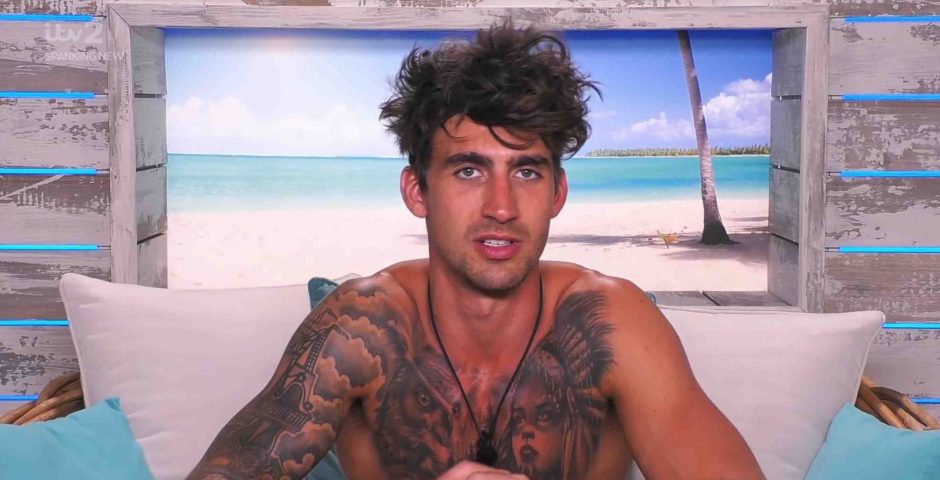 Who is Chris Taylor? The jokes Islander the nation deserved from day one
His LinkedIn is impressive
Chris has only been in the villa 12 days, yet he's overtaken OG Islanders as favourite to win this year's Love Island.
The goofy 28-year-old has won the hearts of the nation with his quirky ways, with fans taking to social media to express their outrage that Chris, and fellow favourites Ovie and Greg, weren't in the villa from the beginning.
We did some digging and found out everything you need to know about the Love Island boy we needed from day one:
Here is everything we know about the nation's new sweetheart Chris Taylor:
Chris Taylor is 28-years-old and from Leicester
On Instagram he calls himself "mostly quiff" and "28 per cent tattooed". He also states in his bio that he's exactly 6ft and 2.75 inches. Which is impressive but not quite Ovie.
He described himself as looking like a "pornstar with a monobrow" and his Twitter says he has "more eyebrows than sense".
His LinkedIn is pretty impressive
According to Chris' LinkedIn, he works as a business development manager at Hooyu in London, an identity verification and fraud investigation service.
He has a whopping 500+ connections, and has been described by his co-workers as "positively engaged" and "likeable". I think the whole nation could agree with that.
He owns a dog support network
Chris is the co-founder of DoggleToggle, a social support network for new and upcoming dog owners.
The website matches people with their perfect dog breed and connects them with charities and breeders to find a pooch.
He got a 2:1!!
It turns out Chris is actually pretty smart. He graduated from Leeds Met in 2011 with a 2:1 in Criminology and Psychology.
He describes himself as confident, loving and with good banter
He said: "I am confident, I have good banter, and I'm loving. I can be quite fiery, a bit stubborn and sometimes I can come across as a bit too hard to get sometimes."
Chris rates his looks a 7.2, but thinks he's the entire package
He said: "I am the full package I'd say. I'm not a bad looking guy. I would give myself a solid 7.2 out of 10. I can cook, I enjoy a bit of cleaning. I don't really like football, and I don't mind doing more girly things –I love a chick flick. In terms of being in a relationship with a girl, I'm the perfect islander to go in.
"My best feature is my brows. I really like my eyebrows. Sometimes I get stick for them but I don't care because I really like them because I can move them around."
He might rate himself, but everyone seems to have a problem with his hair
The moment Chris stepped foot in the villa, fans took to Twitter to mock his signature quiff:
It seems that they aren't the only ones that reckon he needs a decent haircut, Chris' mates have been slating him for his floppy mop on his insta for years.
One friend commented: "Your hair is getting too big again Christopher!", whilst another dubbed him "Quiff Richard".
He likes natural looking girls, and fancies Kelly Brook – but who doesn't???
He said: "[My] perfect girl would be curvy, naturally pretty, doesn't need make up to look amazing. In terms of personality, somebody who gives as good as they get. I like bantering with people, and it's good if they can give it back. She also needs a bit of an imagination. I like to talk waffle so if I'm going to be with somebody they have to be able to talk to me about nothing. I don't think relationships should be based on looks, it's more to do with personality because after a while looks fade."
He said his celebrity crush is Kelly Brook because she is "proper fit, curvy and has great crack."
He said his main turn offs are "being very OTT on the make up and being too into your looks."
He's currently coupled up with Harley Brash
Chris originally had his eye on Maura Higgins, describing her as an "absolute fireball" with "loads of banter" when asked who he most fancied before entering the villa. He initially coupled up with the Irish bombshell, but she soon jilted him for Curtis Pritchard at the recoupling.
He also made moves on Amber, but she wasn't having it either.
He didn't have much more luck with new arrival India Reynolds, who set her sights higher, choosing 6'7" basketball player, Ovie Soko, over him.
But Chris finally found his match in 20-year-old estate agent, Harley Brash. He sealed the deal with a kiss on last night's episode, telling her "you're actually a lot of things that I look for in a girl."
He might be the nation's new sweetheart, but Chris has cheated on girlfriends in the past
Chris admits he has had a wandering eye in the past, and cheated on a girlfriend when he was 19. She then cheated on him back. Karma!!!!
Harley better watch her back!
He has a very odd claim to fame
Chris Taylor's dad was actually engaged to Denise Welch and they're still good family friends. Chris said he's met her a few times.
Chris has some strange talents
Fans have been going wild for Chris' odd, but scarily accurate, impression of a fish out of water.
Dubbed 'the salmon', Chris has been seen throwing himself into the villa pool in the style of a fish on multiple occasions, to the amusement of his fellow islanders.
This isn't Chris' only rogue talent, he can also juggle surprisingly well…

For all the latest Love Island 2019 gossip and memes like The Holy Church of Love Island on Facebook.
For hardcore fans, join our exclusive Facebook group – The Official Love Island Group Chat 2019.
Related stories recommended by this writer:
• Love Island Gossip Column: India is on PornHub!!? Plus even more unrecognisable pics of Molly-Mae
• Joanna and Jack Fowler have been spotted getting VERY close at the airport
• Looking back at the weirdest Love Island couples from all five series