Yewande is a national treasure who we must protect at all costs
An angel sent from the ITV gods
Love Island has been back on our screens and dominating our group chats for a week now, and we have identified this year's fave.
If Yewande Biala lived in your student house she'd be the baby of the house, the one everyone adores and protects at all costs from the evils of the world: fuckboys, hangovers, and bad eyebrow jobs.
But Yewande isn't in your student house, she's on this year's Love Island, fighting for love and screentime. So here is why she is a national treasure.
She went to uni when she was only 16
Whilst most of us are in our early 20s and still running back home every time our George Foreman grill breaks or we get a 2:2, Yewande went to uni when she was 16 and graduated with First class honours.
She also has a Masters, and something tells me it wasn't a oh-shit-I-have-no-grad-job kind of Masters. Her LinkedIn shows that some of the subjects she studied included: "Molecular biology, Genetic engineering, Bioethics, Occupational Regulatory Affairs, Experimental design & Quality control, GMP, Validation, Bioprocess technology, Bioinformatics and Analytical biotechnology" and I only understand approximately three of those words.
Everyone in the villa backs her
The boys all rallied around to give her a pep talk on last night's episode, and even Anton retired his wandering eye briefly to assure her that being pied isn't anything to do with her. Amy and Curtis, this year's more-wholesome-than-a-Cath-Kidston-tea-towel-couple have adopted her, giving her the push to speak to Danny.
She delivered a brutal yet accurate takedown of Molly-Mae without slut shaming her
We're not going to forget about Laura and Megan's "did she just call me a slag?" "YEAH I DID JUST CALL YER A FUCKING SLAG YER STUPID BITCH" exchange any time soon, but Yewande doesn't need to resort to slut shaming to prove a point that Molly-Mae is being selfish with the boy supplies in the villa. THREE boys chasing after you? In THIS economy?
She understands the importance of the "I GOT A TEXT" delivery
This series has been a bit dry (what with the Lucie/Tommy/Joe drama reminiscent of series four of Gossip Girl when they'd all run out of ideas), and this hasn't been helped by the SHOCKING delivery of text announcements.
You're seriously telling me you've been forced to sunbathe 24/7 for over a week without any contact to the outside world and a phone notification isn't giving you some kind of euphoric feeling? Our gal, however, pierced the eardrums of all infants in a 500 mile radius when she received a text telling her she was going on a VERY MUCH DESERVED date.
The woman CURES CANCER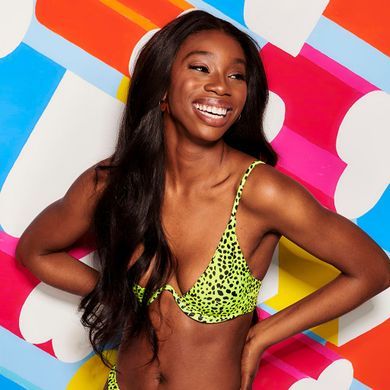 Most of us can't self-medicate with a box of ibuprofen and 48 hours off drinking.
So can the producers chuck the £50k or a decent guy at Yewande please, the girl deserves it.
Related stories recommended by this writer:
• These are the WILDEST transformations from the cast of Love Island 2019
• One week in, here are the 36 best Love Island 2019 memes so far
• We found old pictures of Love Island's Molly-Mae and she is UNRECOGNISABLE